July 16, 2016 By Brian Dembowczyk
Wisdom for God's People
If you do much cooking, or you have ever watched a cooking competition show on television, you know perhaps the most basic rule of cooking—season everything well. You can perfectly cook a dish using all the right techniques and the right main ingredients, but if you fail to season it, it won't be very good to eat.
You have to season everything well, but here's the other important part of that axiom—season everything well with the right seasonings. Imagine seasoning an apple pie with chili powder instead of cinnamon. Sure they look very similar, but the latter will make that pie amazing while the latter will render it inedible.
In the last session, Solomon Asked for Wisdom, we considered how no amount of wisdom is enough. We need something beyond wisdom—we need Jesus. We're going to explore that idea a little more deeply in Wisdom for God's People (Unit 11, Session 2) and bring more clarity to it by focusing not on the quantity of wisdom, but the quality of wisdom. As we'll see, there actually is a wisdom that we need, but it's not the wisdom we tend to think about.
We need wisdom, but it has to be the right wisdom. We need true wisdom.
While the focal Bible passages for the session come from the Book of Proverbs, I want to camp out with you in 1 Corinthians instead. Paul gave us a wonderful explanation of wisdom in the second and third chapters of this book, so let's roll up our sleeves and spend some time diving into what we can learn from it.
Here's what Paul, under the inspiration of the Holy Spirit, wrote in 1 Corinthians 2:1-16.
1 When I came to you, brothers, announcing the testimony of God to you, I did not come with brilliance of speech or wisdom. 2 For I didn't think it was a good idea to know anything among you except Jesus Christ and Him crucified. 3 I came to you in weakness, in fear, and in much trembling. 4 My speech and my proclamation were not with persuasive words of wisdom but with a powerful demonstration by the Spirit, 5 so that your faith might not be based on men's wisdom but on God's power.
6 However, we do speak a wisdom among the mature, but not a wisdom of this age, or of the rulers of this age, who are coming to nothing. 7 On the contrary, we speak God's hidden wisdom in a mystery, a wisdom God predestined before the ages for our glory. 8 None of the rulers of this age knew this wisdom, for if they had known it, they would not have crucified the Lord of glory. 9 But as it is written:
What eye did not see and ear did not hear,
and what never entered the human  mind—
God prepared this for those who love Him.
10  Now God has revealed these things to us by the Spirit, for the Spirit searches everything, even the depths of God. 11 For who among men knows the thoughts of a man except the spirit of the man that is in him? In the same way, no one knows the thoughts of God except the Spirit of God. 12 Now we have not received the spirit of the world, but the Spirit who comes from God, so that we may understand what has been freely given to us by God. 13 We also speak these things, not in words taught by human wisdom, but in those taught by the Spirit, explaining spiritual things to spiritual people. 14 But the unbeliever does not welcome what comes from God's Spirit, because it is foolishness to him; he is not able to understand it since it is evaluated spiritually. 15 The spiritual person, however, can evaluate everything, yet he himself cannot be evaluated by anyone. 16  For
who has known the Lord's  mind,
that he may instruct  Him?
But we have the mind of Christ.
And in the next chapter, 1 Corinthians 3:18-23.
18 No one should deceive himself. If anyone among you thinks he is wise in this age, he must become foolish so that he can become wise. 19 For the wisdom of this world is foolishness with God, since it is written: He catches the wise in their craftiness; 20 and again, The Lord knows that the reasonings of the wise are meaningless. 21 So no one should boast in human leaders, for everything is yours— 22 whether Paul or Apollos or Cephas or the world or life or death or things present or things to come—everything is yours, 23 and you belong to Christ, and Christ belongs to God.
I know there is quite a bit there, so let me try to boil it down to four big ideas that will help us understand how we can evaluate the quality of wisdom.
1. True wisdom is not elegant speech.
The first five verses of chapter two are targeted at the Greek philosophers and their philosophy that governed much of society's thinking of that day. Powerful, elegant speech—rhetoric—was highly valued. It didn't even matter what you said, as long as you said it in a rhetorically sound way. Paul basically pulled the legs out from under that idea. True wisdom is not found in persuasive speech.
Our society doesn't place such a premium on logic and rhetoric today as the Greeks did 2,000 years ago, but we still see pushback against the gospel for similar reasons today. This is especially true coming from some of the neo-atheists.
2. True wisdom is not of this age.
When Paul says that wisdom is not of this age, he is talking about the fallen systems of the world. In other words, wisdom is not found in the fallen thinking and systems of humanity. Instead, the fallen systems of the world lead nowhere (6) and brought about the crucifixion (8), the greatest evidence of how man's thinking moves them away from wisdom and truth, not toward it.
This is plain to see in our culture's relentless march toward—well—insanity. The fallen systems of the world are leading our society to radically move away from God's truth in so many areas. Life. Gender. Justice. Love.
3. True wisdom is a mystery from God.
So what is true wisdom? From where does it come? True wisdom is a mystery that comes from God. Now, when we read mystery in the Bible, we cannot supply our common definition for it into those verses. Mystery in the Bible means something that was previously hidden, but that has now been revealed by God. And that's critical for us to understand. Because the mystery—true wisdom—is Jesus Christ. (1 Corinthians 1:30) So the only way we can have true wisdom is to trust in Jesus. This is why Paul goes on to say that true wisdom is revealed by the Holy Spirit. We need the Holy Spirit to stir our hearts to trust in Jesus and thus know true wisdom from God.
4. True wisdom is considered foolishness to the world; the world's wisdom is foolishness to God.
And this is where we come back to the issue of quantity and quality. We can have all the world's wisdom there is, but it simply won't do us any good because it is the wrong wisdom. It's the wrong spice. It's foolishness. This is what happened to Solomon. Sure he was incredibly wise, but that did him no good apart from God.
So it's the quality of the wisdom—God's wisdom, not man's wisdom—that really matters. And these two wisdoms are incompatible, so much so that each seems like foolishness to the other. Have you ever talked with someone who does not believe in Jesus only to walk away shaking your head in amazement how she just doesn't "get it"? It's because her world's wisdom makes the gospel seem like foolishness to her. She's blinded to the truth and needs the Holy Spirit to break through. But do you know what she thought as she walked away? Yup, the same thing. She was perplexed how you can be so blind to the world's truth.
So why does all of this matter? Three reasons.
First, we need to be really careful to point our kids to Jesus—true wisdom. Let's be careful not to supply the wrong definition of wisdom—such as being really smart or practical intelligence. Sure being really smart is helpful, but our kids don't need that—they need Jesus.
Second, as we help our kids to live wisely, we need to help them understand what—or Who—that looks like—Jesus.
Third, we need to be patient with those who don't believe in Jesus and not see them as the enemy, but people who are blinded to the truth and who need the Holy Spirit to intervene. This should give us sensitive hearts toward people and prompt us to share the gospel in love.
How have you seen the world's wisdom and God's wisdom clash? Leave a comment below.
Here is more help for leaders preparing for the July 24, 2016 session (Unit 11, Session 2) of The Gospel Project for Kids.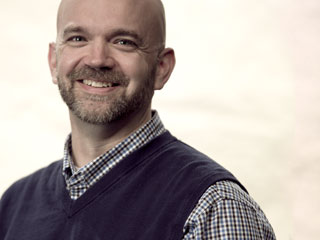 Brian Dembowczyk is the team leader for The Gospel Project for Kids. He served in local church ministry for over 16 years before coming to LifeWay. Brian earned an M.Div. from the Southern Baptist Theological Seminary and a D.Min. from the New Orleans Baptist Theological Seminary. Brian, his wife, Tara, and their three children—Joshua, Hannah, and Caleb—live in Murfreesboro, TN, where Brian enjoys drinking coffee and teaching 1-3 graders at City Church.