January 2, 2016 By Brian Dembowczyk
The Wilderness Test
Think about what the people of Israel experienced as they left Egypt and as we lead in to this week's session, The Wilderness Test. (Exodus 15:22—17:7)
They watched as God brought ten plagues on Egypt, including the final one where the firstborn in every home was killed except the homes where God's people sacrificed a lamb and placed its blood over the door frame. Their hands held the silver, gold, and clothing the Egyptians gave to them as they pleased with God's people to leave. They watched as God parted the Red Sea and held the waters back in two walls as they passed through it on dry ground, before God released the waters on the Egyptian army pursuing them.
And then just a few days later, they got thirsty. So they grumbled. And then they got hungry. So they grumbled more. And then they got thirsty again. That's right. You guessed it. So they grumbled still more.
Amazing isn't it?
The people of Israel had seen God work so mightily on their behalf to free them from Egypt and provide for them. And just a few short days later they doubted God's goodness and provision and grumbled.
Let's pause for a moment and imagine we'd never read this story before. What do you think God would do next?
Perhaps share some stern words for His ungrateful, doubting people?
Perhaps withhold water and food to show them what real thirst and hunger are.
Perhaps take the people on a trip behind the divine woodshed?
Perhaps turn and walk away from them all together?
Any of those sure seem likely, don't they? Wouldn't the way we would respond if we were God fall into at least one of those responses?
But God goes in a different direction. God provided.
He gave the people water at Marah. He gave them manna, or bread, and quail. He gave them water from a rock.
The people needed water. God gave them water so they could live.
The people needed food. God gave them food so they could live.
Even if the people grumbled proving they didn't deserve such kindness, God still provided.
Oh, how beautiful is the mercy, grace, and kindness of God!
Didn't God truly bless them? Didn't they get what they did not deserve? Wasn't God good to them?
Sure He was. But if that is where you stop in this passage, you have missed it. If you walk away from this text thinking about they and them, turn around and open your Bible again because you have more work to do.
Water. Bread.
Water. Bread. To sustain life.
Water. Bread. To sustain life. From God.
Sounds rather familiar, doesn't it?
Didn't Jesus say something about water and bread and life? He sure did.
On the last and most important day of the festival, Jesus stood up and cried out, "If anyone is thirsty, he should come to Me and drink!  The one who believes in Me, as the Scripture has said, will have streams of living water flow from deep within him." (John 7:37-38)

"I am the bread of life," Jesus told them. "No one who comes to Me will ever be hungry, and no one who believes in Me will ever be thirsty again. (John 6:35)

Jesus is the living water. Jesus is the bread of life. God's provision to His people in the wilderness was about much more than providing for their physical needs. God was providing a picture of Jesus. Jesus is the One who satisfies our spiritual needs: our spiritual thirst and spiritual hunger. Jesus is the water and bread God has given to us.
And just like Israel, we didn't deserve God's kindness either. Yes, we too were grumblers and complainers. Worse even. We were rebels working against God. That's not easy for us to be reminded of, but it is so important. Consider Romans 5:6-11.
6 For while we were still helpless, at the appointed moment, Christ died for the ungodly. 7 For rarely will someone die for a just person—though for a good person perhaps someone might even dare to die. 8 But God proves His own love for us in that while we were still sinners, Christ died for us! 9 Much more then, since we have now been declared righteous by His blood, we will be saved through Him from wrath. 10 For if, while we were enemies, we were reconciled to God through the death of His Son, then how much more, having been reconciled, will we be saved by His life! 11 And not only that, but we also rejoice in God through our Lord Jesus Christ. We have now received this reconciliation through Him. (emphasis added)

That is who you and I were before we trusted in Jesus. We were helpless, ungodly, sinners and enemies of God.
And yet God gave us water and bread.
There is a gap between our sinfulness and God's goodness to us. I am convinced that the more we understand how wide that gap was apart from Christ, the better off we will be.
When that gap is a small hop, God's provision of water and bread isn't that impressive, is it? Had Israel prayed earnestly and humbly when they were thirsty and hungry and God gave them water and food, we wouldn't be that impressed with God's goodness, would we? If we believe we were pretty good people in need of just a spiritual bandage, the gospel will never shine brightly in its full radiance and splendor.
But, if we see ourselves like Israel—grumbling, ungrateful, doubting people who deserved nothing but God's judgment—the gospel shines brightly. It stirs our affections. It amazes us. That is what Paul is trying to convey in Romans 5:7-8. We would be hard-pressed to find someone willing to die for someone else—even a "good" person. And if we saw someone do that, we would be amazed. How much more should we be amazed that Jesus died for the sinful, wretched rebel that I was. And that you were, too.
So this week, don't hold back in expressing how foolish Israel was. Let your kids talk about how undeserving they were. Marvel in how kind and good God was to give them water and food.
And then hold the mirror up and lovingly but frankly talk about how foolish and undeserving we are. And marvel in how kind and good God was to give us Jesus—our living water and bread of life.
And worship Him as former rebels against God who are now His adopted children.
How have you helped your kids see how wide the gap is between their sinfulness and God's kindness? Leave a comment below.

Here is more help for leaders preparing for the January 10, 2016 session (Unit 4, Session 3) of The Gospel Project for Kids.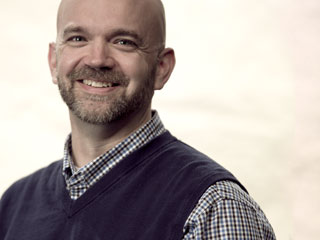 Brian Dembowczyk is the team leader for The Gospel Project for Kids. He served in local church ministry for over 16 years before coming to LifeWay. Brian earned an M.Div. from the Southern Baptist Theological Seminary and a D.Min. from the New Orleans Baptist Theological Seminary. Brian, his wife, Tara, and their three children—Joshua, Hannah, and Caleb—live in Murfreesboro, TN, where Brian enjoys drinking coffee and teaching 1-3 graders at City Church.