January 23, 2016 By Brian Dembowczyk
The Ten Commandments: Love Others
OK. So here's a question for you. If God were only concerned with people loving Him perfectly, then wouldn't He take us to be with Him the moment we trust in Jesus? Wouldn't that make sense? We would be rid of our fallen minds and hearts that prevent us from loving God, and we would be in a pure environment where we could really progress in loving God.
And yet God doesn't do that. He leaves us on earth where we continue to struggle with sin and fight to love God even a fraction of a percentage of the way we want and should. Why?
Because, quite simply, God isn't only concerned with us loving Him. He also wants us to love others, as we see in The Ten Commandments: Love Others (Exodus 20:12-17) and in the second greatest commandment. (Matthew 22:39) Now, there are two groups of "others" we have to consider. The first is other believers, which we can, and will, love better in heaven. The second group of "others"—unbelievers—is different though. The only time and place we can love someone as an unbeliever is during our time on earth. And that is why God leaves us here—to love unbelievers, and the best ways we do that is by being their genuine friends and sharing the gospel with them.
Think about that for a minute! The only time you will have to love unbelievers is now—during this short sliver of time on earth. And once you breathe your last breath, it is over. Sounds kind of important that we love unbelievers now while we can, doesn't it?
So let's take a few minutes and unpack what it looks like to love unbelievers by asking six fundamental questions.
Who? The simple answer of "unbelievers" isn't enough. That's too academic. Too broad. Too impersonal. That doesn't stir our hearts to action. So what is a better answer? How about our friends, relatives, classmates, neighbors, teachers, and teammates who have not trusted Jesus and so, as of right now, are on a path to spend eternity apart from God and all that is good. We need to look at people through an eternal lens. We have to see people as God sees them—with His love. And yes, that even includes people we don't like and people whom we have never met before. Think about it this way. Suppose you had a pill that cured and prevented cancer. Would you keep it to yourself? Would you give it out, but selectively? I sure hope not! No, we would give it out liberally, wouldn't we? We would do that because we would see everyone in need of a cure or prevention of such a horrible disease. We need to see everyone with something worse than the disease of cancer—we need to see everyone as dead in sin. And you know what? We have the cure.
What? The cure everyone needs—and it is the only cure—is the gospel. If we love people, that is what we will give them—Jesus. Now, that doesn't mean we won't also strive to meet other needs. This is what the Book of James is about. If we truly love others, we will seek to meet their needs holistically. Physical, emotional, mental, and spiritual. The problem is if we stop short of that last one or only focus exclusively on it. We aren't here to make life better for people as they are on their way to hell. Neither are we here to verbalize the gospel apart from demonstrating it. We are here to love people through word and deed.
Where? Once again, we have to be careful about answering "everywhere" and moving on. We have to take some time to flesh that out. We are to love people in our homes. Some of our kids have unbelieving parents or siblings. What does it look like to love them? We are to love people at school. What does it look like to love teachers, classmates, administrators, custodians, resource officers, crossing guards? We are to love people on the playground and ball field. What does it look like to love in those settings? We are to love people in our neighborhoods. What does that look like? These are the conversations that we really need to engage in with our kids.
When? It is helpful, and painful, to really put how we spend our time under the microscope and find ways we waste time and ways we can include others more in what we do to love them. So while there isn't anything wrong with say, playing Minecraft, is it best to play it for eight hours on a Saturday? Is that the best way to love others? Our kids need to know that there is nothing wrong with spending time alone and resting. But they also need to be encouraged to intentionally connect with others. Who do they eat with at school? Who can they invite over to play? How can they best use their time to love people?
Why? We love because God has first loved us. (1 John 4:19) Our motivation for loving others has to be centered on this foundational truth. We love and extend the gospel to others because God loved us and extended the gospel to us first. Our motivation must be genuine, deep gratitude for what God has done. It cannot be to earn God's favor or man's favor. It cannot be out of responsibility. It must be out of gratitude. It is true we ought to love others—it is an imperative—but if that is what motivates us, we have missed it. I don't love my wife and kids because I have to (although I do have to), I do it because I delight in it. I delight in them. I delight in God who gave them to me. Gratitude, not duty.
How? I cannot love you or anyone else in my own power. I just can't. I am too selfish. Too sinful. My love is conditional. My love is weak. My love is self-directed. You don't need my love. You don't deserve it either. You need and deserve so much more. The same is true of the unbelievers around me. They don't need my love; they need God's love. And there is the beauty of it! God has over-poured His love into me, so that I can in turn allow it to spill over onto others. God loves others through me. I am just a vehicle—a conduit—of His love. And so are you. Let's love people with God's love.
May God stir your affections, and the affections of your kids, for unbelievers to the point where you freely yield to His empowering and leading to love others with the gospel.
How have you helped your kids love others? Leave a comment below.
Here is more help for leaders preparing for the January 31, 2016 session (Unit 6, Session 1) of The Gospel Project for Kids.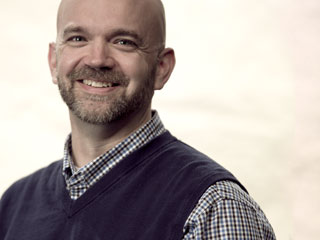 Brian Dembowczyk is the team leader for The Gospel Project for Kids. He served in local church ministry for over 16 years before coming to LifeWay. Brian earned an M.Div. from the Southern Baptist Theological Seminary and a D.Min. from the New Orleans Baptist Theological Seminary. Brian, his wife, Tara, and their three children—Joshua, Hannah, and Caleb—live in Murfreesboro, TN, where Brian enjoys drinking coffee and teaching 1-3 graders at City Church.