January 16, 2016 By Brian Dembowczyk
The Ten Commandments: Love God
I am what you can call a "runner of opportunity." I really enjoy running, but life has this way of getting in the way, and I will go weeks or months without running at times.
When I go for a while without running, three things happen. First, I put on weight because I love to eat. The main reason I run and exercise is so I can eat what I want. So when I stop running, I get pudgy. Second, my running pace and endurance tank. It's amazing how I work so hard at running longer distances and speeding my pace and then I stop for a few weeks and the next run out sets me right back to day one. Third, I lose my enjoyment of running. When I am running regularly and in shape, I get that "runner's high." I actually have days where I can't wait to get out and run. But when I try to start again after not running, it is a chore. It's oppressive. I can feel every extra pound that I put on. Instead of being excited about running, I dread it.
OK. So why am I sharing this?
Because the way I feel about running in those times is a good illustration of how I used to feel about the Old Testament law. You see, I grew up in a church environment that was more legalism-centered than gospel-centered. It wasn't the oppressive, over-the-top form of legalism; it was more of the mainstream "we don't quite get how the gospel connects to life after you trust in Jesus, so we are going to try to live good enough lives to please God" kind of legalism. So my context of the law was that it was a long (very long) list of difficult (very difficult) rules I had to follow to be good with God.
And you can anticipate how that turned out.
There were sporadic times when I felt pretty good about the law—times when I was either somewhat obedient (at least to the biggies!) and/or when I wasn't really honest with my sinful heart. But most of the time, I felt burdened by the law—just like I feel burdened by my extra pounds when I start running again—and following God was a joyless chore. I didn't want to obey God; I felt I had to. Or else.
This week is the first of two sessions on the Ten Commandments which will bring the law into our classrooms for the first time in this cycle of The Gospel Project for Kids. My heart (and I trust yours as well) is that we don't burden our kids with the law the way I was burdened by it. It's so important that as we introduce our kids to the law that we show them its true purpose. We want to lead our kids to life and joy in Jesus through the law. So here's a brief primer on the law to help you as you prepare to teach The Ten Commandments: Love God. (Exodus 19:1—20:11; 31:18)
First the numbers
There are 613 commandments in the law, with the Ten Commandments being just 10 of them. Of these commands, 365  are negative (e.g. "Do not…") and 248 are positive (e.g. "Do…"). Now I share that in part because it is a fun fact, but also to show us the sheer weightiness of the law's volume. That's a lot of rules to follow! And then when we zoom in on just ten of those laws—the Ten Commandments—we see how hard it is to follow just one! Have any of us really honored our parents completely? But we can't even stop there. As we read through The Sermon on the Mount (Matthew 5-7) we see Jesus tell us that we can break these commandments in our hearts without ever even lifting a finger. Even if we haven't murdered (an action), we have all hated (a heart posture), meaning we broke that commandment because hate is the heart condition behind murder. And then we come across James 2:10 which tells us if we have broken a single law, we have broken the entire law.
We can only conclude one thing: we stand condemned before holy God as the wretched sinners we truly are.
And that is the conclusion God intends for us to reach. That is the purpose of the law. The law was given to condemn us (Romans 2:12-13), not to justify us (Galatians 3:11). In other words, the law shows how we fail over and over again and there is no way we can be good enough for God.
And there is the burden of the law and the defeating DNA of legalism. Legalism says we need to be good enough; the Bible says we can never be good enough. And there's the conflict—a conflict legalism loses every time. And it should. Because legalism is not from God, it's from man.
Enter the gospel
Galatians 3:23-24 tells us that the law was given to be a guardian, or a tutor, until Jesus was given. God intended for the law to show us our sinfulness and to prove our inability to be right with Him on our own. Trying to fulfill the law should lead one to cry out in desperation for another way. The law is too hard! It's impossible!
That way is, of course, Jesus. Jesus came to fulfill the law (Matthew 5:17)—to show what perfect obedience looks like. And when we trust in Jesus, we receive His righteousness. It's beautiful isn't it? We can't obey the law ourselves, but we get Jesus' credit for His perfect obedience.
Once again, it isn't a matter of what I can or need to do for God. It's a matter of what Jesus has already done. It's not my obedience; it's Jesus' obedience. It's not my goodness; it's Jesus' goodness. We have fulfilled the law—all of the law—perfectly because Jesus has and we get His credit for doing so.
So when we look at the law, we are to throw aside the lens of legalism and instead embrace the lens of the gospel. We still fall short—woefully short—in day-to-day life, but because of grace, we stand forgiven and positionally perfect before holy God, because we stand before Him bathed in Christ's righteousness.
Applying the law to daily life
Now, all of that is a critical positional truth that defines our standing, or position, before God. And we have to first apprehend that truth as we study the law. But we can't stop there. There's also the experiential side of the equation—how we live. If this two-fold system of approaching the Bible and theology is new to you, perhaps it will help you to think of it this way:
Positional truths center on the reality of who we are in Christ. These truths are based on the declarative aspects of trusting in Jesus—who God has made us in Christ, period. So positionally, we are children of God. We are completely forgiven. We are holy. We are saved. Those are all declarations expressed by God. And they are all unchanging and set.
Experiential truth on the other hand center on how we are living in a fallen world with a lingering sin nature each day. Quite simply, we don't live our identity much of the time. We still live according to our old nature, instead of our new one. As we mature and grow and the Spirit works in us, the gap between our shifting experiential truths and positional truths should shrink as we live more like our true identity.
Getting back to the law, the positional truth is that Jesus fulfilled the law in our place. However, we still need to consider how the law should frame how we live as the Spirit closes that gap. The answer is that we should joyfully yield to the Holy Spirit to work in us and through us so that we obey the spirit of the law. Not to earn God's favor—that has already been given to us—but because of God's favor that we have received in super abundance.
Notice I said the "spirit of the law." That is important for two reasons. First, there is question about how much of the law is applicable for followers of Christ today and how much is not. For example, can we eat shellfish today even if it was forbidden in the law? There's lively discussion and debate about this, but I personally have found this three-fold system of understanding the law to be quite helpful. Basically, there are three types of Old Testament laws:
Moral laws. These are laws that reflect God's nature (e.g. not murdering because God is the author of life).
Ceremonial laws. These are laws that explain the Old Testament worship system (e.g. sacrifices).
Civil laws. These are laws that explain how the nation of Israel was to function (e.g. restitution for killing a borrowed animal).
There would be universal agreement that Christians are to keep the moral laws today. There is also a general consensus that we are not bound by Israel's civil laws. But there is some disagreement concerning the ceremonial laws and also how to classify some of the laws. So depending on how you understand the ceremonial laws and define the moral laws will reveal the "spirit of the law" we should obey.
The second reason I used "spirit of the law" is because of what Jesus shared in Matthew 22:
When the Pharisees heard that He had silenced the Sadducees, they came together. And one of them, an expert in the law, asked a question to test Him: "Teacher, which command in the law is the greatest?"
He said to him, "Love the Lord your God with all your heart, with all your soul, and with all your mind. This is the greatest and most important command. The second is like it: Love your neighbor as yourself. All the Law and the Prophets depend on these two commands." (Matthew 22:34-40)
Because there were so many laws, and at times it was impossible to keep more than one law at the same time, the rabbis of that day developed a classification of "heavy" and "light" laws. The "heavy" laws were the more important ones to keep. If you ever had to choose between obeying a "heavy" and a "light" law, you would choose the heavy. The Pharisee was basically asking Jesus for His system of classifying "heavy" and "light" laws. He expected Jesus to answer based on one of the common systems of that day, which would offer the opportunity to refute Him.
Instead, Jesus offered Deuteronomy 6:5 as the greatest command, but then notice He offered Leviticus 19:18 as the second greatest command even though He wasn't asked for the second. Love God. Love people.
Pay attention to what Jesus said after that. It's vital. He shared that all of the law hinges on those two commands. In other words, every single one of the 613 commands falls under one or both of those broad ones. We see this in the Ten Commandments. The first four reflect the way we love God—our vertical relationship. The last five reflect the way we love people—our horizontal relationships. The fifth commandment—honor your parent—goes both ways and serves as a hinge because it applies to honoring our heavenly Father as well as our earthly parents.
With all of that said, the spirit of the law would be loving in those two directions. We love upward and we love outward because of God's inward love of us. We cannot love one direction without the other. I cannot love God and fail to love the people whom He loves. Neither can I love people without the transforming love of God in my heart. It's not either-or, it's both-and.
Whew! That was a lot! Congratulations if you made it to the end. Let's try to summarize: The law isn't a burden because it is fulfilled by Jesus and we receive His perfect obedience when we trust in Him. And because of God's good gift to us in Jesus, we should want to joyfully live out the spirit of the law—loving God and loving people—as an act of worship and to point others to Christ.
Now, why didn't I just say that in the first place?
How have you helped your kids realize their identity in Christ to avoid legalism? Leave a comment below. 
Here is more help for leaders preparing for the January 24, 2016 session (Unit 4, Session 5) of The Gospel Project for Kids.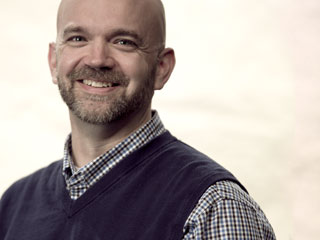 Brian Dembowczyk is the team leader for The Gospel Project for Kids. He served in local church ministry for over 16 years before coming to LifeWay in 2014. Brian earned an M.Div. from the Southern Baptist Theological Seminary and a D.Min. from the New Orleans Baptist Theological Seminary. Brian, his wife, Tara, and their three children—Joshua, Hannah, and Caleb—live in Murfreesboro, TN, where Brian enjoys drinking coffee and teaching 1-3 graders at City Church.