January 30, 2016 By Brian Dembowczyk
The Tabernacle Was Built
One of my Old Testament professors in seminary would often tell us, "I love the New Testament… it's a great commentary on the Old Testament!"
That statement was born out of his appreciable sense of humor and his deep love for the focus of his teaching ministry, but its foundation is truth. The New Testament does indeed help us understand so much of the Old Testament, just as the Old Testament helps us understand so much of the New Testament. That is why we need to read the Bible as one big story and see the connections between the two Testaments. And I am grateful you guide our kids to do that through The Gospel Project every week!
This week's session, The Tabernacle Was Built (Exodus 35:4—40:38), is a great opportunity to show your kids how it is best to study both Testaments together.
As the children of Israel continued their trek through the wilderness, God gave Moses very specific instructions for how to build a tabernacle, or a tent. This tabernacle would be where God's presence would dwell with His people (within the Holy of Holies) and also be where the people would offer sacrifices and worship.
Now, the building of the tabernacle was incredibly important within the context of the Exodus alone. The tabernacle showed Israel that God is a condescending God, or put another way, that in His kindness, God comes down to us and meets us where we are. We saw this in Genesis 2 where God would come down to Adam and Eve and walk with them in the garden. And we see it here where God comes down to be in relationship with His people. The tabernacle also gave Israel a context by which God could deal with their perpetual sin.
But here is where we can—no, we must—connect the tabernacle to the New Testament, and more specifically to Christ Jesus. You see, the relief the sacrificial system provided for sin was only temporary—temporary in that the people had to sacrifice year after year, but also because the system was designed to be terminal, giving way when Jesus was given as its fulfillment.
Check out how John described Jesus in the prologue of his Gospel:
The Word became flesh and took up residence among us. We observed His glory, the glory as the One and Only Son from the Father, full of grace and truth. (John 1:14) [emphasis added]
The Gospel of John, like pretty much all of the New Testament, was written in Koine Greek and the phrase John used which is translated "took up residence" here is σκηνόω (skēnoō) which means "to pitch tent, encamp; to tabernacle, dwell in a tent; to dwell, have one's abode." So a more literal translation might go something like this: The Word became flesh and tabernacled among us.
That's right. The Old Testament tabernacle was a sign of Jesus who was to come.
God didn't intend for people to draw close to Him through a tent—He intended for people to draw close to Him through Jesus.
God didn't intend for people to receive forgiveness of sin through a tent—He intended for sin to be forgiven through Jesus.
God didn't intend for people to worship Him through a tent—He intended for people to worship Him through Jesus.
The tabernacle was another of God's word pictures—or perhaps Word pictures—of Jesus. It had deep significance to Israel in their day, something we cannot overlook, but it had even deeper significance in the big story of the gospel.
The writer of the Book of Hebrews wrote to Jewish believers who were being enticed to turn away from the gospel and return to Judaism. They had a very practical reason for doing so—persecution. You see, the first persecution the church faced was not from Rome—what we usually think of—it was actually from the Jews. The Jews saw the fledgling church as a serious threat to the monotheistic beliefs of Israel. The sting of the Assyrian and Babylonian captivities was still fresh for the people of Israel. God had disciplined His people for falling into polytheism before, and they didn't want to repeat that mistake again.
So as the early church grew, the Jews became increasingly alarmed by the claims of Jesus being God. In their thinking, the church was proposing polytheism—adding Jesus as a second God. And so, the Jews sought to shut down the early church, and if they couldn't shut it down, they would certainly shut it out of public life. Christians were often forbidden from buying and selling in the market. They were scorned and ostracized, even by their own families. Because of this, some of the Jewish believers began to waver and drift back toward Judaism.
And so, inspired by the Holy Spirit, the writer of Hebrews set before them a beautiful treatise in how and why Jesus is superior to Judaism. Jesus is superior to the sacrificial system. Jesus is superior to the priesthood. (By the way, the writer uses an amazing argument for this based on Melchizedek!) And, you guessed it, Jesus is also superior to the tabernacle. As you prepare this week, make sure you read through at least Hebrews 8:4-5 and 9:1-12.
As you teach this week's session, ask your kids what it must have been like for Israel to worship through the tabernacle. Try to draw out of them that on one hand it was incredibly encouraging for Israel to have a physical means by which they could connect with God. But don't stop there! Also lead your kids to consider how unsatisfying the tabernacle must have been. The people could get closer to God, but it wasn't close enough. There were still so many barriers between them and God and ultimately, only one person—the high priest—could come into God's presence in the Holy of Holies on only one day of the year—Yom Kippur, or the Day of Atonement. It's like eating one chocolate chip out of a large bag of chocolate chips. Sure it's better than nothing, but wouldn't it be great to eat the rest, too!
That is what God intended for His people. He wanted them to hunger for more. To not be satisfied. To long for a deeper, more intimate relationship with Him.  From this side of the cross, we know God wanted His people to long for Jesus.
How do you help your kids see that Jesus is the One who truly satisfies them? Leave a comment below. 
Here is more help for leaders preparing for the February 7, 2016 session (Unit 6, Session 2) of The Gospel Project for Kids.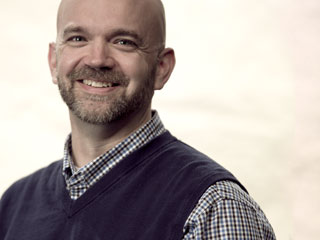 Brian Dembowczyk is the team leader for The Gospel Project for Kids. He served in local church ministry for over 16 years before coming to LifeWay. Brian earned an M.Div. from the Southern Baptist Theological Seminary and a D.Min. from the New Orleans Baptist Theological Seminary. Brian, his wife, Tara, and their three children—Joshua, Hannah, and Caleb—live in Murfreesboro, TN, where Brian enjoys drinking coffee and teaching 1-3 graders at City Church.