October 31, 2015 By Brian Dembowczyk
The Stolen Blessing
In 1996, I joined Cru (Campus Crusade for Christ back then) to become part of the Athletes in Action Baseball staff team. After attending new staff training in Orlando, Florida, my first task was to raise financial support back in Maryland. Cru staff members have to raise 100% of the finances necessary for their salaries and sometimes additional funds to support the ministry of which they are part as well.
Raising financial support in Maryland proved challenging and my bank account (which wasn't much to begin with a year or so after college) dried up pretty quickly. That led me to take two steps. First, I found a part-time job at a sporting goods store. Second, I sold my 1991 Honda Civic because I could no longer make the payments. I had loved that car, so it was not easy to part with it. I had a few hundred dollars leftover from the sale, so I scoured the newspaper classified ads and found someone selling a 1979 Datsun B210 and was able to pay for it with cash.
The name was cooler than the car. Much cooler.
The white car came with this thin pink racing stripe down each side and matching pink swirls on the rear panels. Thankfully, those peeled off easily.
I also had the sense that the car had been in an accident before. Maybe more than one. The first clue was the rear bumper was shifted 6-8 inches to one side. The second clue was the driver's seat that faced more of 11 o'clock than noon. But, hey, it ran.
Then when winter came, I discovered something else about the car. The heater didn't work. Which, wasn't ideal during my 30-minute drives to my part-time job.
So there I sat in my B210 in stop-and-go traffic one day grumbling to God. I was upset. No, I was angry. I was angry that raising support to start my ministry was taking so long. Why didn't God provide for my needs? I was angry that I was freezing in a busted up car as I looked around at people sitting in their BMWs, Toyotas, Hondas, and other nice cars. So I griped.
"God, those people are probably pagans who don't care about you at all. And they have nice cars and You are meeting their needs. Yet, here I sit in this and I still have such a long way to go to raise my financial support.
"This isn't right.
"This isn't fair. You aren't fair.
"Here I am trying to serve you and this is the best I get."
It was not my best moment. But it was such an important moment for me. Because it was in that moment that God peeled back the layers of my heart—the pretty, godly, superficial exterior—and exposed its core. And it wasn't pretty. And it certainly wasn't godly.
God laid my bare sin right before me.
I was self-absorbed and I was sitting in judgment of God. My sinful thinking was that God owed me—big—for abandoning a career in journalism to pursue ministry. It was arrogant. It was crass. But it was what was in my heart. And God used a frigid day and a Datsun B210 (which He graciously provided, mind you) to expose it.
My heart was exposed.
My sin was exposed.
And I was convicted.
So I repented.
I repented for doubting God's goodness and provision.
I repented for believing that God was indebted to me.
I repented of my pride and the twisted irony of thinking that I was special because I was committing myself to serve the One who became the Suffering Servant.
I am so grateful for that moment, or rather, for what God taught me through it. I continue to wrestle with pride and selfishness, and so I often return to that day to remember how deeply warped my mind and heart can be apart from the Holy Spirit's guidance. Whenever pride begins to well in me because of what I have experienced in local church ministry, or as part of The Gospel Project, or anything else, I am reminded that that guy from the car that day is still around and would love to get out again. But in God's kindness, the Holy Spirit is at war with that guy, constantly beating him down into submission until one glorious day when I am glorified and that man is put away once and for all.
And that takes us to this week's story, The Stolen Blessing (Genesis 25:27-34; 27:1-45). This week, we rub shoulders with Jacob as he takes advantage of his brother to get the family birthright and then outright lies to his father to steal the family blessing.
Put simply, Jacob was a swindler. A trickster. A cheat.
And so, many of us look at him and wonder why God chose to use him instead of so many others. Couldn't God have found a good person? An honest person? A person with even modest integrity?
No, He could not.
Because none exist. Not even us. Perhaps especially not us.
And that is the point God was making through Jacob, and indeed his entire family. They weren't special. They didn't do anything to earn God's favor. It is just the opposite. They were sinful men and women—just like us—deserving condemnation, not grace and blessing.
Yet, God, in His goodness, showered them with grace, mercy, love, and blessing. Because of who He is and His character, not because of who they were and their character.
It makes total sense that God would use a regular family to bring forth the Messiah. Because that is who the Messiah came for.
The next time we are tempted to look down at Jacob or so many other broken people God used in the Bible and wonder why they received God's favor, we need to prepare for open heart surgery, because God is grabbing His divine scalpel and He is about to begin cutting.
I am no better than Jacob. Neither are you. He was an undeserving recipient of God's grace, just like us.
I'm glad that God gave me a 1979 Datsun B210 to remind me of that—to remind me of the gospel.
How has God worked out humility in your heart and how have you taught your kids to live selflessly?
Here is more help for leaders preparing for the November 8, 2015 session (Unit 3, Session 1) of The Gospel Project for Kids.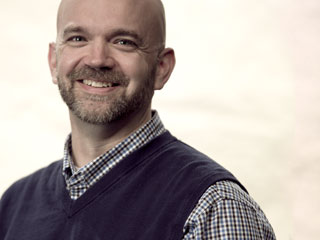 Brian Dembowczyk is the team leader for The Gospel Project for Kids. He served in local church ministry for over 16 years before coming to LifeWay in 2014. Brian earned an M.Div. from the Southern Baptist Theological Seminary and a D.Min. from the New Orleans Baptist Theological Seminary. Brian, his wife, Tara, and their three children—Joshua, Hannah, and Caleb—live in Murfreesboro, TN, where Brian enjoys drinking coffee and teaching 1-3 graders at City Church.