March 26, 2016 By Brian Dembowczyk
The Promised Land and Jericho
Are you a manager or a leader in your kids ministry role? There's a difference, and it is an important one.
Managers
Managers are organizers and caretakers. They have the responsibility to oversee an existing process or organization and keep it humming. Consider a manager of a widget factory. The manager would be the one responsible for ensuring that widgets keep getting shipped out of the factory at the lowest possible cost to maximize profit. He or she would be looking for ways to purchase the raw materials to make widgets at the lowest cost possible, would work to maximize performance of the employees, and ensure that quality is maintained. That's managing. And it is important.
Leaders
Then there are leaders. Leaders lead to a vision. They move organizations and people in new directions and to new levels. Consider a leader at a widget company. He or she would cast a vision, perhaps a widget in every home, and then lead the organization to do what it takes to make that vision happen. The goal would be to stir up the passions of the employees to strive to meet this goal while also marketing to potential customers to catch the vision of the value of widgets. That's leading. And it is important.
Now, managing certainly involves some leadership and leading certainly involves some managing, but in general, you are either a manager or a leader in a certain context because the focus of each is so different. Managers tend to focus on what is, while leaders tend to focus on what could be. Managers focus more on what the organization is doing, while leaders focus more on why the organization is doing it. Managers think more of today, while leaders think more of tomorrow.
So let's circle this back around to your role in kids ministry. If you are reading this blog post, you are probably either a kids ministry leader, a small group leader, or a large group leader. Notice what word is in all three of those titles: leader. Do you see yourself as a leader? Are you working on growing as a leader? This week's session, The Promised Land and Jericho (Joshua 2–4; 6), offers a great opportunity for you to do that. As you prepare to point your kids to Jesus, don't miss what God can teach you as a leader through this passage.
The Bible story opens with the nation of Israel on the east side of the Jordan River, just outside of the promised land. Spies are sent into the land and they get into a bind but are protected by Rahab, who, as further demonstration of God's kindness and providence, would become an ancestor of Jesus (Matthew 1:5). The spies return and the next day Joshua begins to prepare the people to invade. That is when God spoke to Joshua.
The Lord spoke to Joshua: "Today I will begin to exalt you in the sight of all Israel, so they will know that I will be with you just as I was with Moses. Command the priests carrying the ark of the covenant: When you reach the edge of the waters, stand in the Jordan." (Joshua 3:7-8)
God was going to exalt Joshua in sight of all Israel so the people would know that God was with him as He was with Moses. Basically, God was going to affirm Joshua's leadership from day one. Now, of course that wasn't God's only goal. He also wanted to show the people of Israel He could be trusted, remind them of their need for Him, and also send a warning to the other nations in the land. But don't look past how God was positioning Joshua as a leader.
So the people reach the Jordan River and then God parts it just like He had parted the Red Sea with Moses. This is not a coincidence. These two river crossings served as bookends to the wilderness wanderings, but they also served as memorable miracles under the leadership of Moses and Joshua.
The people then defeat Jericho by another miracle and the conquest is underway. At this point, Joshua's leadership score was through the roof. The people had seen in two powerful ways that God's hand was on him and that was so important here at the beginning of the conquest.
It is easy for us to see how Joshua was a leader and not a manager. He literally led the people into the land with the vision of believing in God and repossessing the land God had given to their ancestors. And this is where we can learn a great lesson here on our leadership.
Think about what we do every week. We aren't there to manage a ministry or a classroom. Our goal is not just to keep the Bible study or worship time going. That's important, of course, but that isn't our ultimate goal. No, our goal is to point our kids to the vision of knowing what the gospel is and being transformed by it. Every week we are seeking to cast the vision of loving Jesus and following Him. We are casting the vision of who can be because of the gospel. That's leadership!
And just like Joshua, our leadership is not designed to point to ourselves, but instead to Jesus. Our leadership should be making much of Jesus and showing His glory and splendor through how we love our kids and how we constantly point to the gospel in all we do.
God was with Joshua as he led God's people into the promised land. God is also with you as you lead your kids further into the gospel. What you do matters! Never forget that! Never lose sight of your role as leader for your kids.
What are some of the ways that you cast gospel vision to your kids? Leave a comment below.
Here is more help for leaders preparing for the April 3, 2016 session (Unit 7, Session 3) of The Gospel Project for Kids.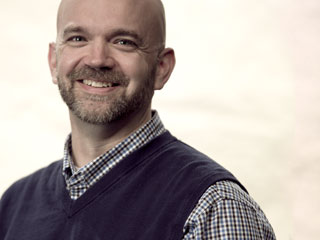 Brian Dembowczyk is the team leader for The Gospel Project for Kids. He served in local church ministry for over 16 years before coming to LifeWay. Brian earned an M.Div. from the Southern Baptist Theological Seminary and a D.Min. from the New Orleans Baptist Theological Seminary. Brian, his wife, Tara, and their three children—Joshua, Hannah, and Caleb—live in Murfreesboro, TN, where Brian enjoys drinking coffee and teaching 1-3 graders at City Church.