October 24, 2015 By Brian Dembowczyk
The Promise Reaffirmed
We are in the middle of autumn, or more commonly known these days as Pumpkin Season. Now, I love pumpkin as much as the next guy (who is that guy, anyway), but I think our culture needs a pumpkin intervention. We see pumpkin in everything. Pumpkin coffees. Pumpkin teas. Pumpkin pastries. Pumpkin sandwich bread. Pumpkin protein bars. Pumpkin popcorn. Pumpkin oatmeal. Pumpkin almonds. Pumpkin peanut butter. Pumpkin pasta sauce.
Is it possible to have too much of a good thing? I say it is. And pumpkin during this time of year is Exhibit A.
We take pumpkin, which is a good thing, but then we infuse it in everything, and we go too far.
And that takes us to this week's Bible story, The Promise Reaffirmed (Genesis 25:19-26; 26:1-6; 28:10-20). Give me a few minutes and I will bring this back around. I promise.
Beginning in Genesis 12, God had promised Abraham that He would make Abraham's family a great nation and that He would give them a land and bless them. God reaffirmed this promise to Abraham several times and in this week's session, we see God sharing the same promise to Abraham's son, Isaac, and grandson, Jacob. I want us to focus on God's interaction with Jacob for a moment in Genesis 28:10-20, specifically Jacob's rather odd dream recorded in verse 12.
And he dreamed: A stairway was set on the ground with its top reaching heaven, and God's angels were going up and down on it.
Now this makes for a fantastic teaching picture, but it is somewhat confusing. What was this ladder? Why were angels going up and down it? What does it mean? It's hard to pin down definitive answers to those questions in this passage, so many of us tend to dismiss this part of the story. We simply don't know what else to do with it and we really don't need it to understand the big idea of God reaffirming the Abrahamic Covenant to Jacob.
But then on some other day, we are reading the account of Jesus calling Philip and Nathaniel in the first chapter of the book of John and we read verse 51.
Then He said, "I assure you: You will see heaven opened and the angels of God ascending and descending on the Son of Man."
And that sounds familiar to us. So we check the cross references, and sure enough, they direct us back to Jacob's ladder in Genesis 28:12. And then we make the connection. God was giving Jacob a picture of what the ultimate fulfillment of the Abrahamic Covenant would be—or actually Who it would be. The covenant pointed to Jesus, the one and only ladder, or bridge, between God and man.
And suddenly our eyes are opened and we realize that Jesus is not just in Genesis 28:10-20, Genesis 28:10-20 is about Jesus.
And this is where we circle back around to pumpkin. Because it is in this moment that we might be inclined to take a "pumpkin approach" to the Old Testament and begin looking for Jesus "under every rock." Once we see Jesus in an Old Testament story where we had not previously seen Him, we get excited to find Jesus in other Old Testament stories. We start to put pumpkin in everything.
Now, let me be clear: the Bible is one big story of Jesus, but we still must be careful to read and interpret it properly. We have to resist the temptation to find Jesus in every single detail of the Old Testament—which would mean we are then reading the Bible as allegory, an improper method for studying God's Word where the basic meaning of the text is set-aside for a hidden, often mysterious meaning underneath of it. The ladder in Genesis 28 was a picture of Jesus. But that doesn't give us license to find how the rock under Jacob's head was Jesus, too. Sometimes a rock is just a rock.
So how do we walk this balance, especially as we take our kids on a journey through the Bible with the expressed purpose of finding how all of the Bible is about Jesus? It's a great question. I find it helpful to think in terms of four rather broad categories as I study the Old Testament. Each of the four categories points us to Jesus, some more directly than others, but everything will fit into at least one category and therefore connect to the big story of Jesus.
Messianic Prophecies
When most people think of how and where Jesus might be in the Old Testament, they go here first—and often stop. Messianic prophecies can be considered the clearest and safest way to see Jesus in the Old Testament because they are affirmed in the New Testament.
EXAMPLES: The prophecy that the Messiah would be a descendant of Judah (Genesis 49:10) is affirmed in Matthew 1:2 and Luke 3:33. The virgin birth (Isaiah 7:14) is affirmed in Matthew 1:18-25 and Luke 1:26-35. The Messianic prophecies of Psalm 22 and the prophecy that the Messiah would rise from the dead (Psalm 16:10-11) are affirmed in the Gospel accounts.
Images of Jesus
God gave us many Old Testament images, or pictures, that foreshadowed Jesus. Many of these images are affirmed in the New Testament (such as Jacob's ladder), but not all are. When you encounter what you believe is an image of Jesus in the Old Testament, but it is not affirmed in the New Testament, you should be cautious, ensure that there is a clear connection to Jesus, and seek to find support in commentaries, and other sources. Be very wary if you cannot find any other support for what you believe is an image pointing to Jesus. Also, be careful not to minimize the basic meaning of the Old Testament account. For example, we would not want to detract from the literal historicity of Jacob having his dream in Genesis 28. Yes, God gave us an image of Jesus in the ladder, but He was also at work in Jacob's life and we can't miss that.
EXAMPLES: Abraham's test to sacrifice Isaac points to God sacrificing His Son, Jesus. God saving Noah by grace points to God saving people through Jesus. God using Moses to lead people out of Egypt's bondage points to God using Jesus to lead people out of sin's bondage. The tabernacle/temple points us to the person and ministry of Jesus.
Gospel Truths
Many Old Testament passages do not point directly to Jesus, but they point to Him indirectly by clarifying or expanding the core tenets of the gospel. At times, God shows us how sinful we are and how helpless we are to do anything about our sin condition. At other times, God shows us His holiness, purity, grace, mercy, or kindness. Still at other times, God shows us what a right relationship with Him would look like. All of these help us to see the theology of the gospel unfolding in the Old Testament. It all points to our need for Jesus and God's provision of Jesus to meet that need because of His character. 
EXAMPLES: Cain murdering Abel shows us the impact of sin and depth of human depravity. The Law shows us our inability to meet God's perfect standard. God extending grace and mercy to Noah shows us His kindness and love.
Redemptive History
We cannot forget that the Bible is not just a theology text book; it is also a book of history (and that history is vital because it interconnects with theology). God promised Adam and Eve that a Seed (the Messiah Jesus) would come one day to crush Satan. Much of the Old Testament advances this historic narrative leading us directly to the manger in Bethlehem, the cross on Calvary, and the empty tomb in the garden.
EXAMPLES: The genealogies move us toward the birth of Jesus. The movement of God's people to and from Palestine center us on the land of promise. The establishment of the kingdom point us to King Jesus who was coming.
I hope this framework helps you as you study and point our kids to Jesus in the Bible.
What prophecies, images, gospel truths, or historic events help you see Jesus the most? Leave a comment below.
Here is more help for leaders preparing for the November 1, 2015 session (Unit 2, Session 3) of The Gospel Project for Kids.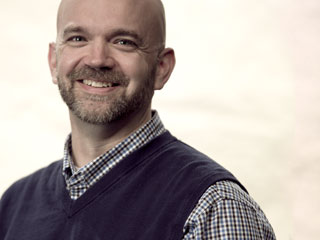 Brian Dembowczyk is the team leader for The Gospel Project for Kids. He served in local church ministry for over 16 years before coming to LifeWay in 2014. Brian earned an M.Div. from the Southern Baptist Theological Seminary and a D.Min. from the New Orleans Baptist Theological Seminary. Brian, his wife, Tara, and their three children—Joshua, Hannah, and Caleb—live in Murfreesboro, TN, where Brian enjoys drinking coffee and teaching 1-3 graders at City Church.