December 26, 2015 By Brian Dembowczyk
The Plagues, the Passover, and the Crossing of the Red Sea
I want you to think about something for a moment. I mean it. I really want you to think about this, so go ahead and do what you need to do to focus for a minute or two.
OK. Ready? Now, what I want you to do is let your mind and heart go where I am going to ask you to go. And here it is:
The first responders who rushed toward the towers on September 11, 2001.
So what emotions did you experience? What were your thoughts?
Sadness?
Respect?
Gratitude?
I don't know about you, but I am overcome with a deep, deep sense of awe when I think about the sacrifice those heroes made that day. When everyone else ran away, they ran to. These men and women were keenly aware of the danger before them, yet they were resolute in their sense of duty to protect and to serve others. Their honor guided them.
And so they ran to instead of away and many of them laid their life down that day. And that is why we experience awe, gratitude, and respect when we think about them. Or when we think about the men and women serving in the military. Or when we think about others who have sacrificed their lives, or who have been willing to do so, for others.
We think and feel this, because it is hard-wired within us because God has placed it there.
No one has greater love than this, that someone would lay down his life for his friends. (John 15:13)
Jesus said that to His disciples in the upper room on the night He was betrayed. While they would be called on to lay their lives down for others in time, they were not the "someone" Jesus had in mind that night.
He was.
Jesus was preparing them for what they would experience the next day—mere hours from then—when they would see Him die a gruesome death. A death that was offered up freely on their behalf.
Jesus ran to, not away. And our response should be awe-filled gratitude. That is why God hard-wired us the way we are. There's something much greater on the table here than the nobility of our fellow man—as wonderful as that is and as proper as it is for us to be in awe of them.
The sacrifice we see in the world around us is a parable pointing to Jesus and His greater sacrifice. It always has been. And that's what we need to frame our thinking as we prepare to teach The Plagues, the Passover, and the Crossing of the Red Sea. (Exodus 5—14) We have quite a bit of ground to cover this week—there is a lot of narrative material here and it is all packed full of rich, colorful, kid-resonating detail.
But let us not fail in keeping the gospel central this week. Let us not allow ourselves to be distracted by the details of the passage—good details, important details—so that we fail to point our kids to what is vital here—the picture of the future sacrifice of Jesus for His people.
That is why the first nine plagues did not liberate God's people from the bondage of Egypt, but the tenth did. The tenth plague centered on the death of the firstborn. And the only way Israel would be spared from that plague was by sacrificing a substitute—an unblemished lamb (John 1:29)—on their behalf.
In the Passover, God planted a seed of understanding of the greater sacrifice that was needed—and that was coming—to liberate people from the bondage of sin. That is why God commanded His people to celebrate the Passover perpetually. He wanted them to rub shoulders with this idea over and over again. He wanted His people to develop a deep understanding and appreciation of sacrifice. He was preparing their hearts for Jesus.
While we do not celebrate the Passover today, the idea of sacrifice certainly resonates with us as we pondered earlier. Let's help our kids connect to that deep amazement, wonder, and gratitude God has planted within each of them this week as we point them to the gospel through the plagues, the Passover, and the crossing of the Red Sea. Let's pray that God uses us to stir their affections for Jesus—the One who ran to and not away for them—as we show them the beautiful picture God provided of Jesus in Exodus.
How have you stirred the affections of your kids to be more in awe of Jesus recently? Share with us in a comment below.

Here is more help for leaders preparing for the January 3, 2016 session (Unit 4, Session 2) of The Gospel Project for Kids.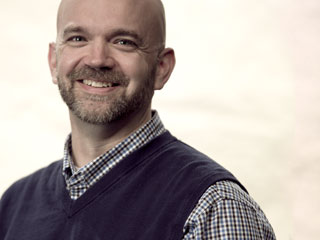 Brian Dembowczyk is the team leader for The Gospel Project for Kids. He served in local church ministry for over 16 years before coming to LifeWay in 2014. Brian earned an M.Div. from the Southern Baptist Theological Seminary and a D.Min. from the New Orleans Baptist Theological Seminary. Brian, his wife, Tara, and their three children—Joshua, Hannah, and Caleb—live in Murfreesboro, TN, where Brian enjoys drinking coffee and teaching 1-3 graders at City Church.