January 9, 2016 By Brian Dembowczyk
The Golden Calf
As I write this blog post, I am listening to Christmas music and looking forward to celebrating Christmas with my family in two weeks. We just celebrated my daughter Hannah's 8th birthday yesterday, and our son Caleb's 4th birthday the week before. Yes, December is a busy month for gift-giving in our home. Thankfully, Joshua will not turn eleven until April.
One thing that I have learned over the past birthdays and Christmases is how fleeting all of those gifts are. I have seen it so many times—one of my kids is completely fixated on a toy. Let's say a LEGO® set for Joshua. That LEGO® set is all Joshua can think about. Really. I have seen him staring at pictures of sets in the LEGO® catalog. It's all he wants.
And then he gets it.
And he is emphatic. He thanks us profusely and puts it together right away. Then he plays with it and chases his little brother away so he won't break it.
Then a week later, it is nowhere to be found—taken apart and gutted for other building projects.
LEGO® sets. Dolls. Cars. Remote helicopters. Video games. The list goes on and on.
Toys that completely fixated my kids—for a short time. Then, just like that, they turned their attention elsewhere.
I want to say I don't get it. I want to say that I cannot understand at all how my kids can love something so much, and then turn away from it just like that. In the blink of an eye. I want to say that.
But I can't.
Because when I am vulnerable with myself, I see that I understand far too much.
I do the same with God.
How quickly I can go from sincere worship of God to passive disinterest in Him or even active rebellion against Him.
My heart is weak. My mind is weak. I want to feed my flesh. And I often do. I live Romans 7:13-25 every day.
13 Therefore, did what is good cause my death? Absolutely not! On the contrary, sin, in order to be recognized as sin, was producing death in me through what is good, so that through the commandment, sin might become sinful beyond measure. 14 For we know that the law is spiritual, but I am made out of flesh, sold into sin's power. 15 For I do not understand what I am doing, because I do not practice what I want to do, but I do what I hate. 16 And if I do what I do not want to do, I agree with the law that it is good. 17 So now I am no longer the one doing it, but it is sin living in me. 18 For I know that nothing good lives in me, that is, in my flesh. For the desire to do what is good is with me, but there is no ability to do it. 19 For I do not do the good that I want to do, but I practice the evil that I do not want to do. 20 Now if I do what I do not want, I am no longer the one doing it, but it is the sin that lives in me. 21 So I discover this principle: When I want to do what is good, evil is with me. 22 For in my inner self I joyfully agree with God's law. 23 But I see a different law in the parts of my body, waging war against the law of my mind and taking me prisoner to the law of sin in the parts of my body. 24 What a wretched man I am! Who will rescue me from this dying body? 25 I thank God through Jesus Christ our Lord! So then, with my mind I myself am a slave to the law of God, but with my flesh, to the law of sin.
I would dare say I am not alone. I would further venture to guess that if you are being vulnerable with yourself as you read this, you can relate.
How quickly we turn from God. How quickly we turn from worship of the one true God to worship of ourselves. Or possessions. Or entertainment. Or people. Or even a meal.
We are weak people desperately in need of the Holy Spirit to continually captivate our every thought and stir our every affection toward God alone. Oh, if we only could remember how desperate we are!
That is the major takeaway of this week's session, The Golden Calf. (Exodus 32:1-35; 34:1-9) The people of Israel once again dropped the ball and they quickly turned from God to worship a golden calf that they saw fashioned in front of them. How absurd is that? They turned from the one true living God who had revealed Himself to them in such amazing ways to worship a hunk of metal.
But once again, we have to be careful that we don't think in terms of them, but in terms of us. Actually, me is even better. I am no better than that. We are no better than that. We are the same way.
When Moses returned and saw what was going on, He told the people that he would go before God to intercede on their behalf so that perhaps God might forgive them. And God did.
Moses was a good mediator for his people, but we have an even better One—Jesus Christ. Jesus stands in the presence of the Father as our Mediator having paid our sin punishment to bring us to the Father.
We need to remember that, don't we? I need to remember that. When I turn from God and worship my golden calves, my Mediator is there affirming my position as a forgiven child of God. And the Holy Spirit He provided is there pushing me, pulling me, and dragging me from my sinful flesh back toward God.
What a day it will be when all of the golden calves are destroyed! When we will finally be shed of our sinful inclinations and desires and our conduct will fully match our identity as purified, redeemed children of God.
But until that day, may we continue to yield our hearts to the Holy Spirit and cling desperately to our Mediator Jesus.
What are some of the "golden calves" in kids' lives? How have you helped them to discover them and reject them? Share in a comment below.
Here is more help for leaders preparing for the January 17, 2016 session (Unit 4, Session 4) of The Gospel Project for Kids.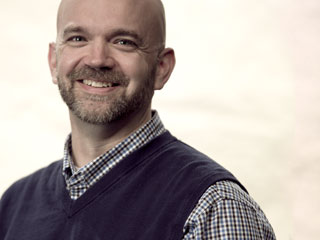 Brian Dembowczyk is the team leader for The Gospel Project for Kids. He served in local church ministry for over 16 years before coming to LifeWay. Brian earned an M.Div. from the Southern Baptist Theological Seminary and a D.Min. from the New Orleans Baptist Theological Seminary. Brian, his wife, Tara, and their three children—Joshua, Hannah, and Caleb—live in Murfreesboro, TN, where Brian enjoys drinking coffee and teaching 1-3 graders at City Church.