April 16, 2016 By Brian Dembowczyk
The First Judges
Last summer, my family went to Gatlinburg, Tennessee, for a vacation. If you've ever been there, you know that the area is full of pancake restaurants and tourist traps, both of which my kids love. One rainy afternoon we went to one of those traps that included an indoor mirror maze. We started out pretty well and worked our way through the first room or two with relative ease. But then we got to a room where we kept getting turned around. Again and again. After a while, we bumped into a father and his kids experiencing the same thing as we were. We were all completely turned around, going in circles—literally. We tried to help each other out, but because we were all lost, there wasn't much we could do for each other.
We eventually found our way out. I sure hope that dad and his kids made it out, too.
Going in circles with no one around to help.
That pretty much sums up Israel in this week's Bible story, The First Judges. (Judges 3:7-31). The first few verses of this passage sum up Israel's pattern of sin quite well throughout this period recorded in the book of Judges:
7

 The 

Israelites

 

did

 what was 

evil

 in the 

Lord

's

 

sight

; they 

forgot

 the 

Lord

 their 

God

 and 

worshiped

 the 

Baals

 and the 

Asherahs

. 

8

 The 

Lord

 

's

 

anger

 

burned

 against 

Israel

, and He 

sold

 them to 

Cushan-rishathaim

 

king

 of 

Aram-naharaim

, and the 

Israelites 

served

 

him

 

eight

 

years

. 

9

 The 

Israelites

 cried 

out

 

to

 the 

Lord

. So the 

Lord

 raised 

up 

Othniel

 

son

 of 

Kenaz

, 

Caleb's

 

youngest

 

brother

, as a 

deliverer

 to 

save

 the 

Israelites

. 

10

 The 

Spirit

 of the 

Lord

 

came

 

on

 him, and he 

judged 

Israel

. Othniel went 

out

 to 

battle

, and the 

Lord

 handed over 

Cushan-rishathaim

 

king

 of 

Aram

 

to

 him, so that Othniel 

overpowered

 

him

. 

11

 Then the 

land

 was 

peaceful

 

40

 

years

, and 

Othniel

 

son

 of 

Kenaz 

died

.
Sin—Discipline—Cries—Judge—Deliverance.
And then in the next verse, we read, "The Israelites again did what was evil in the Lord 's sight." And the pattern repeated.
Over and over and over again.
The Book of Judges simultaneously reminds us of man's deep sinfulness and God's superabundant grace. Proverbs 26:11 tells us that "as a dog returns to its vomit, so a fool repeats his foolishness." Clearly that applies to Israel in the Book of Judges. But thankfully for Israel and us, Psalm 145:8 tells us that "the LORD is gracious and compassionate, slow to anger and great in faithful love."
And so in God's kindness, He provided judges to deliver and lead His people. While some of the judges were impressive in ways—Samson's physical strength for example—they also had some pretty alarming weaknesses. Gideon was basically a coward. Samson had an enormous ego. But one thing that every single judge had in common was their failure to truly deliver God's people from their greatest enemy—sin. The judges may have provided temporary relief from a foreign nation, but they could not provide lasting relief from sin.
Every single judge reminds us of one big idea that runs throughout the entire Bible—we need help that transcends any human, no matter how strong or wise he or she may be. We need Jesus. He is the only One who can truly deliver us from the sin that enslaves us.
As you work through the Book of Judges with your kids, use this as a great opportunity to show your kids the fallacy of holding up people in the Bible as models for us to emulate. Use this as a time to share how it is foolish of us to try to emulate Samson's strength, for example, because in the end all of these human attributes fall woefully short. We don't need to be stronger like Samson to combat sin. We don't need to be braver unlike Gideon to combat sin. We need Jesus. We desperately need Jesus. We don't need to be strong because He is strong for us. We don't need to be brave because He is brave for us. We rest in Him—in His perfection. And because of that, we live in confident victory over sin. Complete and lasting victory.
That is the main point of the Book of Judges.
How have you shown your kids your ongoing desperate need for Jesus? Leave a comment below.
Here is more help for leaders preparing for the April 24, 2016 session (Unit 9, Session 1) of The Gospel Project for Kids.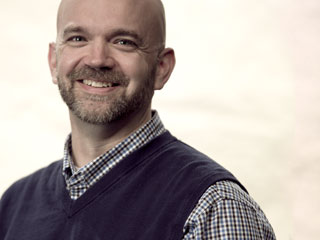 Brian Dembowczyk is the team leader for The Gospel Project for Kids. He served in local church ministry for over 16 years before coming to LifeWay. Brian earned an M.Div. from the Southern Baptist Theological Seminary and a D.Min. from the New Orleans Baptist Theological Seminary. Brian, his wife, Tara, and their three children—Joshua, Hannah, and Caleb—live in Murfreesboro, TN, where Brian enjoys drinking coffee and teaching 1-3 graders at City Church.