March 5, 2016 By Brian Dembowczyk
The Bronze Snake
I was sitting at my kitchen table the other day, working over a home improvement project in my head and on paper. What I was trying to figure out involved quite a bit of math and measurements, so I was trying hard to focus. This was when my youngest two kids, Hannah and Caleb, plopped down to eat a snack of cereal.
Now let me interject that the following is really my fault. I have failed to teach my 8-year-old and 4-year-old this important life lesson.
Hannah and Caleb each put a piece or two of cereal in their mouths and then it began.
Crunch, crunch, smack, smack, crunch, crunch.
Actually, it was more like
CRUNCH, CRUNCH, SMACK, SMACK, CRUNCH, CRUNCH.
Imagine a herd of cows chewing bubble gum encased in plastic bubble wrap. Now turn the volume up some and you have what I heard.
"Hey, Hannah and Caleb," I said. "You need to chew with your mouths closed. Put the cereal in your mouth, then close your mouth, and then you chew."
Pleased with my exceptional and effective parenting skills, I turned my attention back to my project.
CRUNCH, CRUNCH, SMACK, SMACK, CRUNCH, CRUNCH.
"Um. Hey, guys. Let's try this again. Put the cereal in your mouth, close your mouth, then chew. It's not polite to chew with your mouth open. OK? Got it?"
They both nodded, so I returned to my task.
CRUNCH, CRUNCH, SMACK, SMACK, CRUNCH, CRUNCH.
"Come on, Hannah and Caleb. What did I just say? You need to chew with your mouths closed."
CRUNCH, CRUNCH, SMACK, SMACK, CRUNCH, CRUNCH.
I'll spare you the rest of the conversation of me telling them several more times how to chew with their mouths closed as well as my threat to take the cereal away from them. Hannah and Caleb mercifully finished their snack and ran off to play. And then, as if on cue, my oldest son, Joshua, plopped down in the seat they had just vacated and fired a tortilla chip in his mouth.
CRUNCH, CRUNCH, CRUNCH.
Let me just say that Joshua enjoyed his snack from a different room.
OK. So I admit that this was not one of my parenting highlights. Sure, my kids needed to be more polite, but I got pretty frustrated too, because I was telling them over and over to chew the right way. I don't like telling them something so many times. I want them to hear me once and do it.
And I'm so glad God is not like me.
Last week, we saw how the people's lack of trust barred all of the adults except Joshua and Caleb from entering the promised land and instead led them to wander the wilderness. This week, in The Bronze Snake (Numbers 20:1-20; 21:4-9), we pick back up with the people as they wandered in the wilderness and complained and grumbled once again about a lack of water. And once again, they say they would have been better off had they died earlier.
Sound familiar?
We would be right to ask how many different times and different ways the people will refuse to trust God. But we also need to ask how many times will they refuse to trust God in the same way! And here's the beautiful way that God is not like me. God is so patient with them and provided water, even if it was through a disobedient Moses.
Then later, when the people grumble yet again, God sent poisonous snakes to discipline the people. And just as it appeared that God's patience ran out and He sent his lip-smacking kids into the other room, He provided a way to be healed from the snakes—a bronze snake on a pole.
Isn't God's kindness amazing?
Now, we know that this snake on a pole was picturing Jesus (John 3:14-15) so don't miss God's bigger point in His kindness here. Jesus is the only solution for death.
Think about this with me. The people had to do something that made no sense—they had to look at a bronze snake to be healed. That right there takes quite a bit of faith. Especially when you remember that there were still poisonous snakes all over the place! It would be more prudent to keep your eyes on the other snakes. So God wanted His people to trust Him—yes, the very thing they continued to lack over and over again. And when they trusted Him and looked up to the snake, they would be healed. In the same way, when we place our eyes on Jesus, trust Him and take our eyes off of fixing our sin problem on our own, we will be healed.
Trust in God's kindness. It is a lesson God patiently taught to His people over and over again and it is a lesson He patiently teaches to us as well.
How have you experienced God's patience in your life? Let us know below.
Here is more help for leaders preparing for the March 13, 2016 session (Unit 7, Session 2) of The Gospel Project for Kids.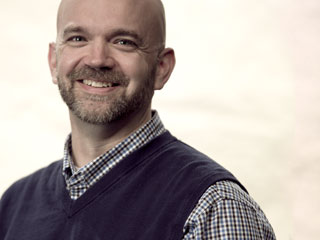 Brian Dembowczyk is the team leader for The Gospel Project for Kids. He served in local church ministry for over 16 years before coming to LifeWay. Brian earned an M.Div. from the Southern Baptist Theological Seminary and a D.Min. from the New Orleans Baptist Theological Seminary. Brian, his wife, Tara, and their three children—Joshua, Hannah, and Caleb—live in Murfreesboro, TN, where Brian enjoys drinking coffee and teaching 1-3 graders at City Church.