October 5, 2016 By Brian Dembowczyk
The Art of Bible Storytelling

We've all been there. Perhaps it was a lecture. Or a conversation on a plane. Or perhaps it was even… gulp… at church.
That's right. I'm talking about listening to a real bore. You know, the person who made you struggle to stay engaged—perhaps even to stay awake.
Here's what I want you to do. I want you to go back to one of those times in your mind. I know. It's not fun at all. Even a little painful. But trust me on this one. I need you to do it just for a minute.
OK. Now go back and try to relive that experience. Really try to remember everything you can about it. See you in a minute.
Back with me? Good.
Now, what was it about that person that was so boring? For some, it might simply be they were talking about something boring. But for many others it wasn't the subject at all—it was how they were talking.
Monotone.
Expressionless.
Passionless.
Take the boring preacher for example. If that preacher was preaching from the Bible, the source of boredom was not the subject at all. The boredom only existed because of the way that preacher was talking about the subject. I've sat through my fair share of boring sermons and seminary lectures. Rarely has it been because of the subject matter though.
Now turn it around. Who are some of your favorite preachers and teachers? Now think about how they communicate.
For me, I love listening to J.D. Greear, Matt Chandler, Voddie Baucham, David Platt, Francis Chan, Alistair Begg, John Piper, Russell Moore, and my pastor, Trevor Atwood. Not only are these men solid when it comes to teaching the Word of God, but they all do it with passion. With energy. And for some, with a good amount of humor mixed in.
I don't have trouble staying zoned in when I listen to them because of the way they communicate. They draw me in. Sometimes even for an hour or more. They know the art of communication.
As preschool and kids leaders and teachers, we have the amazing privilege to use the art of storytelling to share stories of the Bible so that our kids learn the story of the Bible—the gospel story of Jesus Christ that runs throughout Scripture.
We at The Gospel Project® are so grateful that we have the opportunity to partner with you and we are thankful you place your trust in us to provide you with Jesus-centered curriculum. But we don't want to stop there. We want to do even more. We are always thinking and praying about ways we can better serve you in your mission to point your kids to Jesus. And in Spring 2017, you will see a new way we are doing that.
Up to this point, the Bible storytelling portion of the leader guides instructed you to either show the Bible story video or tell the story in your own words using the script provided. But not everyone is a natural or trained storyteller, so we want to do more than that. We want to provide you with some tips on how to tell the story in as engaging of a way as possible—to help you with the art of storytelling. As you know, story is critical to the gospel and we want you to be able to tell the amazing story of Jesus in powerful ways that draw your kids in every week.
Now, granted, we aren't able to provide in-depth tips and instructions at this point, but our hope is that we are able to give you enough to kick your storytelling up to the next level or better yet, get your creative juices flowing so that you can come up with your own engaging ways to tell the Bible story each week.
To start, we're going to provide a few general storytelling tips in a series of blog posts during the next four weeks. My hope is that this blog series helps you deepen your familiarity with the art of Bible storytelling so that you can tell Bible stories much like Maegan does for our preschool videos and Tyler does for our kids videos. You might want to bookmark or download these videos (or watch any of their other ones) to reference especially when we get to the last two blogs in this series. 
So here are the topics we will explore in the weeks ahead:
October 12: Preparing to Tell the Story
October 19: Creating an Atmosphere to Tell the Story
October 26: Using Your Body to Tell the Story
November 2: Using Your Voice to Tell the Story
We really hope this series and the new storytelling tips in the leader guides help you communicate the beauty and power of the gospel to your kids in an even deeper way each week.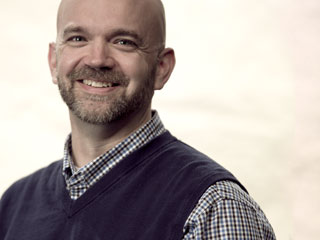 Brian Dembowczyk is the team leader for The Gospel Project for Kids. He served in local church ministry for over 16 years before coming to LifeWay. Brian earned a D.Min. from the New Orleans Baptist Theological Seminary and an M.Div. from the Southern Baptist Theological Seminary. Brian, his wife, Tara, and their three children—Joshua, Hannah, and Caleb—live in Murfreesboro, TN, where Brian enjoys drinking coffee and teaching 4-5 graders at City Church.
Podcast: Play in new window | Download
Subscribe: Apple Podcasts | Android | RSS