July 23, 2016 By Brian Dembowczyk
Solomon Built the Temple
If you haven't heard, LifeWay is in the middle of a major transition. Last year, our entire Nashville campus was sold and a new, smaller plot of land was purchased just a few blocks away. The reason was simple—the facilities we had were huge and we were only using a fraction of the property, but we had to keep all of it in repair and so forth.
So the decision was made to sell the property and build a smaller, more energy efficient campus. Right now, we are consolidated into one part of the property that we are leasing back from the new owner as our new campus is being built. It's been quite a season of change.
Pretty much every employee changed offices late last year. Pretty much every working space is different, and we are all learning new work rhythms.
Until the new campus is completed. Then we'll all go through more change.
Change is hard for a lot of people–perhaps most people. It can be jarring. Unsettling. Confusing. Unnerving. Uncomfortable.
Change can make you feel unstable. Unsure.
And so that is why many people would prefer things to stay the same—even if they are less than ideal—rather than change—even for the better.
You might want to keep change in mind this week as you prepare to teach Solomon Built the Temple. (Unit 11, Session 3)
As we know, the children of Israel had constructed the tabernacle—a tent—for worship of God. They had carried the tabernacle with them through the wilderness, setting it up wherever they camped per God's instruction.
After the people had settled in the land, David sought to build a permanent structure—a temple—for God, but God did not allow him. God wanted David's son, Solomon to build the temple.
Solomon took on this task and constructed a magnificent structure, which you can read about in our passage this week: 1 Kings 6-8.
Now, here's where it might be helpful to pause and ask ourselves why a temple was necessary? Why not just continue with the tabernacle? Why a temple?
I believe the answer is found at the end of the Great Commission in Matthew 28:20.
…teaching them to observe everything I have commanded you. And remember, I am with you always, to the end of the age.
For those who have trusted in Christ, He is with us always, to the end of the age. And that is the reason for a permanent temple—because the temple pointed to Jesus, as the writer of the Book of Hebrews tells us.
Think about the history of Israel in the Old Testament. They went through so much movement, so much transition, so much uncertainty. They also didn't enjoy a stable relationship with God due to their own sin.
But as redemptive history advanced—as each day drew closer to the coming of Jesus—God continued to show His people that Jesus would change things. Really change things.
The tabernacle still had a feeling of transience. It seemed temporary. While the design of the temple and the components in it all pointed beautifully to Jesus, this feeling of transience did not align with how Jesus would be with His people permanently. That is why a permanent temple—a structure that emulated the design of the tabernacle—was better. The temple points to Matthew 28:20 better.
As you talk with your kids about the temple being a picture of Jesus, don't miss this aspect. When the temple was built, God's people always knew exactly where they could go to deal with their sin and come before God. They knew the temple would be in the same place and always there for them. In a greater way, our kids need to know that Jesus is always there for us. We can always take our sin and struggles to Him as we can also take our joys and victories. We always know where Jesus is, because He is with us wherever we go.
When was a time when Jesus felt especially close to you? Leave a comment below.
Here is more help for leaders preparing for the July 31, 2016 session (Unit 11, Session 3) of The Gospel Project for Kids.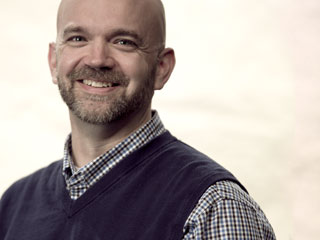 Brian Dembowczyk is the team leader for The Gospel Project for Kids. He served in local church ministry for over 16 years before coming to LifeWay. Brian earned an M.Div. from the Southern Baptist Theological Seminary and a D.Min. from the New Orleans Baptist Theological Seminary. Brian, his wife, Tara, and their three children—Joshua, Hannah, and Caleb—live in Murfreesboro, TN, where Brian enjoys drinking coffee and teaching 4-5 graders at City Church.