September 12, 2015 By Brian Dembowczyk
Sin Entered the World
I grew up in the 1970s and 80s which means one thing—I have seen every Rocky movie made (yes, even Rocky V, which coincidentally scores a 5.1 out of 10 on IMDB's website, or as I call it—4 points too high). Chances are that you have seen at least one of the Rocky movies as well. (And some would argue that if you have seen one Rocky movie, you have seen them all, but the subtleties and nuances of the Rocky movies are just lost on them!)
That Rocky sure could take a beating, couldn't he? Apollo Creed, Clubber Lang, Drago… it didn't matter. Rocky would get pummeled for several rounds and then that music would start to play—you know that music. And then Rocky would muster superhuman strength from deep down within (aka "The Eye of the Tiger") and the next thing you knew, Apollo, Clubber, or Drago was sprawled out on the canvas and Rocky was lifting his arms in the air yelling, "Yo, Adrian!"
Now, we all knew this was coming. We knew the basic Rocky formula. But it didn't matter. Each time we watched a new Rocky movie we would get those goosebumps (don't deny it) and leave the theater wanting to run up the side of a mountain and bench press a large farm animal. We just can't get enough of those last-minute, all hope seems lost, "I can't believe this," come-from-behind victories.
Which takes us to this week's Bible story, Sin Entered the World. (Genesis 3:1-24) As you prepare to lead your kids through this story and consider the full counsel of Scripture, it might be tempting to view God's story as the greatest of all come-from-behind wins that makes Rocky's wins seem rather boring. It looks like Satan lands a haymaker on God in Eden. And then as you read further into the Old Testament and into the New Testament, the scorecard doesn't appear to go in God's favor. Sure, God lands a few blows on Satan, but there seems to be so much more activity coming from Satan. But then we get to Revelation, and God finally unleashes on the Adversary, and God finally defeats His foe.
That would surely be a compelling story, wouldn't it be?
But there's a problem. That's not how it happened.
Satan never had God "on the ropes," and God was never in danger of "losing the fight." Oh, it looks that way through our human eyes at times, but like so many times in life, what we see—what we perceive—what we understand—doesn't align with what God is truly doing. This isn't unimportant. As we teach our kids, we don't want to give even a hint of an impression that God's victory was not sure. Let's wade into Genesis 3 a little to see that even here at the Fall, God's victory was sure and He wanted His people to know that.
As we know, Satan, through the serpent, approached Eve with the goal of planting a seed of doubt in her mind and heart about God's goodness and provision. Satan's plan of attack was to make Eve believe that God was holding something good back by not allowing Adam and Eve to eat of the tree of knowledge. Satan's ploy worked, and a crack formed in Eve's trust in God's goodness and His truthfulness, and so Eve rationalized and ate of the tree and gave some to Adam who was with her.
Parenthetically, it is unfair to place sole blame on Eve for the Fall because Adam was right there with her. Adam should have intervened and protected his wife from Satan's lies and distortions. But, instead, Adam apparently stood by passively. Eve was tricked, but Adam, it seems, disobeyed God with more volition. This is an important passage to use to teach men to protect our wives and families.
After Adam and Eve ate of the tree, their eyes were opened and they became fully aware of good and evil—but not in the way Satan implied. God is aware of good and evil from what we could call an observational perspective. God is completely good. He has no evil in Him. But, He knows what evil is. Adam and Eve did not become aware of good and evil in that way. We could say that they attained an experiential perspective of good and evil because they became evil—they experienced evil and rebellion against God as well as its full consequence.
It is interesting to me that the first noticeable consequence of sin that Adam and Eve experienced was a barrier between Adam and Eve. They recognized that they were naked and felt shame (Genesis 3:7) leading to them hiding from each other. Genesis 2 ends with a beautiful refrain that Adam and Eve had complete intimacy—no barriers and no shame—but this was destroyed because of sin. This wedge in Adam and Eve's marriage was amplified later in God's pronouncement of judgment over Eve.
The second noticeable consequence of sin was a barrier between Adam and Eve with God. This, of course, was the most dreadful and serious consequence of the Fall. When God came down to be with Adam and Eve, they hid from Him. (Genesis 3:8) Instead of enjoying unhindered relationship with God, Adam and Eve turned from Him in fear and shame.
The third noticeable consequence of sin comes a little later in the midst of God's judgment of Adam and Eve (3:16-19)—difficulty in fulfilling their God-given mission. God's discipline was not random or arbitrary. There was purpose to it. Adam was given the mission of tending the garden for God's glory. After the Fall, that task became difficult. Eve was given the mission of helping to populate the earth for God's glory. After the Fall, that task became difficult. Adam and Eve together were to enjoy a unified and harmonious marriage relationship for God's glory. After the Fall, that relationship was strained.
And this is where many people tend to stop their study of Genesis 3 and walk away thinking that Satan surely got the best of God that day. We won't. We'll go a little deeper and unpack three glorious signs of hope.
God's judgment of Satan. (Genesis 3:15) God deals with the serpent and Satan first in His judgment and in the midst of this, we encounter what could be considered one of the most glorious verses in the Bible:


I will put hostility between you and the woman, and between your seed and her seed. He will strike your head, and you will strike his heel.

This is known as the protoevangelium or "first gospel" in the Bible. (Proto means "first" as in a prototype. Ev or eu means "good" as in euthanasia [good death] and eulogy [good words]. Angel means "message" or "news" as in angels being God's messengers.) It is interesting that God references Eve's seed because seed is associated with males. This is a reference to the virgin birth because Jesus would not be the seed of a human.
Notice also what God describes occurring between Satan and Jesus. Satan would strike ("bruise" in some translations) Jesus' heel. A painful wound, no doubt, but not fatal. Meanwhile, Jesus would strike ("crush" in some translations) Satan's head—clearly a fatal wound. This is most likely talking about the cross and the empty tomb. Satan would strike Jesus on the cross, but that was not a fatal blow. Jesus would rise again. At the same time, the cross and empty tomb would be Jesus' ultimate victory over Satan and sin.
From our perspective, when we look at this on a timeline—Eden, the cross and empty tomb, and then Satan being cast into the Lake of Fire in Revelation—God's realized victory (that Rocky moment we talked about) still seems to be in the future. That is why we tend to think that God will stage an amazing comeback in the end to win. But again, that isn't the case. Here, God says definitively that He has already won. In God's providence (and transcendence of time), the victory is sure. While we haven't experienced it yet, that does not mean that it isn't a present reality. (Similarly, notice in John 17, Jesus speaks of the cross as having already occurred because His will was set.) The victory has always been God's. He willed the victory to come to pass in the eternity before time even began. There can be no comeback when the victory was won even before the contest began!

God's provision of clothing for Adam and Eve. (3:21) After the judgment, God does something that seems rather curious at first glance. He decides that the vegetation covering Adam and Eve was not sufficient, so He provides animal skins to cover them. Now here's the thing—God was not concerned with fashion. Leaves weren't "out" that season and "animal skins" in. Let's think about this together. In order for Adam and Eve to be covered by animal skins, what had to happen first? That's right, the animal(s) had to have been killed. Remember what God promised would happen if Adam and Eve sinned? Death. But don't stop there. An animal died to cover Adam and Eve. What does that sound like? That's right! The sacrificial system. And to what (or Who) did the sacrificial system point? Right again. Jesus. So God is giving a picture of Jesus—the gospel—in His provision of animal skins to cover Adam and Eve.
God's banishment of Adam and Eve from Eden. (Genesis 3:22-24) After being clothed in skins, God removed Adam and Eve from the garden. Some see this as part of judgment. I don't think that is right. There is a distinct break between the judgments and this section (Adam naming Eve), and the purpose of this banishment was not punitive, it was restorative. God was giving Adam and Eve the opportunity to repent and be made right again. Had they remained in the garden and eaten of the tree of life, they would have lived forever in their fallen condition. God's mercy and grace is what drove them from the garden.
A declaration of Jesus' victory, a picture of the gospel, and the opportunity to repent all in the midst of the Fall affirm that sovereign God has never been in peril because of Satan and should remind us of 1 Corinthians 15:55
Death, where is your  victory? Death, where is your  sting?
What are some ways that we can help our kids understand that while sin is serious, they can live with hope and freedom in God's certain victory?
Here is more help for leaders preparing for the September 20, 2015 session (Unit 1, Session 3) of The Gospel Project for Kids.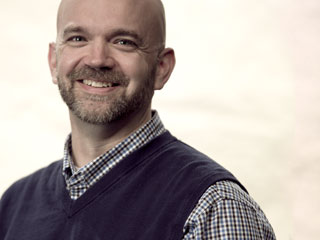 Brian Dembowczyk is the team leader for The Gospel Project for Kids. He served in local church ministry for over 16 years before coming to LifeWay in 2014. Brian earned an M.Div. from the Southern Baptist Theological Seminary and a D.Min. from the New Orleans Baptist Theological Seminary. Brian, his wife, Tara, and their three children—Joshua, Hannah, and Caleb—live in Murfreesboro, TN, where Brian enjoys drinking coffee and teaching 1-3 graders at City Church.