June 6, 2015 By Brian Dembowczyk
Seven Men Were Chosen
We are all good at finding ways to divide ourselves from others. Some people are experts at it. In fact, I really believe that some people think they have the spiritual gift of division.
Ethnicity. Income. Language. Birthplace. Occupation. Doctrinal pet peeves. Even what college team you support.
I was recently spending some time with a few kids leaders and one was sharing about how two denominations were formed because of a disagreement about how to fund missions! Dividing because we cannot agree on how to spread the gospel!
Ever wonder why there are so many churches of the same denomination in a small town? It probably can be traced back to some skirmish over a minor doctrinal issue, the color of the carpet in the fellowship hall, or someone feeling he deserved a plaque with his name on it somewhere for giving a sizable "gift" to the church.
It would be funny, if it wasn't so serious.
Do you know one of the main things Jesus asked His Father for on our behalf? That's right – unity. In what is known as The High Priestly Prayer, Jesus asked His Father for the church to be one in the same way that God the Father, God the Son, and God the Spirit are one (John 17:21). That's a tall order! Even if we wanted to be one, our sinfulness would still make that a challenging task. And that is exactly why Jesus prayed to the Father about it. God needs to be the One to bring that about. We can't do it. We need God to empower us and we need Him to change our hearts. He needs to purge our pride and selfishness. He needs to purge every single -ism in our hearts and minds. And He needs to guide us to unite and rally around the gospel.
So is there ever a time for us to divide? Yes and no. There are valid reasons for us to separate but we need to do so in love and unity. Think about it this way. I live in Murfreesboro, TN. It isn't possible for all the believers in Murfreesboro to worship "under one roof" so there is a practical reason for there to be many different local church bodies in our city. And each church body might be somewhat different, but are we united in the cause of the gospel? Do we pray for one another and encourage one another? Are we grateful to see God at work in one another? That is unity amidst separation. You can be separated without being divided!
At the same time, there is a time we should outright divide from others. If a church is professing a gospel other than the gospel of Jesus Christ, we should not—cannot—be in fellowship. So there are certainly times to separate and there are times to rightly divide even, but in reality, we end up dividing over the wrong reasons (and at times remaining unified to the wrong people!).
As you consider how to stay united, how to separate without dividing, and when you need to divide, it might be helpful for you to categorize what you believe into three different areas:
Gospel Convictions
These are the fundamental, non-negotiables of the gospel. These convictions are to be held without wavering and without compromise and are always worth dividing over. If a church teaches that Jesus is not the Son of God, it is time to find another church. If a teacher in a church is unrepentantly advocating that Jesus did not die on the cross, it is time to enact corrective church discipline. Gospel Convictions do not just clarify what we must divide over, they are the core of what bonds us together. You and I might disagree on other doctrinal issues—even some that are quite important—but if we both hold to the gospel, then we can always lock arms and be on mission together.
Biblical Beliefs
These beliefs are based on the Bible and are quite important, but they leave room for disagreement. There are many issues that godly people disagree about. Eschatology is a common one. God's plan for the culmination of this age is not unimportant. But people can reach different positions based from Scripture. What Bible translation you use is another good example of this category. So again, these beliefs matter, but because they are not primary, we should hold them with humility and grace. Unlike Gospel Convictions, we have to be humble enough to remember that we might not be correct in our belief and that people who hold differing views still love Christ. Remember, it is the gospel binds us together as the people of God.
Personal Opinions
Opinions can be important or they can be quite frankly of little to no importance. Unlike Biblical Beliefs, opinions are not rooted in Scripture. They may be connected to it, but you cannot turn to "chapter and verse" to support an opinion. An important opinion might be what summer camp to take your kids to. You might base your opinion on what you believe the kids need the most, which could be traced back to a biblical precept or principle, but in reality, you cannot find a verse that reads, "Thou Shalt Go to CentriKid at Skycroft." What color to paint the sanctuary is a less important opinion or what you should feed your leaders at a training event. There is nothing wrong with having opinions and even advocating them. But they need to be held with the most grace. Opinions should never divide God's people.
If you honestly evaluate what you believe and place each one in one of these three categories, you provide a healthy framework for discussions and even debates. The problem is that we often invert these levels and we will divide over opinions while refusing to deal with attacks on Gospel Convictions. We need to right this ship and we need to raise up kids who dig in their heels when it comes to the gospel, holds to beliefs with grace, and extends ample flexibility when it comes to opinions.
As you prepare to teach the session on Seven Men Were Chosen from Acts 6 and see how the early church handled a division in its community, think and pray through how your preschoolers and kids can fall into the trap if disunity and how they are often impacted by it. Kids can isolate and ostracize like the rest of us. They can segregate and scorn one another. At the same time, they can be the victims of their parents and adults in church sinning in this area. Pray for them. Encourage them. Teach them.
There is a beautiful scene in Revelation 7:9-10 that is part of a parenthetical respite in the middle of the seven seal judgments. The sixth seal judgment at the end of chapter 6 records amazing upheaval on earth that leaves people asking who is able to stand God's wrath. Chapter 7 answers that question—God's people would—before returning to the upheaval again in chapter 8. Here is the scene of amazing worship that transpires in those verses. Notice that ultimately, Jesus' prayer is answered!
After this I looked, and there was a vast multitude from every nation, tribe, people, and language, which no one could number, standing before the throne and before the Lamb. They were robed in white with palm branches in their hands. And they cried out in a loud voice: Salvation belongs to our God, who is seated on the throne, and to the Lamb!
How can we practice and model gospel-centered unity in our kids ministries? Leave a comment below.
Here is more help for leaders preparing for the June 14, 2015 session (Unit 34, Session 2) of The Gospel Project for Kids.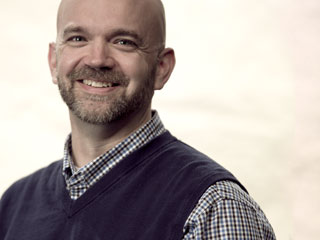 Brian Dembowczyk is the team leader for The Gospel Project for Kids. He served in local church ministry for over 16 years before coming to LifeWay in 2014. Brian earned an M.Div. from the Southern Baptist Theological Seminary and a D.Min. from the New Orleans Baptist Theological Seminary. Brian and his wife, Tara, and their three children – Joshua, Hannah, and Caleb – live in Murfreesboro, TN, where Brian enjoys drinking coffee and teaching 1-3 graders at City Church.