May 7, 2016 By Brian Dembowczyk
Samson
My 5-year-old son Caleb and I like to play fight. He excels at talking trash to me and telling me how he is going to punch me in the elbow, the forehead, or some other random body part. Generally what will happen at some point in our "fighting" though is Caleb will really hurt himself trying to play hurt me. He'll end up punching my watch by accident or something like that.
You get what you deserve, right?
He's just too young to appreciate the irony.
This week, we turn our attention to another judge that God gave Israel as they wallowed in their cycle of sin. This time we turn our attention to Samson. (Judges 13—16)
Now, for the longest time, Samson completely confounded me. I just never understood why he was in the Bible.
He was arrogant. We was impulsive. He was violent. He was selfish. And in the end, it seems he pretty much got what he deserved.
See, my problem was that I was looking at Samson's story through the wrong lens. I was looking to Samson to teach me something about following God better. I wanted to find transferable attributes or actions that I could employ in my life to please God more. I needed Samson to give me something—anything—that I could put to use in my life and increase my stock with God.
But I couldn't ever find anything. The closest I could come was working out to get stronger. And that was really stretching it!
I hope you can pinpoint my problem. I was looking at Samson (and the rest of the Bible at that time) completely the wrong way. I was looking for moralistic lessons—albeit spiritually based moralistic lessons—that I could use in my life to please God more.
But, the Bible is not a book of moralistic principles.
And I cannot please God more.
The Bible is one cohesive story of Jesus and God's plan to glorify Himself by saving people through Him.
And I fully please God in Christ because I have been given Christ's perfect righteousness.
One who is fully pleasing cannot please any more.
So let's bring this back around to Samson then. What do we do with him? How can we see the gospel in this story?
While there are several interesting parallels between Samson and Jesus (such as each of their births being foretold), I would suggest that the greatest connecting thread between Samson and the gospel is the way he died.
Samson's sin led to his own death, which God used to deliver His people.
In a greater way, our sin led to Jesus' death, which God used to deliver His people.
Jesus is the greater Samson.
Once again we see that God used a human judge to rescue His people temporarily, but that there was something bigger at play. God was showing us that our need transcends what any human can provide—we need Jesus to rescue us from our greatest enemy of sin.
Aren't you glad we don't get what we deserve because of Jesus?
Have you moved from a moralistic reading of the Bible to a gospel-centered one? Share about your journey in a comment below.
Here is more help for leaders preparing for the May 15, 2016 session (Unit 9, Session 4) of The Gospel Project for Kids.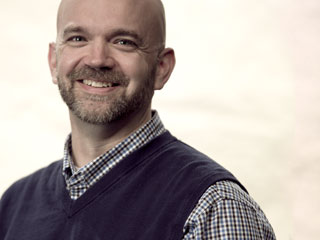 Brian Dembowczyk is the team leader for The Gospel Project for Kids. He served in local church ministry for over 16 years before coming to LifeWay. Brian earned an M.Div. from the Southern Baptist Theological Seminary and a D.Min. from the New Orleans Baptist Theological Seminary. Brian, his wife, Tara, and their three children—Joshua, Hannah, and Caleb—live in Murfreesboro, TN, where Brian enjoys drinking coffee and teaching 1-3 graders at City Church.