May 14, 2016 By Brian Dembowczyk
Ruth and Boaz
This Thursday, May 19, my wife and I will celebrate our fifteenth wedding anniversary. By God's grace, we have a wonderful marriage and three amazing children. Notice I said that the marriage is wonderful; I didn't say we have had 15 wonderful years. Some were pretty hard, especially early on, as we were learning about each other, learning to love each other, and perhaps most importantly, learning to die to ourselves for God's glory and our spouse's good.
We have also lived through some pretty challenging seasons of life. Times of financial concern. Times of adversity in churches in which I served. Times of concerns about our kids. And times of transition (way too many of those!).
But through it all, our marriage has grown—slowly and painfully at times—but it has grown. And when I look broadly over the past 15 years, I can say with absolute certainty that God has been at work in us and through us in our marriage.
I can also honestly say that I love my wife more today than I did 15 years ago when I vowed to love her the rest of my life. My love for her is deeper and purer than on that sunny Kentucky afternoon. It isn't perfect, of course, just as our marriage isn't perfect, but it is continuing to be refined as God works in us.
And that takes us to this week's Bible story, Ruth and Boaz. (Ruth 1—4) This story has to rank up there with one of the greatest love stories ever. Really, it should be a Hollywood blockbuster.
The poor foreign widow, who is fiercely loyal to her dead husband's mother, catches the eye of a kind and generous man who pursues her and marries her taking her out of a life of poverty. Tell me if that isn't a script of a romantic comedy that my wife would want me to watch with her.
It's a tremendous story of love. But of course, we know that isn't the main point of the story. It matters and it is encouraging, but that isn't what it's all about. Instead, this story, like every other, takes us to the gospel. This is a story about a greater love story—the greatest love story; this is a story about God's perfect love for us revealed most clearly through His provision of Jesus to rescue from the spiritual poverty of sin and death.
And here's what we need to really work at pressing down into our hearts. Any love that we experience from someone else—a spouse, a parent, a child, a friend—no matter how great it is, is flawed and imperfect. My love for my wife is far from perfect. Boaz and Ruth's love for each other was flawed and imperfect. All of these loves, as great as they are, reach a point of limitation.
But not God's love.
Man's love is finite. God's love is infinite.
Man's love is flawed. God's love is pure.
That is what we have to work at pushing into our hearts. We have to resist seeing and understanding God's love through the context of our human love. That helps to a degree, but it breaks down too. Instead, we have to understand our love through God's perfect love.
We need to fully drink in God's love for us and then let Him work in us so that we can seek to love others with a purer, more selfless love.
My wife doesn't deserve my best love possible. She deserves for me to love her with God's love that He has implanted within me as  His child. That's the gospel. We experience God's love and then in turn, we desire to love others and bring them into the love we have experienced.
Receiving love prompts extending love.
That is why, and how, I should love my wife. My three kids. My neighbors. My friends. My church. My kids at church. And even the guy who drives 50 mph on the highway in front of me. I love because of the gospel and through the gospel.
That is what we learn from Ruth.
How have you seen God's love most clearly in your life? Leave a comment below.
Here is more help for leaders preparing for the May 22, 2016 session (Unit 9, Session 5) of The Gospel Project for Kids.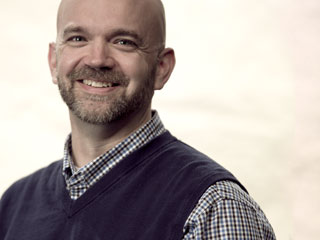 Brian Dembowczyk is the team leader for The Gospel Project for Kids. He served in local church ministry for over 16 years before coming to LifeWay. Brian earned an M.Div. from the Southern Baptist Theological Seminary and a D.Min. from the New Orleans Baptist Theological Seminary. Brian, his wife, Tara, and their three children—Joshua, Hannah, and Caleb—live in Murfreesboro, TN, where Brian enjoys drinking coffee and teaching 1-3 graders at City Church.