August 20, 2016 By Brian Dembowczyk
Praises of God's People
Like many men, I struggle with emotions. It is just hard for me to experience different emotions. For the most part, I feel happy, hungry, hot or cold, and tired, but my wife tells me the last three don't count. I don't even know the rules.
My problem is that I am primarily a thinker. I don't pay nearly as much attention to the handful of emotions I feel as I do trying to solve problems and figure things out. So while my wife might be upset about a situation and would love for me to enter into her emotions with her, I am generally off somewhere in my brain trying to solve the problem that made her upset.
As far as women and men go, I don't think my wife and I are abnormal. Or should I feel that? See, I am so confused by these emotions!
And let me also pause here and affirm that there is nothing wrong with the differences between men and women in this area. This is part of how God designed gender and we need to celebrate His design.
But, that is not to say that we should lock ourselves in and fail to try to grow holistically as men and women. That means for me, and many other men, we need to embrace how we are wired to be thinkers and processors primarily. That is our wiring, and it can often be a strength. But at the same time, we need to work at experiencing the mysterious world of emotions. It's hard and requires intentionality, but we need to do it for two key reasons. I'll share the secondary one first and then the primary one after.
The second important reason we need to seek to experience and understand our emotions better is for the benefit of others around us—especially if we are married and even more so if we also have children. I know that my wife wants—needs—me to enter into her emotions and share mine with her too. But if I am not in touch with my emotions, I can do neither of those. My kids need that too. And my boys need to have a model for what they need to do as they grow older and my girl needs to see what she should expect from her future husband, should God give her one.
Our families are not the only ones who benefit from each of us stepping into one another's emotions more. Our churches and communities need this too. Think about the issues, tensions, and conflicts we experience. How many would be reduced or eliminated if we only attempted to understand one another?
As valuable as this reason is, it is not primary. It is actually a distant second. Here is the main reason which we find in this week's session—Praises of God's People (Unit 12, Session 3)—when we experience our emotions more fully, we are more able to worship God. And that of course, is critical.
Worship should engage our minds. We need to ponder the gospel to prompt and sustain worship. Our faith is surely a thinking faith—which is why Josh McDowell and Bob Hostetler wrote a great book for teens a few years ago called Don't Check Your Brains at the Door. But it isn't just a thinking faith—it is also a feeling faith. God designed our emotions to be channeled toward worship of Him. And the better we understand and explore our emotions, the more meaningful our worship will be.
All of our emotions can be connected to God as either the One who prompted them or the One who can provide the comfort, love, and grace we need. This is so clear to see when you read through the Book of Psalms. The Psalmists, especially David, were really in touch with their emotions and turned every one they experienced toward God. So many of the Psalms begin with the Psalmist exploring his emotions only to turn the Psalm toward overt worship of God not despite the emotion, but in light of it.
God gave us the Psalms as a gift to help lead us in worship in the same way. This week, help your kids see God's design and purpose in emotions. Help them understand that God wants them to be transparent and worship Him with all of their emotions. Show them that praising God is not limited to when we feel happy or joyful, but we can praise God in the midst of sadness, grief, despair, and even anger.
How have your different emotions fueled worship? Leave a comment below.
Here is more help for leaders preparing for the August 28, 2016 session (Unit 12, Session 3) of The Gospel Project for Kids.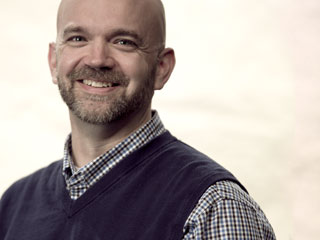 Brian Dembowczyk is the team leader for The Gospel Project for Kids. He served in local church ministry for over 16 years before coming to LifeWay. Brian earned an M.Div. from the Southern Baptist Theological Seminary and a D.Min. from the New Orleans Baptist Theological Seminary. Brian, his wife, Tara, and their three children—Joshua, Hannah, and Caleb—live in Murfreesboro, TN, where Brian enjoys drinking coffee and teaching 4-5 graders at City Church.