July 25, 2015 By Brian Dembowczyk
Paul's Ministry to Rome
Several years ago, my daughter, Hannah, was eating something—I believe it was some M&Ms—when she began to choke. My wife ran over to her, spun her around and began to perform the Heimlich Maneuver on her. It wasn't pretty at all—with Hannah's arms flailing around and everything, but it worked.
That happened in our living room, right in front of a huge picture window. I sometimes wonder what that might have looked like to someone walking by in that moment. I wonder if they would have called the police on us because of what appeared to be a woman attacking a little girl.
From the outside, it didn't look very good; it didn't look as if my wife was being very kind to my daughter. But from the inside, it was very good; my wife was saving my little girl's life.
It's all a matter of perspective.
Life is a lot like that, isn't it? We can look at something one way and see it completely differently when we turn it another way. Sort of like a prism.
How many times have you changed your thinking on a person or a situation after your perspective changed? Maybe you thought highly of that person you work with until you saw how he treated his family. Maybe you thought winning a free vacation was wonderful until you had to endure the lengthy infomercial sales pitch. Maybe you were not impressed with a pastor until you saw his heart for God and the gospel.
Perspective changes things.
I think no where is this more true than in our interactions with God. We tend to look at life through the lens of our nagging and insatiable desire for worldly success, comfort, and ease. Let's be honest—it is all rooted in sin. We feel that we deserve to live a life devoid of pain, suffering, and hardship and so when we do—and we often do—we tend to blame God for failing us. Our pain is evidence that God made a mistake somewhere because life isn't supposed to be like that for us, right? Our hardship is grounds for us to question our Father's love for us because surely He would not want His children to struggle.
So our perspective in these times of trials usually leads us to believe that God has actively failed us (He could have taken care of us, but didn't) or that He passively failed us (He didn't know what was going on; we fell through a crack somewhere).
Please read this with the gentleness, yet firmness that I intend:
Both beliefs are wrong.
Both stem from holding poor doctrine.
Both are born out of sin.
God does not actively or passively fail us when we go through difficult situations because He simply never promised that we wouldn't. The Bible actually talks far more about suffering than it does happiness.
God doesn't fail us in adversity; it is a matter of us failing to have the right perspective. Not all pain, hardship, and suffering is bad. Some of it is good. In fact, some of it is quite good.
Take this week's study passage, Paul's Ministry to Rome (Acts 21-28), for example. We know that God had promised Paul that he would go to Rome to share the gospel as recorded in Acts 23:11:
The following night, the Lord stood by him and said, "Have courage! For as you have testified about Me in Jerusalem, so you must also testify in Rome."
Now if God made a promise like that to us, how many of us would prepare for God to provide an amazing way to Rome to go on mission?!?! How many of us would brace ourselves to watch God as He provided for our needs—perhaps even first class—to get there? Be honest!
Now, how many of us would anticipate getting there the way Paul got there? As a prisoner in peril of execution?
Wait! That can't be right, can it? Why would God do that? Wouldn't it be better for Paul to arrive as a free man to share the gospel in Rome instead of being under house arrest?
Only if proclaiming Jesus to government leaders and the Roman guards didn't matter.
God was providing a great way for Paul to get to Rome indeed. A way that routed him past government officials who wanted him to tell them about Jesus. A way that enabled him to preach to the imperial guard (Philippians 1:13). And all of that on Rome's dime.
Was it hard for Paul? No doubt! But let's never forget that our comfort and ease is not paramount to God. His own glory is. And if our pain brings Him glory, then that is what He will do. For His glory and our good. You can't tell me that Paul would have chosen another path if he had an opportunity to do it over again!
You can't tell me that Joseph would have chosen a path apart from being sold by his brothers into slavery and wrongly imprisoned if he had an opportunity to do it over again!
You can't tell me that the man born blind (John 9) would have chosen to be born with sight if he had an opportunity to do it over again!
And you can't tell me that Jesus Christ would choose another path apart from the cross if He had an opportunity to do it over again!
We should not run from suffering. Often that path toward suffering leads right to God's glory. The path away from it also has a destination as well—sin. Ask Peter about that path which he took three times the night Jesus was arrested.
Now you are probably wondering something—have been for a while—am I saying that all suffering and pain is good? I am not. Much of our pain and suffering is born out of our sin and that is never good. That is why Peter makes a sharp distinction between godly suffering and sinful suffering in 1 Peter 2:20 and 1 Peter 3:17.
But what I am saying is that we need to fight day-by-day, minute-by-minute to change our perspective—away from worldliness and toward the gospel. For when we do that, the pain of our suffering will still be very real—the sorrow we experience will buckle our knees and release the reservoir of tears within us—but, we will be resolved to accept our pain—to embrace it even—because we know ultimately—even if we cannot feel it or see it in the moment, even if we never see it while we draw breath—it is for God's glory and our good.
I want to share two things with you as I wrap up this post. One, how you can get this on your kids' radar and two, several Bible passages on suffering for you to study on your own.
When it comes to your kids, it is never too early to burst the myth that God's primary goal for them is their happiness. I would encourage you to be very overt about how God was using difficult situations in Paul's life to bring about His glory. Don't minimize Paul's hardship—we can also fall into the trap of creating a "super Christian" myth that somehow we can be bulletproof in the midst of hardship if it is for God—but show your kids how God was using it providentially to bring about great good. Be careful not to say that Paul's imprisonment was "bad" because that leaves the door open for them to walk away thinking that you were saying God's acts were bad when they were not. Try to focus on how it was "difficult," "challenging," "painful," or "hard" for Paul instead. Share from your own journey how something you went through was difficult, but you know it was for God's glory. Don't feel the need to share a story that proves "everything turns out well in the end." Remember that we will sometimes (often?) never see what God is doing in our pain, but we need to trust Him and pursue joy in it no matter.
Here are several passages on suffering for you to read over and study. The books of 1 Peter and 2 Corinthians focus a great deal on this topic, so you might want to read through them as well.
And not only that, but we also rejoice in our afflictions, because we know that affliction produces endurance, endurance produces proven character, and proven character produces hope. This hope will not disappoint us, because God's love has been poured out in our hearts through the Holy Spirit who was given to us. Romans 5:3-5
The Spirit Himself testifies together with our spirit that we are God's children, and if children, also heirs—heirs of God and coheirs with Christ—seeing that we suffer with Him so that we may also be glorified with Him. For I consider that the sufferings of this present time are not worth comparing with the glory that is going to be revealed to us. Romans 8:16-18
If we are afflicted, it is for your comfort and salvation. If we are comforted, it is for your comfort, which is experienced in your endurance of the same sufferings that we suffer. And our hope for you is firm, because we know that as you share in the sufferings, so you will share in the comfort. For we don't want you to be unaware, brothers , of our affliction that took place in Asia: we were completely overwhelmed—beyond our strength—so that we even despaired of life. Indeed, we personally had a death sentence within ourselves, so that we would not trust in ourselves but in God who raises the dead. He has delivered us from such a terrible death, and He will deliver us. We have put our hope in Him that He will deliver us again while you join in helping us by your prayers. Then many will give thanks on our behalf for the gift that came to us through the prayers of many. 2 Corinthians 1:6-11
Now I rejoice, not because you were grieved, but because your grief led to repentance. For you were grieved as God willed, so that you didn't experience any loss from us. For godly grief produces a repentance not to be regretted and leading to salvation, but worldly grief produces death. 2 Corinthians 7:9-10
My goal is to know Him and the power of His resurrection and the fellowship of His sufferings, being conformed to His death, assuming that I will somehow reach the resurrection from among the dead. Philippians 3:10-11
Now I rejoice in my sufferings for you, and I am completing in my flesh what is lacking in Christ's afflictions for His body, that is, the church.  Colossians 1:24
Consider it a great joy, my brothers , whenever you experience various trials, knowing that the testing of your faith produces endurance. But endurance must do its complete work, so that you may be mature and complete, lacking nothing. James 1:2-4
You rejoice in this, though now for a short time you have had to struggle in various trials so that the genuineness of your faith—more valuable than gold, which perishes though refined by fire—may result in praise, glory, and honor at the revelation of Jesus Christ. 1 Peter 1:6-7
Dear friends, I urge you as strangers and temporary residents to abstain from fleshly desires that war against you. Conduct yourselves honorably among the Gentiles, so that in a case where they speak against you as those who do what is evil, they will, by observing your good works, glorify God on the day of visitation. 1 Peter 2:11-12
For what credit is there if you sin and are punished, and you endure it? But when you do what is good and suffer, if you endure it, this brings favor with God. For you were called to this, because Christ also suffered for you, leaving you an example, so that you should follow in His steps. 1 Peter 2:20-21
For it is better to suffer for doing good, if that should be God's will, than for doing evil. 1 Peter 3:17
If you are ridiculed for the name of Christ, you are blessed, because the Spirit of glory and of God rests on you. None of you, however, should suffer as a murderer, a thief, an evildoer, or a meddler. But if anyone suffers as a "Christian," he should not be ashamed but should glorify God in having that name. For the time has come for judgment to begin with God's household, and if it begins with us, what will the outcome be for those who disobey the gospel of God? And if a righteous person is saved with difficulty, what will become of the ungodly and the sinner? So those who suffer according to God's will should, while doing what is good, entrust themselves to a faithful Creator.1 Peter 4:14-19
How has God used your pain for His glory and your good? Leave a comment below.
Here is more help for leaders preparing for the August 2, 2015 session (Unit 35, Session 6) of The Gospel Project for Kids.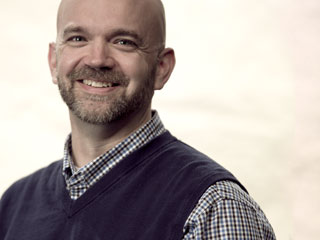 Brian Dembowczyk is the team leader for The Gospel Project for Kids. He served in local church ministry for over 16 years before coming to LifeWay in 2014. Brian earned an M.Div. from the Southern Baptist Theological Seminary and a D.Min. from the New Orleans Baptist Theological Seminary. Brian and his wife, Tara, and their three children – Joshua, Hannah, and Caleb – live in Murfreesboro, TN, where Brian enjoys drinking coffee and teaching 1-3 graders at City Church.