June 27, 2015 By Brian Dembowczyk
Paul's First Journey
After Paul's conversion (Acts 9), he went to Arabia for a time, returned to Damascus, and after three years went to Jerusalem for the first time as a follower of Jesus to visit with Peter. (Galatians 1:17-18) During this time, Luke shifts his attention back to Peter in the Book of Acts, most notably recording his involvement with the first Gentile converts. (Acts 10) Luke also shares about the execution of James, the brother of John in this section. (Acts 12)
Then chapter 13 opens with what can be considered as the commissioning of Paul and Barnabas as missionaries. After a time of fasting and prayer, a group of believers lay hands on the pair in recognition and affirmation of the Holy Spirit's sending and faith in what He would accomplish through the two men. And then Paul and Barnabas threw on their mission trip t-shirts and set sail for Cyprus. Thus began Paul's first mission trip planting churches in Asia Minor (Acts 13-14).
As we study Barnabas and Paul's missionary journey, it makes complete sense that their trip would focus on church planting because, obviously, that was the greatest need. There were no churches at that point in Asia Minor so new churches were essential.
However, what about today? Do we still need to plant churches? I'm not talking about in the 10-40 Window or in Europe. I'm talking about in the United States. Aren't we church-saturated?
Some make that argument, especially those who live in the Bible belt (which unlike many of our waistlines is actually shrinking), where there seems to be a church on every other corner (and a Starbucks on the other two). We don't need more churches. We need stronger churches.
I don't think anyone can make an argument that we do not have a surplus of unhealthy churches and that strengthening existing churches is vital. I often think about the resources (people, property, equipment, time, energy, etc.) that are not being fully engaged for the gospel and wonder what could be if they were. However, is church planting and church revitalization mutually exclusive? Is this a one-or-the-other proposition or can they be symbiotically effective?
Many, such as Aaron Coe, Vice President of Marketing and Mobilization of The North American Mission Board, contend that existing church health and church planting are intertwined and that church planting is essential today in the United States. Indeed, a strong case can be made that one mark of a healthy church is that it is a church that plants other churches. Quite simply, healthy churches plant churches. If a church is not planting other churches, it is not fully healthy.
As I survey the American church landscape and the continually shifting cultures in the church and around the church, I am more and more convinced that ministry will become increasingly challenging in the days ahead. The days of abundant church resources are waning (and some of us are wondering how we missed that phase of abundant resources all together!). I know of significant, large churches that are struggling to fund routine maintenance of their facilities. I know of churches that are struggling (and failing at times) to pay their staffs. I know of churches that cannot fund ministry because they have little to no wiggle room after their fixed expenses are paid.
No doubt a part of this was based on the last decade's economy, but it isn't all because of that. The postmodern imagination struggles to find value in investing in the institution of a church. They struggle to find meaning in contributing to building campaigns, building maintenance, infrastructure and the like because they would rather invest in more direct opportunities such as feeding the hungry. This is also why business meeting attendance and committee involvement continue to slide. It's not that buildings, meetings, and ministry teams are bad; it's just the new reality of where the church is. The modern-minded among us had an affinity for structure; the post-moderns not as much.
I would suggest this leads to two major implications for our churches and our kids ministries:
We have to be more strategic than ever with how we invest our resources. By resources, I am including time and energy as well as funds. We will want to run everything we do through the filter of our mission to make God's glory known. If we cannot connect an event directly to that mission, then the question begs itself: Why are we doing it? We simply cannot afford to invest our resources in events because we have always done them, we enjoy them, or because they are expected. This requires us to have blunt and potentially difficult discussions as kids teams and church leadership teams. But if we are going to be a healthy, church-planting church, we have to have space in our budget and schedule to accomplish that mission.
We need to hold onto what God has given us with an open hand. If the first implication is unnerving, this one is down-right frightening! Planting churches requires resources. As we just saw, financial resources are scarce in most of our churches, so we have to be careful with our budgeting so that we have finances to plant churches. Being strategic with what we do is an important first step, but there is also a second one. There may be times when we do not do something that passes the mission test because of the greater win of planting a church. Sometimes we have to do without the good to accomplish the best. But it isn't just budgeting and calendar resources we have to hold with an open hand it's our greatest resource as well—people. I wonder if too many churches view their members through a sort of siege mentality. We are so afraid of losing people that we sometimes do all we can to ensure they are part of our church…for good. I trust you recognize the problem with this if we are going to be church-planting churches. Instead of holding onto our members with a death-grip (and that pun was intended), we need to proactively cast vision, train, and release our members to plant churches. And we need to trust God in this process. We need to trust God to bless the churches being planted as well as the sending churches. Sure it is frightening to release that key leader, godly family, or beloved staff member to plant a church, but the kingdom is at stake and God will reward our faithfulness. He always does.
So what does this mean more practically for us as kids leaders on a week-to-week basis? God has given us the opportunity to play a significant role in raising up the next generation (and perhaps generations) of church planters and this coincides beautifully with The Gospel Project for Kids. The Gospel Project is focused on showing kids how the Bible is one big story of the gospel of Jesus Christ and in seeing the gospel narrative, finding their part in God's mission. This is the perfect time to embed a church-planting vision deeply within your kids' hearts. This is the time to pray over them and the role that they play in the church now and in the church of tomorrow. This is the time to plant that one little seed that God will nurture and cause to grow and produce fruit years or even decades from now. This is the time to turn little hearts outward to the vast mission before us all.
Have you intentionally developed a church planting culture in your kids ministry or class? Leave a comment below and share what you have done.
Here is more help for leaders preparing for the July 5, 2015 session (Unit 35, Session 2) of The Gospel Project for Kids.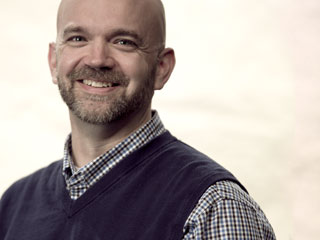 Brian Dembowczyk is the team leader for The Gospel Project for Kids. He served in local church ministry for over 16 years before coming to LifeWay in 2014. Brian earned an M.Div. from the Southern Baptist Theological Seminary and a D.Min. from the New Orleans Baptist Theological Seminary. Brian and his wife, Tara, and their three children – Joshua, Hannah, and Caleb – live in Murfreesboro, TN, where Brian enjoys drinking coffee and teaching 1-3 graders at City Church.