June 20, 2015 By Brian Dembowczyk
Paul's Conversion
When we moved to Murfreesboro, Tennessee, last year we bought a newly-built home and new sod was installed just a few days before we moved in. Soon after, the cold weather hit and our new sod, and everyone else's grass, went dormant.
This spring, everything began to bloom and turn green in central Tennessee…except for our lawn. Well, that isn't quite the case. The green weeds in our yard seem to be having no trouble growing. It's just my grass that is being bashful.
I can see the grass slowly—ever so slowly—peeking out from under the light tan weed-speckled rectangles covering my yard, but that is hardly soothing, especially when I mow my weeds.
Yup. I have to mow my weeds every week. And it frustrates me to no end.
I enjoy mowing grass. I can't stand mowing weeds. Not only are they not supposed to be there in the first place, it makes mowing challenging because I can't follow nice, proper, freshly cut rows. That's the part I love about mowing a lawn—when you can see what you just mowed and where the next row needs to begin. I love seeing the progress I am making and how much better the yard looks when I finish mowing.
Putting the first coat of paint on a wall is the same way. I love that coat. One minute the wall is one color, the next minute it looks entirely different. I love it. The second coat when it is challenging to tell what was painted already and what needs to be painted still? Not as much.
I would dare say that I am not alone in my joy and appreciation of seeing instant change. And many of us carry this value over into the spiritual realm. That's why we are so infatuated with the "hollywood conversion." The substance addict who trusts in Christ and is instantly freed from his addiction. The militant opponent to the gospel who immediately changes and becomes a missional follower of Jesus. The selfish hedonist who in the blink of an eye becomes a selfless ambassador of the gospel. You know, the Saul who becomes a Paul as in our Bible story this week in Acts 8-9.
There is no doubt that these conversions are real and we should appreciate them. They do show us the transformative power of the gospel. However, we have to be careful not to elevate these conversions above the "ordinary" or "routine" stories that are far more common. There is no such thing as a second-class conversion. Each one relies on the power of the gospel and the grace, love, and mercy of God. Each and every conversion should drop our jaws because each serves as a tangible reminder of the infinitely wide chasm that Jesus Christ crossed to bring wretched, evil, vile rebels like you and me into adoption as sons of God. Every conversion from death to life deserves celebration.
As you teach your kids about Saul's amazing conversion (and it was certainly that), be careful not to feed into the "hollywood conversion" image by mistake. Celebrate what God did in Saul's life—he did go from persecuting Christ to being persecuted for Christ and that deserves our attention—but be just as quick to celebrate what God has done and is doing in your kids' lives. I would guess that not many of your kids have "hollywood conversions" of their own, so they will need to hear that not all conversions are like Saul's and we often don't see earth-shaking, immediate transformation. And that's ok. Many people experience slow, gradual growth featuring peaks and valleys in fruitfulness and transformation. Most, if not all, of your kids will be in that camp, so spend some time talking about what gradual spiritual maturity looks like. You might want to draw on the example of Ananias right in the text.
Ananias pops up in the middle of the powerful encounter of Saul's conversion. We really don't know much else about this man, beside the fact that this is a different Ananias than the one recorded in Acts 5 because Saul's conversion was subsequent to that event and that Ananias died. Maybe Ananias had a "hollywood conversion," more than likely he didn't just based on the percentages. Regardless, here was a man that garnered little to no attention in Luke's book but don't miss the critical role God gave him in Saul's conversion. We often have no way to know what God is bringing to pass through His providence and how He will use us in mighty ways to advance His kingdom. One small conversation may seem rather unspectacular to us, but it may be transformative for someone else or for someone down the line as the ripples of the gospel emanate around us. Don't let your kids leave your gathering this week thinking that they are on God's B-team because they don't have a powerful story like Saul's. Encourage them that their story is powerful because it reveals God's perfect love and that like Saul, Ananias, and every other follower of Jesus, God has called them to make a gospel difference all around them.
Have you ever encountered someone who thought their conversion was not "special"? Leave a comment below to share how you encouraged him or her.
Here is more help for leaders preparing for the June 28, 2015 session (Unit 35, Session 1) of The Gospel Project for Kids.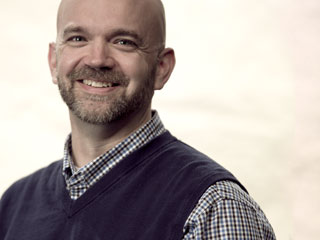 Brian Dembowczyk is the team leader for The Gospel Project for Kids. He served in local church ministry for over 16 years before coming to LifeWay in 2014. Brian earned an M.Div. from the Southern Baptist Theological Seminary and a D.Min. from the New Orleans Baptist Theological Seminary. Brian and his wife, Tara, and their three children – Joshua, Hannah, and Caleb – live in Murfreesboro, TN, where Brian enjoys drinking coffee and teaching 1-3 graders at City Church.