September 26, 2015 By Brian Dembowczyk
Noah and the Ark
I really enjoy pineapple, so when I see it on sale at the store, I will usually snatch some up. I can't see paying someone else to cut up the pineapple, so I save the money and cut it up myself, eating a good part of it in the process. Then, I will slide whatever is left into the refrigerator… and often forget about it.
A few days later (or sometimes a couple of weeks later), I will be digging around the refrigerator looking for something and see the container of pineapple and think, "Hey, that sounds pretty good!" But when I pull back the lid, I discover that the pineapple is now speckled with white and orange spots. Sure it looks pretty, but there is no way I'm eating that now.
It's amazing how quickly pineapple can go bad. I don't eat it, but I understand avocado is the same way. Bananas too. And peaches. The list goes on and on.
How quickly things spoil, rot, decay, and erode is telling us an important story. It's a word picture of humanity when we are left to our own devices apart from God's intervention. We, too, quickly spoil, rot, decay, and erode.
We saw this with how little time it took to move from perfection to fratricide. We saw it with how quickly Cain's descendants began celebrating evil. And we see it in this week's session, Noah and the Ark (Genesis 6:5-9:17). Just six chapters into the book of Genesis we read "that man's wickedness was so widespread, that every scheme his mind thought of was nothing but evil all the time." (Genesis 6:5) How quickly man's heart had rotted.
And so God regretted that He had made mankind. (Genesis 6:6) Now, we have to understand what that means—or more precisely what that doesn't mean. God regretting does not mean that God made a mistake or that He changed His mind about creation. Instead, this is known as anthropomorphic language, or language that describes God with human characteristics so that we can have a fighting chance to understand Him (e.g. when the Bible speaks of the "hand" or "face" of God). The closest we can get to understanding what God felt as He looked upon the wickedness of mankind was human regret. This is what the Jamieson-Fausset-Brown Bible Commentary has to say about this term:
God saw it … repented … grieved—God cannot change (Mal 3:6; Jas 1:17); but, by language suited to our nature and experience, He is described as about to alter His visible procedure towards mankind—from being merciful and long-suffering, He was about to show Himself a God of judgment; and, as that impious race had filled up the measure of their iniquities, He was about to introduce a terrible display of His justice (Ec 8:11).
The world was full of people who rejected God and intentionally pursued evil, so God brought His right and just judgment on the entire world. Let me say that again another way: God was perfectly just and right to flood the earth and wipe off every person from its face. God does not owe another breath to anyone, and He is certainly within His Creator rights to do as He wills with what is His.
Now, some people look at this passage and are troubled by what they perceive—an angry, blood-thirsty God. And at first glance, I can get that perspective. But let's do more than glance at this account; let's ponder it. It was not as if the global population woke up one day after living pure and holy lives, and decided to start being evil, so on that same day God decided to wipe them out. No, people were living terribly evil lives for years. Decades. Centuries.
And yet, God patiently and lovingly delayed judgment. Day after day, God withheld the flood even though it was deserved. Day after day, God watched His creation scorn Him. Day after day, God waited. Patiently. Lovingly. Day after day.
My friends, that is not blood-thirsty anger. That is grace. And our God overflows with grace.
You see, even in the midst of this perverse generation, God extended grace on one man—Noah. Don't miss that! Noah was not righteous by his own merit. He did not deserve salvation from the flood. He too deserved to perish. Noah, however, found favor in the sight of the Lord. (Genesis 6:8)
And so God willed for this one man, and his family, to escape death so that others could live.
Sound familiar? One man—Jesus—overcame death so that those who trust in Him will live. While Jesus was not like Noah being a sinner in need of God's grace (He was sinless and indeed full of grace being God Himself), His life, death, and resurrection were all gifts of grace to us.
Grace saturated the flood account; grace saturated the cross. The flood account is a powerful picture of the gospel.
Some of us find talking about sin and death to kids and preschoolers uncomfortable and difficult. Some of us question if we should discuss sin and death with children at all. We certainly need to be sensitive and age-appropriate in how we address these topics, but we cannot skip over them. If we do, we also have to skip over grace. We simply cannot understand grace without condemnation. The more we understand sin and evil, the more we understand grace and love. The ideas are fused together. We cannot understand Noah apart from the flood. We cannot understand the cross apart from the Fall.
Our kids and preschoolers can handle this. They know what sin is, even if they cannot provide a theological definition of it. They rub shoulders with violence, death, and evil everyday, no matter how hard parents and other adults try to shield them. So we are not introducing them to these topics, but we are giving them hope in the midst of them—something they do not get from how they experience these issues in the world around them.
Our kids need to hear about grace. They need to hear the gospel. And so, they need to hear about sin, death, and judgment.
What are some age-appropriate ways you talk with your kids and preschoolers about sin, death, and judgment? Share some ideas and advice in the comments below.

Here is more help for leaders preparing for the October 4, 2015 session (Unit 1, Session 5) of The Gospel Project for Kids.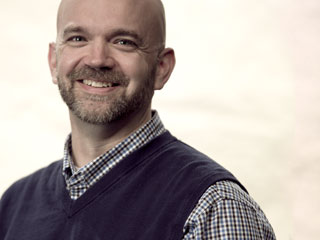 Brian Dembowczyk is the team leader for The Gospel Project for Kids. He served in local church ministry for over 16 years before coming to LifeWay in 2014. Brian earned an M.Div. from the Southern Baptist Theological Seminary and a D.Min. from the New Orleans Baptist Theological Seminary. Brian, his wife, Tara, and their three children—Joshua, Hannah, and Caleb—live in Murfreesboro, TN, where Brian enjoys drinking coffee and teaching 1-3 graders at City Church.