November 28, 2015 By Brian Dembowczyk
Moses Was Born and Called
Tell me if you have heard this joke before:
A United States Navy aircraft carrier is underway at night when the ship's lookout spots a light on the horizon. The ship's commanding officer orders the radio operator to signal the approaching ship and instruct it to change course. The radio operator makes the call and instructs the person on the other end of the signal to change course. But he refuses and tells the aircraft carrier to change course instead. The commanding officer hears this, and instructs the radio operator to repeat the order, which he does, but with the same result.
At this point, the officer is incensed and takes the radio from the operator and emphatically says, "This is Admiral Jones. This is a United States Navy aircraft carrier! I demand that you change your course right now!"
A second later this is the response, "This is Mr. Smith. This is a lighthouse. Your call."
Who you are matters.
And that is a big part of this week's Bible story, Moses Was Born and Called. (Exodus 1:8—2:10,23-25; 3:1—4:20) We pick up the big story narrative roughly 400 years after Joseph (see Genesis 15:13-14), with the birth of a Hebrew boy named Moses. By this time, the Hebrew population had exploded in Egypt, so the Pharaoh at the time was concerned that the Hebrews would figure out their numerical advantage at some point and rebel. His answer was to institute a form of cruel and evil population control where each Hebrew baby boy was to be killed. A baby named Moses is born during this time, but in an attempt to save his life, his mother sets him among the reeds of the Nile. Moses is found by Pharaoh's daughter, who has compassion on the baby and takes him in. In God's providence and kindness, Moses' own mother is tasked with caring for the boy.
Some years later, Moses strikes and kills an Egyptian he sees beating a Hebrew, forcing Moses to flee into the Midian wilderness in fear for his own life. And then one day in the wilderness, Moses sees an amazing sight that stops him in his tracks—a bush in a flame of fire that was not being consumed. (Exodus 3:2) Moses is drawn to the bush and as he nears it, God calls out to him from within it.
God tells Moses that He has seen the affliction of the Hebrew people and He has heard their cries for deliverance. He is about to answer them. And God is going to use Moses as His agent to bring about that deliverance.
At this moment, Moses enters full "wiggle mode" and he begins to try to wiggle and worm his way out of the assignment God had just given him.
Moses' first question is basically "Who am I to do this?" Sounds reasonable. Almost admirable in its apparent humility. But God quickly assures Moses that this assignment is not about who Moses is, but who God is.
And that prompts Moses' next question. And this is where I want to camp out. Moses basically asks, "OK, well then, who are You?" Again, a reasonable question in light of the polytheism practiced in Egypt. In essence Moses is asking how he will differentiate God from all of the Egyptian false gods. "If I tell Pharaoh that God says to let the Hebrews go, he's going to ask which god said this. What do I tell him?"
God's response is recorded in Exodus 3:14. This is a critical verse, so I encourage you to commit the reference to memory if you haven't already.
God replied to Moses, "I AM WHO I AM. This is what you are to say to the Israelites: I AM has sent me to you."
Now, let's walk through this. First, you will notice that the HCSB quoted uses all caps for the name God gave Moses—I AM WHO I AM or I AM. Some translations, such as the ESV, use small caps. There is an important reason for this.
This is recognized as the most holy name of God which is often transliterated Yahweh or Jehovah. If you aren't familiar what transliteration means and enjoy learning about this sort of thing, I'll take a minute and share a little about this. If not, you might want to skip the next three paragraphs.
Transliteration means you take a word from another language and pull it directly into English using English equivalents for each letter instead of translating the word as a whole with an English word. So for example, the Hebrew word yom is translated as "day" or "age" as in Yom Kippur—"the Day (or yom) of Atonement." Here is what the word looks like in Hebrew:
יום
Hebrew is read right to left, so the letter on the far right, a yod, is the first letter read and the letter on the far left, a mem, is the final letter read. The middle character is a vowel supplied that makes the sound of an "o" resulting in yom. Biblical Hebrew was written without vowels (just to make it that much harder), and vowels were added later. That's an example of translation. Now, back to transliteration. Here is what Yahweh or Jehovah looks like in Hebrew. Again, remember it is read right to left.
י
הוה
The word is spelled yod-he-wah-he. Say that out loud and you can almost hear Yahweh. Yahweh is the more widely accepted transliteration by supplying an "a" and an "e"as the vowels, and that is what we will use. However, some prefer to supply an "e" and an "o" and pronounce the consonants a little differently to result in Jehovah. Either way, this is not an English word, so this is not a translation, but a transliteration. Just for grins, baptize is another transliterated word; this one from the Greek word baptizo (which looks like this: βαπτίζω).
Now that everyone is back together, let's continue. So Moses asks God who he should say God is, and God responds Yahweh, or I AM WHO I AM. The foundational meaning of this name is "timeless existence." God is basically saying, tell Pharaoh this: "I am God who exists. I have always existed and I always will exist."
And that is what separates the one true God from the false Egyptian gods. Yahweh is real. Yahweh exists eternally—in the eternal past, the present, and the eternal future—while the Egyptian gods were created by man's imagination and hands. That is the difference Moses needs to bring to Pharaoh's attention and that is what Pharaoh, all of Egypt, and the Hebrews will experience during the ten plagues. That is what sets God apart.
God will show everyone that who you are, and more specifically who He is, matters. Greatly.
God will show who He is and what sets Him apart—His character and power—to lead the Hebrews and Egyptians to fear, worship, love, and obey Him.
God will show who He is and what sets Him apart—His character and power—as He rescues an oppressed people out of slavery.
And God will show who He is and what sets Him apart—His character and power—is the driving force behind His bigger, grander, more beautiful rescue mission of an oppressed people under the bondage of sin.
That's good stuff, isn't it? But there's even more.
As you read through the Gospel of John, you will encounter seven times where Jesus uses the phrase "I am" to explain His identity:
I am the bread of life (John 6:35)
I am the light of the world (John 8:12)
I am the door (John 10:9)
I am the good shepherd (John 10:11)
I am the resurrection and the life (John 11:25-26)
I am the way, the truth, and the life (John 14:6)
I am the vine (John 15:5)
Now, each of these tells us something vital about Jesus and there are plenty of fascinating studies, sermon series, and books which expound on this. But we will save that for another time perhaps. For now, let's zero in on the "I am" phrase itself and use another verse—John 8:58—to drive the beauty and power of this home.
In John 8, Jesus is engaged in an ongoing debate with a group of Pharisees. It's a fascinating exchange with increasing snarkiness from the Pharisees which leads to outright playground-caliber name-calling in verse 48 where the Jews call Jesus a Samaritan and say He has a demon. In Jesus' response, He shares that anyone who keeps His word will never see death. The Jews jump on this assertion and decry that even the great Abraham died; surely Jesus isn't claiming to be greater than Abraham! Jesus responds by sharing that it isn't a matter of Jesus' greatness, but God the Father's greatness. Then He tags on a provocative statement at the end: Abraham saw Jesus' day. Now, we aren't quite sure what Jesus meant by this, but it seems reasonable to take this to mean that Abraham prophetically saw Jesus as the fulfillment of God's covenant.
Whatever Jesus meant, the Jews jump on it. They are generous with Jesus and say He isn't even 50 years old (He was in his early 30s), how then could He have seen Abraham? And this is where it happens. In John 8:58 Jesus responds:
I assure you: Before Abraham was, I am.
There it is at the end. I am. In Greek, this is ego eimi (ἐγώ εἰμί). The word eimi means "I am" and ego means "I" so this literally means "I I am." I share that to let you know that this is a way to emphasize "I" in Greek. Now the basic meaning is that Jesus existed before Abraham. And that is what the Jews were laughing at a minute before. But look at the next verse and notice how they respond now:
At that, they picked up stones to throw at Him. But Jesus was hidden and went out of the temple complex.
They wanted to stone Him. Why? Because stoning is what you did to a blasphemer. And that is exactly what they understood Jesus to be—He was claiming to be God. How?
I am.
That set them off because they understood clearly that Jesus was referring to another I AM, Yahweh. And Jesus emphasizing "I" was making it clear that He was claiming to be God. And that is why they wanted to kill Him.
The next time you hear someone claim that Jesus never said He was God, you can take him here. I told you Exodus 3:14 was important.
While I don't anticipate you will have the time to get into this with your kids, and some of your kids may not be ready for it anyway, I want to encourage you with the depth and beauty of God's Word. But at the same time, perhaps God will give you the opportunity to connect Yahweh, the rescuing God of Exodus, with Jesus, the rescuing God of the Gospels. May God give you wisdom, passion, and clarity as you share!
How has God—the great I AM—been real to you recently? How have you shown your kids I AM? Leave a comment below.
Here is more help for leaders preparing for the December 6, 2015 session (Unit 4, Session 1) of The Gospel Project for Kids.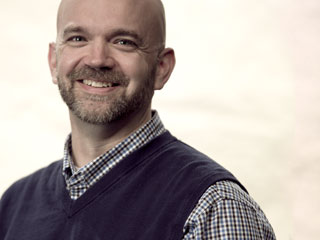 Brian Dembowczyk is the team leader for The Gospel Project for Kids. He served in local church ministry for over 16 years before coming to LifeWay in 2014. Brian earned an M.Div. from the Southern Baptist Theological Seminary and a D.Min. from the New Orleans Baptist Theological Seminary. Brian, his wife, Tara, and their three children—Joshua, Hannah, and Caleb—live in Murfreesboro, TN, where Brian enjoys drinking coffee and teaching 1-3 graders at City Church.