November 15, 2016 By Brian Dembowczyk
Judah Was Taken into Captivity
It's usually because he is overly tired. Or perhaps overly hungry. Sometimes it might be because he is both overly tired and hungry. Whatever the reason, there are times when my sweet, funny, loving, 5-year-old son, Caleb, will have severe temper-tantrum meltdowns that require my wife and I to go to parenting DEFCON 1.
Caleb was in the middle of one of these tantrums recently while my wife was trying to get him into the shower. After a few minutes, Tara emerged rattled from the kids' bathroom and "tagged" me in. I walked into the bathroom and my little man was sitting on the floor crying and yelling that he was not going to take a shower. I calmly instructed him to get up and take his clothes off and get in. Caleb reluctantly got up and took off his clothes, but he was adamant that he was not getting into the shower. At least I had made progress.
I told Caleb to get into the shower one more time with the same response, so picked him up and placed him in the tub. He was still angry, but he didn't resist or jump out. More progress.
I next asked Caleb if he was going to wash himself or if he wanted me to. I wasn't surprised when he repeated the same mantra that he was not going to take a shower. So I turned on the water, let it warm up, and then changed it over to the shower head. I asked Caleb to step into the water but he refused and continued crying and screaming.
And this is when I figured that if he wasn't going to move into the shower stream, I would move the shower stream to him. I adjusted the nozzle and the water sprayed on the back of Caleb's head.
And in that moment, he stopped his crying and screaming.
I told him that he needed to wash up and pointed out where his soap was and he turned, picked up the soap, and began to wash. A couple of minutes later, I asked if he was finished and he said he was. I turned off the water and asked which towel was his, and he sweetly said he didn't know.
Normal Caleb was back!
I'm really not sure what happened, other than God's kindness. My only guess is that the shock of the water snapped him out of it. Caleb needed some sort of jolt to break himself free from his tantrum and spraying him with water was the unintended jolt that he needed.
There are times when we are all like Caleb—just not with the screaming I hope. There are times when we get pulled into a downward spiral of anger, frustration, or despair and everything around us seems to feed into it. We get more and more angry. More and more frustrated. More and more despair.
But then God might provide a loving jolt to our system to snap us out of it. An undeserved act of kindness by someone. News that someone we know and care about is in a much more dire situation than ours. Someone who loves us enough to confront us for our attitude.
Sometimes it takes something drastic to get our attention.
If you've experienced this, then you are in a position to understand this week's story, Judah Was Taken into Captivity. (Unit 15, Session 3)
If we were to look at just this story in isolation, we could easily walk away with a distorted image of God. We might see Him as punitive. Vindictive. Cruel even. God raised up a foreign army to march into Judah and conquer His own people. It feels so counterintuitive. Wouldn't a loving God protect them?
Well, He was doing just that—just not in the way that seems obvious to us. You see, this was the shock to Judah's system that they so desperately needed.
Generation after generation had rebelled against God and continued to practice idolatry and social injustice. God had warned each generation time and time again. Dozens of prophets had been sent to warn His people to turn from their sin and return to God. And yet they failed to listen. Over and over again.
Judah was like a petulant 5-year-old with his arms folded, lower lip extended, refusing to obey. Only this tantrum didn't last minutes or even days—but for decades.
So God lovingly shocked Judah's system by leading them into captivity. And you know what, it worked. The captivity was a very difficult time for God's people, but eventually, God led His people home. And they didn't struggle with idolatry again. Oh, we'll see in the Gospels that they swapped out that rebellion with another, but the tantrum of idolatry was certainly broken.
This week as you walk through this session with your kids, be sure that they see God's goodness in the captivity. Be sure they understand that discipline is a loving act of God. And even more importantly, God was using discipline of His people to show them that they needed another answer for their sin problem, as we read in the Christ connection:
God was right to punish His people for their sin, but He kept His promise to provide a king through David's family. Ultimately, God punished our sin through His Son, Jesus, and made Him our King forever.
The greatest shock to our system came when God provided His own Son, Jesus to lay down His innocent life on behalf of our dreadfully guilty lives. God paid the price we could not pay to give us the forgiveness we did not deserve. The gospel is shocking. Beautifully, jarringly, shocking. Share that gospel with your kids this week.
How has God been kind to you to shock your system when you needed it? Leave a comment below.
Here is more help for leaders preparing for the November 20, 2016 session (Unit 15, Session 3) of The Gospel Project for Kids.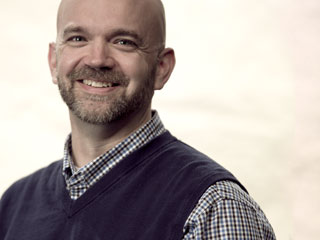 Brian Dembowczyk is the team leader for The Gospel Project for Kids. He served in local church ministry for over 16 years before coming to LifeWay. Brian earned an M.Div. from the Southern Baptist Theological Seminary and a D.Min. from the New Orleans Baptist Theological Seminary. Brian, his wife, Tara, and their three children—Joshua, Hannah, and Caleb—live in Murfreesboro, TN, where Brian enjoys drinking coffee and teaching 4-5 graders at City Church.