April 9, 2016 By Brian Dembowczyk
Joshua's Final Encouragement
According to the great bastion of truth, the Internet, here are the last words spoken or written by some well-known individuals.
Linguist Joseph Wright: "Dictionary."
Composer Gustav Mahler: "Mozart."
George Orwell, who died at 46: "At 50, everyone has the face he deserves."
Richard B. Mellon, President of Alcoa, who had been in a game of tag with his brother Andrew for 70 years: "Last tag."
Certainly those examples are interesting and amusing, but there are also some more meaningful and profound last words.
Sir Arthur Conan Doyle to his wife: "You are wonderful."
Leonardo da Vinci: "I have offended God and mankind because my work did not reach the quality it should have."
Now those two men certainly made their last words matter, didn't they? One reflecting on the goodness of his wife and the other the value and worth of God.
This week's session, Joshua's Final Encouragement (Joshua 23:1—24:28), gives us a glimpse at the heart of Joshua and what he found most important to say in his farewell address to God's people. Years earlier, Moses had shared a similar farewell message with the people, and now it was his apprentice's turn. And just like Moses, Joshua gave his people some memorable farewell words that we too can learn much from. 
I want to take a few minutes with you and put a couple of verses from this passage under the microscope and unpack their richness. As I do, I want to encourage you to resist the urge to see this as transferable to your role as a teacher or ministry leader. Don't get me wrong, it is—but instead, I want to come alongside you and pour the gospel truth we will mine together into you for your edification. So read what follows within the context of your heart and your life first and foremost. If you do that, the Holy Spirit will work it out of you as you minister to your kids as well.
So let's go ahead and dive into Joshua 24:14-15—
"Therefore, fear the Lord and worship Him in sincerity and truth. Get rid of the gods your fathers worshiped beyond the Euphrates River and in Egypt, and worship Yahweh. But if it doesn't please you to worship Yahweh, choose for yourselves today the one you will worship: the gods your fathers worshiped beyond the Euphrates River or the gods of the Amorites in whose land you are living. As for me and my family, we will worship Yahweh."
Such good stuff here on which to meditate! Let's drill down on five big ideas.
Fear the Lord and worship Him.
We often hear that when the Bible speaks of fearing God, it really means to revere Him. And that is certainly true, but I suggest we need to be careful about stripping actual fear away from this concept in an attempt to preserve God's love. The thinking goes that we should not be actually afraid of our loving Father, so fear here only means to revere. Again, I think that is a mistake, and perhaps a costly one.
Yes, God is our loving Father, but He is also holy. This is the same God who caused Isaiah to cry out "Woe is me!" in His presence. This is the same God who had a thick veil form a figurative barrier between Himself and His people. This is the same God who would not allow anyone to touch the Ark or be punished with death. And this is the same God who is all-powerful and all-knowing. He knows our every thought. He knows our every impulse and action. We are on dangerous ground if we fail to remember and appreciate the weightiness of God's holiness. Even as His loved children, we cannot take our Father lightly! We should have a loving fear of who God is, what He has done, and what He can do.
When we fear God with reverence and actual fear, we have a balanced and proper perspective of God and that in turn helps amplify the gospel in our hearts. You see, having an actual fear of God does not drive us away from Him, but toward Him when we connect that with His grace and mercy and forgiveness through Jesus. If God were just the kindly gentile loving grandfather that some want Him to be, then His forgiveness is weakened. Of course that kind of God would easily forgive! But when we balance God's love with His holiness, we are able to see the beauty of forgiveness more fully. And that healthy, balanced fear leads to worship—meaningful worship of God in His fullness.
How do you see God? Do you fear Him with a mixture of reverence and fear? Do you value His love and holiness equally? Are you striving to feel the weightiness of who God is so that you may be more amazed by the gospel and love Him more?
Sincerity and truth.
As we encounter the fullness of God, our gospel-centered worship will be offered to Him in sincerity and truth. Why? Because this worship is based on God's character (truth) motivated by our genuine fear (sincerity) of Him. The reason why so much of our worship is fleeting and anemic is because it is focused on the wrong things, such as our situation in the moment, or worse, the wrong person (ourselves if we are honest). Too much of our worship is plagued by how we feel about our lives in the moment and what we value in worship.
If our life seems to be going well (usually defined by the absence of pain and hardship) then we feel like worshiping God and it seems good to us. If the music stirs us, the weather is glorious, or we have ample provisions from God, we find motivation to worship.
Now, there is nothing wrong with worshiping God in times of comfort. There's nothing at all wrong with music stirring us (that is its God-given purpose). There is nothing wrong with appreciating God's creation and provision. We should worship as a response to all of this. But none of these should be primary. God Himself must always be primary in our worship. In these times, we must get to the good Giver of these things and focus on Him in worship, not His gifts.
When we discipline our minds and hearts to do this, we position ourselves for sincere and truthful worship no matter what. Because if we worship God, not His gifts, in the "good" times, we have anchored our worship on the right One and we will be apt to worship the same, unchanging God in "bad" times as well. That right there is how we worship God with sincerity and truth when we get that frightening medical report, lose our job, or our child rebels.  If we find we cannot worship in these difficult times, or we feel as if our worship is inauthentic, it is most likely because we have not exercised the muscle of proper worship in the times of plenty. You see, in those moments when we are on our knees with tears in our eyes, the muscle memory of God-centered worship takes over. But only if our worship has been God-centered before.
What has been the focus of your recent worship? Are you in a "good" time and working to look past the gifts God has given you and worshiping the Giver? Are you striving to love and be amazed by the fullness of God?
Get rid of the gods.
If we are fearing the Lord and worshiping Him in sincerity and truth, what is next follows naturally—we will get rid of all other gods. There is an important part of this that I don't want us to rush past because it is pretty basic and we surely already know it. Notice that God wants uniqueness, not primacy, in our lives. In other words, God doesn't want to be first among many, several, or even just a few. He is not satisfied with getting 95% of our love and worship—or even 99.99%.
He wants to be unique. The lone One for which our hearts long. And when we really focus on who He is, that is the only reasonable response of our hearts and wills.
Who takes a fast food hamburger to eat at a high-end steak house?
Who takes a picture of a sandbox to stare at on the beach?
Who worships false gods in the presence of the One true God?
When we turn to God to satisfy our souls, nothing else will even come close to doing so. And in fact, when we try, we will only find more cause to turn to God because of the failure of the other gods to provide even an ounce of satisfaction.
In Joshua's day, the people had to turn from pagan gods around them. While we don't necessarily struggle with that today, we know that we can be tempted by gods all around us just as easily. Career. Family. Possessions. Entertainment. "Likes" on social media. Appearance. The list is in inexhaustive.
Are you identifying the gods, or potential gods, in your life? Where are you seeking meaning and satisfaction apart from Christ? What do you need to do to get rid of them?
Choose for yourselves today.
Joshua's exhortation to Israel was to make a decision. They had to choose to serve God or not. They couldn't keep a foot in both worlds. That's not how it works. We are either pursuing God fully, or we are rebelling against Him. There is no middle road.
This reminds me of the one-time act of trusting in Jesus that leads to forgiveness. There was a time when we each repented of our sin and turned to Christ and trusted in Him for forgiveness. It was a clear either-or choice of either trusting in Jesus and following Him or rejecting Jesus and continuing to follow ourselves. That was a one-time action on our part. It is not one that we need to, or even can, repeat.
But as followers of Jesus we do need to make another kind of either-or choice. Every day. Actually, even more frequently than that.
We need to continually make the willful, conscious decision to follow Jesus and live for His glory in all that we do. According to 1 Corinthians 10:31, everything we do is to be done for God's glory. Everything.
I have to confess that I live my life on auto-pilot more often than not and I fail to playfully and willfully make decisions based on what will glorify God the most. But that is at the heart of living with gospel gratitude and on mission. We are to recognize that we are here for a reason, our time is precious, and there is much at stake. All around us. Every day.
Are you pursuing God's glory in all areas of your life? How does pursuing God's glory day-by-day and even minute-by-minute make you feel? Does it overwhelm you and burden you or does it excite you and give you a release for your gratitude to Christ?
As for me and my family.
One last idea to chew on together. The last sentence about Joshua and his family serving God is perhaps one of His most memorable quotes. We see it on artwork, bumper stickers, and coffee mugs all the time. And that's OK, but let's be careful not to make it a trite verse or if it has, let's work at recovering it because it is so good.
Let's think about what Joshua was saying that day. He told Israel that they were to look at who God really is so that they would worship Him sincerely which would in turn drive them to make the choice to follow God alone. And then he threw it out there: my family and I have made that choice already and we choose God.
But here's the thing: that choice was not one that Joshua could make for his family. Discipling our families doesn't work that way. As a husband and father, I cannot declare, "Our family is godly and gospel-centered" to make that happen. So Joshua was not telling the people that he was making a choice on behalf of his family that day. Instead, he was declaring what had already been chosen, most surely long before. Joshua could only make this statement after years of teaching his family about God—His character, what He has done, and what He had promised to do. Day-after-day, month-after-month, and year-after-year of intentionally discipling his family so that one day he could stand before Israel and declare what was true.
What about us? Our primary ministry is to our families, not our kids ministries. Are we leading our families well? Are we discipling our kids? Our grandkids? Are we pointing our families to the gospel day-by-day so that we can stand before our churches and communities and declare "As for me and my family, we will worship Yahweh!" as well?
How do you feed your own soul to grow in Christ? Leave a comment below.
Here is more help for leaders preparing for the April 17, 2016 session (Unit 7, Session 5) of The Gospel Project for Kids.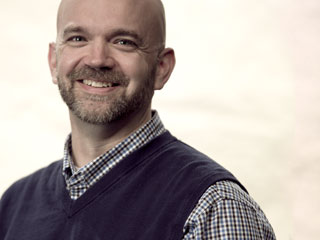 Brian Dembowczyk is the team leader for The Gospel Project for Kids. He served in local church ministry for over 16 years before coming to LifeWay. Brian earned an M.Div. from the Southern Baptist Theological Seminary and a D.Min. from the New Orleans Baptist Theological Seminary. Brian, his wife, Tara, and their three children—Joshua, Hannah, and Caleb—live in Murfreesboro, TN, where Brian enjoys drinking coffee and teaching 1-3 graders at City Church.