February 27, 2016 By Brian Dembowczyk
Joshua and Caleb
I have trust issues.
When my wife and I leave our house and she tells me she locked the door, I instinctively grab the door knob and try to turn it to make sure. I would never trust someone else to wake me up; I need to set my own alarm and if I have to get up for something really important, like a flight, I will often set two alarms…or more. Because, what if the first or second alarms don't go off? I don't expect cars with their turn signals on to turn, neither do I expect cars without their turn signals on to go straight. I smell my milk and don't drink it if it is remotely close to the use by date (although I have recently learned that most dates on foods are meaningless, which only adds to my trust issues). And I am nervous whenever I use my Starbucks app to pay for my coffee because I am afraid it's going to crash mid-purchase.
Yes, I have trust issues. And so do you. They may just look different. We all do to some degree or another.
Trust is so hard, especially when it matters most.
As our Bible story, Joshua and Caleb (Numbers 13:1–14:38), opens up this week, God tells Israel something pretty clear and straightforward.
The Lord spoke to Moses: "Send men to scout out the land of Canaan I am giving to the Israelites. Send one man who is a leader among them from each of their ancestral tribes." (Numbers 13:1-2) [emphasis added]
Don't read over the three words " I am giving." They are vital. God was not sending the spies into a land He might give them. He was not sending them into a land to see if they could conquer it. He was sending them into a land He was giving them. It was theirs. They just had to go look at it. Easy enough, right? Well, except for those pesky trust issues.
The spies scout out the land and are amazed at how bountiful it was. However, they are also taken aback by how large and formidable the people in the land were. They were so large, the spies felt like small grasshoppers.
When the people heard the report, they wept and complained to Moses that he brought them there to die. Amazingly, they tell Moses it would have been better for them to die in Egypt or in the wilderness, as if dying where they were was worse. So the people decide to appoint a new leader and return to Egypt.
Talk about trust issues. Think about what the people had experienced to this point—the miraculous plagues, the sparing of their firstborn during the Passover, the plundering of the Egyptians as they left, the parting of the Red Sea, the destruction of Pharaoh's army, the provision of water and food, and so much more. Hadn't God proven His faithfulness and power? Hadn't He done more than enough?
And yet, the people completely discount all they had seen and they refuse to trust God. Everyone, that is, except for Joshua, Caleb, Moses, and Aaron. Joshua and Caleb, two of the 12 spies, beg the people to trust God. But they don't. Instead, they threaten to stone them. Apparently, the people didn't even want to hear about God's goodness.
Trust.
Had the people trusted in God the way Joshua, Caleb, Moses, and Aaron did, they would have entered the promised land. Instead, they refused to trust and instead they wandered until everyone in that generation, except Joshua and Caleb, died off. Trust would have led to their rest; instead refusing to trust led to their grave.
Here's why this matters so much. God is giving us a picture of our need to trust Him for salvation here. We know that the promised land is a picture of salvation (see Hebrews 3-4) and that Jesus is the greater Joshua who trusted God and leads us to salvation. So this week we have the great opportunity to talk with our kids about trusting in Jesus. Just like the people had seen God perform great works and He had shown them His faithfulness time and time again, we have seen even more from God because we have the full story of the Bible at our fingertips. We have seen God faithfully provide for us over and over again, and we have God's clear promises to us in Scripture—if we trust in Jesus we will be saved. The question is whether we will give in to our trust issues, or whether we will push them aside and trust in the character and actions of God. Pray that the Holy Spirit continues to work in your kids' hearts so that they will trust Jesus.
How have you seen God produce trust in your life? Leave a comment.
Here is more help for leaders preparing for the March 6, 2016 session (Unit 7, Session 1) of The Gospel Project for Kids.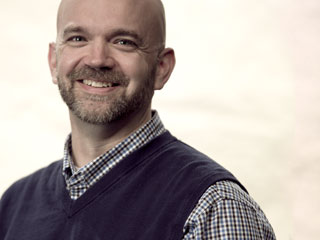 Brian Dembowczyk is the team leader for The Gospel Project for Kids. He served in local church ministry for over 16 years before coming to LifeWay. Brian earned an M.Div. from the Southern Baptist Theological Seminary and a D.Min. from the New Orleans Baptist Theological Seminary. Brian, his wife, Tara, and their three children—Joshua, Hannah, and Caleb—live in Murfreesboro, TN, where Brian enjoys drinking coffee and teaching 1-3 graders at City Church.