November 21, 2015 By Brian Dembowczyk
Joseph's Dreams Came True
My friend, Tyler, was in a store recently and was waiting for a self-checkout machine to open when the woman who was working the area called for him to come over so she could check him out. This store is known for low prices on items and groceries, and long, long checkout lines. Yeah, you know the place.
As the woman scanned Tyler's items without looking up, he said this to her:
I really appreciate you taking me! Thank you, thank you very much. You're awesome.
Without hesitating and in a matter-of-fact tone, the woman replied:
Hmm… You are the first person to say that to me in the 17 years that I've worked as a cashier here. People don't see me, let alone have appreciation for what we do. Most people think that we are incompetent and they think they can do our job better than we can. I've just become used to the sentiment.
Wow. Seventeen years without such a simple, yet kind, word. Seventeen years.
I wonder if our increasingly narcissistic, entitlement-driven, virtual communication culture is killing kindness.
I see it in restaurants when people order with, "I'll take a burger" instead of "May I have a burger, please?" I see it when a door is held open for someone and they walk through without a "thanks" or even a nod. And I see it in stores where employees are treated as menial servants.
And it's not just the world. People in the church can demonstrate the same behavior as well. Just ask a waiter when the worst tipping day is. As if kindness is not a fruit of the Spirit.
This week's session, Joseph's Dreams Came True (Genesis 42:1—46:34; 50:15-21), gives you a great opportunity to talk with your kids about kindness. Not just what kindness looks like, but also why we should be kind.
Several years before the events of these chapters, Joseph had a series of dreams indicating that his family would one day bow down to him. Now, the favoritism Joseph received from his father was one thing, but this was what sent his brothers over the edge and set the events of Joseph's life in motion.
Now, years later, the dreams came true when Joseph's brothers bowed to a man they only knew to be Pharaoh's second-in-command.
Stop the story.
Now, if this were a Hollywood movie, what would we expect to happen? Payback right? Joseph would reveal himself to his brothers and throw them in prison, or worse. And the audience in the theater would applaud with approval. "That's right! Give 'em what they deserve!"
But that isn't what Joseph did.
Resume the story.
Joseph extended kindness to his brothers. He forgave them. He rejoiced over their reunion. He provided for them.
And that's why we are to be kind to others.
No, not because Joseph was kind—so we should be like Joseph. But because God was painting a picture through Joseph.
Wronged. Was able to, but withheld punishment from those who wronged him. Extended kindness and forgiveness instead. Rejoiced over being reunited with those who wronged him. Provided abundantly.
Sound familiar?
That's right, Joseph is a picture of Jesus. And that is why we are to extend kindness to others. The gospel community should be known for our love and kindness because Jesus has been so kind to us. And the kindness of Christ should work its way down into our hearts—deep down—and radically change our perspective of ourselves and others. There is no room for narcissism and entitlement at the foot of the cross.
The gospel naturally produces kindness toward others—others whom God loves and desires to treat kindly, too.
This week as you teach your kids about how kind Joseph was toward his brothers, don't stop short of pointing them toward the greater kindness that Christ Jesus has lavished upon us.
How has the gospel prompted kindness in your life? Leave a comment below.
Here is more help for leaders preparing for the November 29, 2015 session (Unit 3, Session 4) of The Gospel Project for Kids.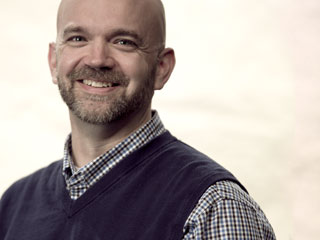 Brian Dembowczyk is the team leader for The Gospel Project for Kids. He served in local church ministry for over 16 years before coming to LifeWay in 2014. Brian earned an M.Div. from the Southern Baptist Theological Seminary and a D.Min. from the New Orleans Baptist Theological Seminary. Brian, his wife, Tara, and their three children—Joshua, Hannah, and Caleb—live in Murfreesboro, TN, where Brian enjoys drinking coffee and teaching 1-3 graders at City Church.