October 15, 2016 By Brian Dembowczyk
Jonah, Prophet to Nineveh
Although I grew up in the church, I didn't start really grasping the gospel until mid-way through college when I connected with an evangelistic college ministry and was discipled systematically. Leading up to my final summer break, the guy discipling me began to encourage me to go on a mission trip—something I was not keen to do. I had been on spring break trips with this ministry and had struggled to share my faith on the beach, so the thought of going to another country and doing that for the bulk of my summer didn't sound too appealing to me. Plus, I would have to raise a few thousand dollars to cover the costs.
My discipler, or more appropriately the Holy Spirit, wore me down and I ended up going to Zimbabwe and South Africa for about six weeks in the summer of 1994. It was a life-changing experience. Although it was not without its challenges.
One night when we were in Johannesburg, a great city but one that struggles with crime, the team leader told us that we would be going downtown into the city and sharing the gospel in pairs. That was exactly why I hadn't wanted to go on a mission trip. I didn't mind sharing in schools, on the ball field, and so forth. But random evangelism was a struggle for me. The rumblings of concern about going downtown at night from some of the local South Africans we were working with cemented my bad attitude.
When we arrived downtown, I was partnered with a guy who shared my opinion of what we were doing. So we spent the next hour walking around grumbling about what we were doing to further validate our unloving and disobedient hearts. We arrived at the meeting spot (early of course) and connected with a couple other guys who felt the way we did.
And that's when it happened.
The four of us were in a circle complaining about how unwise this time had been. It wasn't safe. Random evangelism isn't that effective. Whatever other reasons we could create. And as we were talking a man caught my attention. I could see him out of the corner of my eye. He was window shopping—looking at some shoes—by himself. And as he caught my attention, deep conviction overcame me. The Holy Spirit was basically taking a divine 2×4 to my hard heart.
I was being self-centered. I cared more about my comfort than the spiritual well-being of others. I was in sin.
Seeing that man standing there, I knew what I had to do. I was going to count to 10 in my mind and if he was still there, I would go share with him. (I told you I was just starting to grow in my faith.)
One. Two. Three. Four. Five. Six. Seven. Eight.
And then he turned to walk away. Shew. That had been close. But I still was going to give myself credit for at least considering being obedient to God.
Then he stopped again to look at more shoes.
OK, God. You don't have to rub it in.
I went and shared with that man and we had an amazing conversation. If you have shared the gospel before, you know there are times when the person just listens to you to be courteous, but he doesn't really care. This was not one of those times. This man was genuinely eager to hear the gospel—for the first time ever.
That man did not trust in Jesus that night—he needed to consider whether he was really ready to live for Christ and not himself—but I know that God used that time to impact him—and me. While I do not excuse my sinful, selfish attitude that led up to that encounter, I am grateful for God's kindness, patience, and grace to me. It is an encounter that I will never forget.
That story is perhaps why I love this week's session, Jonah, Prophet to Nineveh (Unit 14, Session 2), so much. Jonah was a grumbling, poor excuse for a servant of God. Just like me.
When you read through the Book of Jonah, you should be able to quickly see some major contrasts between Jonah and Jesus.
When God gave Jonah an unpopular mission, he complained and ran away in disobedience. But when God gave Jesus an even less popular mission, He humbly accepted and stepped forward in full obedience.
When Jonah fulfilled his mission, he did so with a hard heart, empty of love for the people to which he was sent. Jonah could not get past the wickedness of the people of Nineveh. And to be fair, they truly were wicked. But Jesus fulfilled His mission with a heart of love for the people to which He was sent. Jesus loved people even knowing how wicked they were.
It is clear that Jesus is the greater Jonah. And as we read this book, it is fitting that we press into our hearts and our kids' hearts about who we are more like. Are we like Jonah, failing to love people and excusing our hard hearts full of prejudice and pride? Or are we striving to be like Jesus and love everyone—no matter what?
Those are critical questions and the reason I believe the book ends the way it does—with Jonah on a hill pouting and having just been challenged by God. We don't know what Jonah did, and I believe we are not told because God wants this story to stay open. He wants us to see ourselves in it and answer the questions He asked Jonah that day.
But there is another part of this story we must consider before we get tho those key questions. And it is this. Who should we relate most with in the story? The answer may shock you and cause some discomfort. You see, when we read this story, we should not immediately see ourselves as Jonah. That is step 2. Step 1 is to see ourselves as Nineveh. That's right—wicked, rebellious Nineveh. You see, that is who we are apart from the gospel. That is who Jesus came to die for. Jesus did not come for people who were pretty good. He came for vile people like you and me. Like Nineveh. The truth is we are all Nineveh—in desperate need of forgiveness and transformation only possible through the gospel.

When we see ourselves as Nineveh first, that will frame the way we understand our role as Jonah. When we recall how good God was to us—how gracious and patient, how loving and kind—we cannot think, feel, and act toward others like Jonah did. A heart that is aware of the degree to which it has been forgiven has ample room to love others—even those who seem grossly unlovable. Because that was who we once were.
The reason I had such a bad attitude in Johannesburg that night was because I had failed to see myself as Nineveh before. I had failed to grasp the depth of my sin which makes God's grace that much more beautiful. That night I was Jonah. But I never want to be Jonah again.
How has reminding yourself of your Nineveh past prevented you from being Jonah today? Leave a comment below.
Here is more help for leaders preparing for the October 23, 2016 session (Unit 14, Session 2) of The Gospel Project for Kids.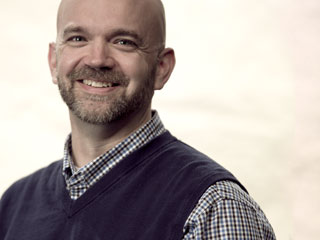 Brian Dembowczyk is the team leader for The Gospel Project for Kids. He served in local church ministry for over 16 years before coming to LifeWay. Brian earned an M.Div. from the Southern Baptist Theological Seminary and a D.Min. from the New Orleans Baptist Theological Seminary. Brian, his wife, Tara, and their three children—Joshua, Hannah, and Caleb—live in Murfreesboro, TN, where Brian enjoys drinking coffee and teaching 4-5 graders at City Church.