October 25, 2016 By Brian Dembowczyk
Joel, Prophet to Judah
I learned about the Juicy Lucy—a cheeseburger with the cheese stuffed in the middle of the patty instead of on top—several years ago while watching a food show. Eating one was added immediately to my food goals. Yes, I have food goals.
The only problem was that the Juicy Lucy is a Minneapolis, Minnesota, creation. I had never been to Minnesota and didn't know if I would ever have the opportunity to travel there.
That is, until earlier this year when I traveled to The Bethlehem Pastor's Conference in Minneapolis. The first afternoon I was in town, I grabbed a couple other guys from LifeWay and we headed to one of the two restaurants that claims to offer the best Juicy Lucy you can get.
And it was good. It was quite good. But you know what? It wasn't as good as I had hoped. My problem was that I built up such high expectations of how good it would be, that I set myself up for disappointment. Really good just wasn't good enough.
What I anticipated just didn't align with reality.
And that makes me think of the Joel, Prophet to Judah. (Unit 14, Session 3) Only we aren't talking about gooey cheeseburgers, but the Day of the Lord.
Here's what I mean.
In Joel's time, Judah was looking forward to the Day of the Lord—the day when God would judge His enemies, free His people, and make the world right again. The Day of the Lord is mentioned five times in Joel—more than any other prophet. So clearly the Day of the Lord is at the center of Joel's thesis. However, Judah's anticipation and God's reality of that day did not align. At all. Judah fully expected the Day of the Lord to be a great day for them. When they thought of God judging His enemies, they thought of the pagan nations around them. God would come, pour His wrath on those nations, free Judah, and make things right for them.
But Joel's message was different from that. It is captured succinctly in Joel 1:15.
Woe because of that day! For the Day of the Lord is near and will come as devastation from the Almighty.
Do you see what Joel was saying? The Day of the Lord was not going to be a blessing to Judah as they thought, but a curse instead. That day would bring woe and devastation from God on the pagan nations and on Judah. Why? How?
Because Judah was under God's wrath too.
Here's the disconnect. Judah thought they were right with God because of their lineage. But in reality, they were sitting under God's judgment because they had failed to trust God and follow Him. They were no safer than the pagan nations in the Day of the Lord.
Judah anticipated one thing, but they were going to get something entirely different.
And this is where the beauty of the gospel comes into focus as written in this session's Christ connection:
Joel warned God's people about the Day of the Lord—a day when God will judge His enemies, free His people, and make the world right again. Those who trust in Jesus will escape God's punishment for sin. Jesus was punished in our place, and we share in His righteousness.
Just as Judah didn't deserve to be spared from God's wrath for who they were or what they had or had not done, we too deserve God's judgment because of our sin. When we think about the Day of the Lord—which we know more fully as the return of Jesus—our starting point must be woe as well. Woe, that is, apart from Jesus. But Jesus was punished in our place and bore what was owed to us on the Day of the Lord so that in Him—and only in Him—we can truly anticipate the Day of the Lord as blessing instead of curse. It is only because of Jesus that we can long for the Day of the Lord and have unwavering hope in God's blessings and provision on that day.
As you teach your kids this week, help them relate to Judah in the Book of Joel. Help them see that we often have the same attitude as Judah did—that we are good with God because we attend church or don't commit the "really bad sins." Help them see that just like Judah was in desperate need of God's grace, so do we and celebrate that we have received God's grace in the person of Jesus.
How do you sometimes see yourself as "good with God" apart from the gospel? Leave a comment below.
Here is more help for leaders preparing for the October 30, 2016 session (Unit 14, Session 3) of The Gospel Project for Kids.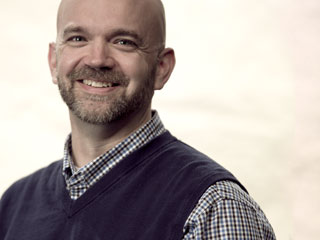 Brian Dembowczyk is the team leader for The Gospel Project for Kids. He served in local church ministry for over 16 years before coming to LifeWay. Brian earned an M.Div. from the Southern Baptist Theological Seminary and a D.Min. from the New Orleans Baptist Theological Seminary. Brian, his wife, Tara, and their three children—Joshua, Hannah, and Caleb—live in Murfreesboro, TN, where Brian enjoys drinking coffee and teaching 4-5 graders at City Church.