August 13, 2016 By Brian Dembowczyk
Job
I lived in Germany for several years when I was a pre-teen and teenager. It was an amazing experience; thankfully one which I was able to appreciate at the time. During that time, I had a good friend named Chris who was fluent in German. I remember hanging out with him in a German store one time when he read a bumper sticker to himself and laughed. I had a pretty good level of conversational and functional German, but I couldn't make out what was written on the bumper sticker, so I asked Chris to translate it for me so that I could enjoy the humor too.
Chris began to translate, but about midway through, he stopped, looked at me, and shrugged his shoulders.
"There isn't really a way to translate this," he explained. "It's just one of those things that makes sense in German, but it doesn't make sense translated."
I don't recall really understanding that then, which is probably why I still remember that relatively insignificant encounter, but I understand now. Having studied biblical Greek and Hebrew, I can better understand how translating languages is not a one-for-one proposition. Not every word in one language can be directly translated into another. Add to that that cultures have idiosyncratic idioms and evolving grammar rules and vocabulary and understanding another language is that much harder. We see this even within a language like English. In America, a boot is what you wear on a foot, but in South Africa, it is the trunk of a car. In fact, we see this even within America where we have different vocabularies and idioms from region to region.
When it comes down to it, language is an imperfect tool. There are times when we simply cannot understand one another for a variety of reasons. Usually we can work around these misunderstandings, although sometimes they can cause serious problems. But imagine feeling like your very life is misunderstood and because of that misunderstanding, you lost everything you had, including your children and health.
If you imagine that, you are imagining how Job (Unit 12, Session 2) felt.
While Job is the 18th book of the Old Testament, nestled right before the Psalms and the other poetic books, the story of Job happened much, much earlier than the book's position might imply. Job probably lived during the period of the Patriarchs—in the days of Abraham and his family. This belief is based on Job serving as a family priest (which denotes his story preceded the development of the official priesthood), and how his wealth was measured.
Job was extremely wealthy—and extremely godly.  While Job was not perfect, of course, he was a man who walked with integrity, loved and worshiped God, and turned from sin. By our definition, Job's life was good—really good.
And then God allowed Satan to throw Job a major, knee-buckling curve ball.
One day, God asked Satan what he was doing, and Satan basically shared that he was roaming around on earth looking to cause trouble. God's response seems odd at first. He asked if he had considered Job. It is almost as if God is challenging Satan to go up against one of His best. Knowing the rest of the story, this understandably might cause us a little bit of confusion. Why would God choose to put Job through all he endured? It doesn't seem that kind—that loving. But we need to remember God's sovereignty and that He works all things for His glory and our good. While Job experienced deep pain, I am convinced that when we meet him in heaven he will share that he is grateful how God used that time of suffering for his good. I imagine Job will share how he grew and how he finds encouragement knowing that God used his pain and suffering to help so many others—like us and our kids as we study the Book of Job.
Satan responded to God's challenge that Job only followed Him because God provided so much for him. So God permitted Satan to do whatever he wanted to Job's possessions, but he could not touch Job himself. Now, this is a critical point to consider. Notice that Satan had to get God's permission to go after Job and God's permission had qualifications. This is a vital text affirming God's absolute sovereignty over everything, including Satan.
So Satan attacked Job and he lost his possessions and children. Devastating losses, especially the children. Job entered into a time of mourning, yet he did not blame God and continued to worship.
Then God and Satan talked again and this time God gave Satan permission to inflict Job physically, only he could not kill him. Once again, we are reminded of the absolute sovereignty of God. So Job was inflicted with terrible, itchy boils over his entire body. Job sat down in ashes and used broken pottery to scrape his sores.
And it is at this point that Job's wife threw in the proverbial towel. She encouraged Job to curse God and die. Let's just say she didn't have a gift of encouragement!
But even still, Job continues to worship God and did not sin against Him.
But then Job's three "friends" arrived. The bulk of the Book of Job is an extended conversation between Eliphaz, Bildad, Zophar, and Job. Basically, after sitting quietly with Job for several days, the three entered into a theological debate with Job in an attempt to help him determine what he did wrong to deserve such harsh treatment from God. Once again, not exactly the encouragement Job needed in that moment.
Bildad summarized the position of the three friends well in Job 8:3, 20.
"Does God pervert justice? Does the Almighty do what is right?" (8:3)
"Look, God does not reject a person of integrity, and He will not support evildoers." (8:20)
Now at first glance, this sounds pretty reasonable—correct even, But notice the implicit premise. "Justice," "right," and "support" are all defined through a human lens of comfort and provision. God was just, right, and supportive of Job when he had a large family, possessions, and health. But now that those things were gone, there was only one explanation—Job had sinned in some way. The thought that God is just, right, and supportive through suffering was outside of their thinking.
Job missed that too. He accepted the friends' premise, but he struggled to find anything he had done wrong. This is what he responds to Bildad to start Job 9.
1 Then Job answered:
2 Yes, I know what you've said is true,
but how can a person be justified before God?
3 If one wanted to take Him to court,
he could not answer God once in a thousand times.
4 God is wise and all-powerful.
Who has opposed Him and come out unharmed?
5 He removes mountains without their knowledge,
overturning them in His anger.
6 He shakes the earth from its place
so that its pillars tremble.
7 He commands the sun not to shine
and seals off the stars.
8 He alone stretches out the heavens
and treads on the waves of the sea.
9 He makes the stars: the Bear, Orion,
the Pleiades, and the constellations of the southern sky.
10 He does great and unsearchable things,
wonders without number.
11 If He passes by me, I wouldn't see Him;
if He goes right by, I wouldn't recognize Him.
12 If He snatches something, who can stop Him?
Who can ask Him, "What are You doing?"
13 God does not hold back His anger;
Rahab's assistants cringe in fear beneath Him!
14 How then can I answer Him
or choose my arguments against Him?
15 Even if I were in the right, I could not answer.
I could only beg my Judge for mercy.
16 If I summoned Him and He answered me,
I do not believe He would pay attention to what I said.
17 He batters me with a whirlwind
and multiplies my wounds without cause.
18 He doesn't let me catch my breath
but soaks me with bitter experiences.
19 If it is a matter of strength, look, He is the Mighty One!
If it is a matter of justice, who can summon Him?
20 Even if I were in the right, my own mouth would condemn me;
if I were blameless, my mouth would declare me guilty.
21 Though I am blameless,
I no longer care about myself;
I renounce my life.
22 It is all the same. Therefore I say,
"He destroys both the blameless and the wicked."
23 When disaster brings sudden death,
He mocks the despair of the innocent.
24 The earth is handed over to the wicked;
He blindfolds its judges.
If it isn't He, then who is it?
25 My days fly by faster than a runner;
they flee without seeing any good.
26 They sweep by like boats made of papyrus,
like an eagle swooping down on its prey.
27 If I said, "I will forget my complaint,
change my expression, and smile,"
28 I would still live in terror of all my pains.
I know You will not acquit me.
29 Since I will be found guilty,
why should I labor in vain?
30 If I wash myself with snow,
and cleanse my hands with lye,
31 then You dip me in a pit of mud,
and my own clothes despise me!
Job believed that all of what he experienced was due to some huge misunderstanding. That was the only reasonable explanation he could think of. It couldn't be because God was unjust and it couldn't be because he had sinned, so the only conclusion he reached was that God just misunderstood things. But here was Job's problem. He was convinced that he could clear things up with God—if he could talk with Him. But how do you talk with the majestic, transcendent God of the universe? This was the greatest language barrier ever. Job wanted to plead his case to God, but had no way to even begin. So by this point, Job had given up and was left in utter despair.
And this takes us to one of the most riveting passages in the Old Testament that points us to Jesus. Look at how Job wrapped up his response to Bildad in Job 9:32-35.
32 For He is not a man like me, that I can answer Him,
that we can take each other to court.
33 There is no one to judge between us,
to lay his hand on both of us.
34 Let Him take His rod away from me
so His terror will no longer frighten me.
35 Then I would speak and not fear Him.
But that is not the case; I am on my own.
Job knew God was not a man he could take to court. But if only there were a judge, also translated as "umpire" or "mediator," who could step in between them and bring them together! If only there were a judge who could communicate with God and at the same time communicate with man. An ultimate translator if you will. If only that judge existed, then God would understand and remove the suffering from Job's life. But there was none. Job was on his own.
Now again, like his friends, Job was wrong on how he understood God's goodness. However, he was completely right in his cry here. Job was a man crying for a mediator—a person to come between him and God. Job was crying for Jesus! (1 Timothy 2:5) And in God's kindness, His plan to provide that mediator was in full swing. God was working His plan to send Jesus to stand between sinful man and holy God and bring us together. Jesus—fully God and fully man—was able to stand in that gap and "translate" and plead our case before God. The only thing was that Jesus pleads our case very differently than Job imagined. Jesus declares our sinfulness to God. He affirms that we deserve death and eternal separation from God. But He also pleads our faith when we trust in Him. He pleads that He took all of our sin on Himself and that He exchanged it for His perfection. Jesus pleads the gospel.
Spend time this week pondering the beauty of Job's cry for Jesus and how we have that mediator! Be sure to point your kids to how we can see the beauty of Jesus in the midst of Job's suffering.
How does knowing that Jesus is your mediator before sovereign God give you hope and joy even in difficult times of life? Leave a comment below.
Here is more help for leaders preparing for the August 21, 2016 session (Unit 12, Session 2) of The Gospel Project for Kids.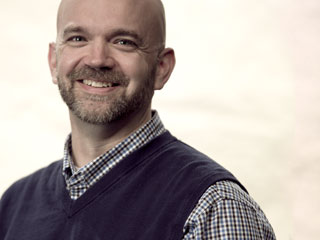 Brian Dembowczyk is the team leader for The Gospel Project for Kids. He served in local church ministry for over 16 years before coming to LifeWay. Brian earned an M.Div. from the Southern Baptist Theological Seminary and a D.Min. from the New Orleans Baptist Theological Seminary. Brian, his wife, Tara, and their three children—Joshua, Hannah, and Caleb—live in Murfreesboro, TN, where Brian enjoys drinking coffee and teaching 4-5 graders at City Church.