December 20, 2016 By Brian Dembowczyk
Jesus Was Born
One of my favorite places to go to in Guatemala City is a run-down, sketchy-looking auto shop. Well, actually it's behind that auto shop.
The shop is close to the street and you have to turn into its pot-hole infested parking lot to get to where you are going. On the back corner of the lot, you will see a trailer with a couple dozen plastic lawn chairs facing it. The area is framed by several wood poles supporting a corrugated metal roof. The area is draped with semi-transparent plastic sheets to keep the rain out.
Welcome to the "Taco Man." That's not his name, of course. It's not even the name of his taco business—it's something to do with rabbits. But that is what we came to know him as.
The Taco Man makes the most amazing pork tacos. There are only three types—his menu is that simple—and they are incredible. The trailer is set up with two spits on each side where a huge chunk of pork is skewered standing up along with some pineapple. Blue flames shoot out at the pork from two directions and an employee spins the meat to cook it as he carves off parts that are done, allowing them to fall into a pan below.
Another employee will collect the pork from the pan and assemble the tacos and then the Taco Man will notify you that your order is ready by shining a red laser pointer on your chest. Yes, amazing tacos and great ambiance!
And what makes them even better is that they are incredibly cheap, so you can get a bunch of them to enjoy. When I am in Guatemala, which has been a while, I make sure I see the Taco Man several times. Put it this way—last time I was there, the Taco Man shined his laser pointer at me after I had finished eating. I went up thinking perhaps I had failed to pay for my group properly, but when I got there, he handed me his Taco Man hat—which I have and cherish.
Part of the fun of visiting the Taco Man is taking people there for the first time. I tend to watch the faces of newbies and read what they are thinking as we pull into a place that most of us would never dream of eating at normally. It's a great mission trip lesson about getting out of our comfort zone and not judging by outward appearances.
Most of us would never eat at the Taco Man and because of that, we would miss out on some of the best pork tacos you can get.
Somethings just aren't as they seem.
Take Jesus for example. In this week's session, Jesus Was Born (Unit 17, Session 2), we celebrate the birth of Jesus—God in the flesh who came to save people from sin.
From the outward appearance, Jesus was spectacularly unspectacular. Who could fathom the Savior of the world born as a baby—and not just any baby, a baby born into a poor family of an oppressed people.
But this was only the beginning of our expectations being challenged. When Jesus later began His earthly ministry, He continued to fail to look like the Messiah people expected—so much so that people ended up calling for His death over an infamous criminal.
As you read through the Gospels you that Jesus isn't just aware of this, He played on it. He loved pressing into people and challenging their expectations of who the Messiah would be. Of course, He didn't do that for His enjoyment, but so that He could push and pull people into abandoning their preconceived notions of the Messiah and of God, and instead move them to see Him for who He really is, not who they wanted Him to be.
As you share with your kids this week and as you celebrate Christmas, you have the opportunity to help your kids in a similar way. Many of your kids will have preconceived notions of who Jesus is and what Christmas is about. This is a great opportunity for you to lovingly challenge your kids not conform Jesus to their idea of who He should be or to celebrate Christmas through an American consumerism lens, but to seek to know Jesus for who He truly is and to celebrate Christmas as the coming of the Lamb who would take away the sins of the world. 
How can you press Jesus and the gospel into a mold of your design instead of aligning your thinking to truth?  Leave a comment below.
Here is more help for leaders preparing for the December 25, 2016 session (Unit 17, Session 2) of The Gospel Project for Kids.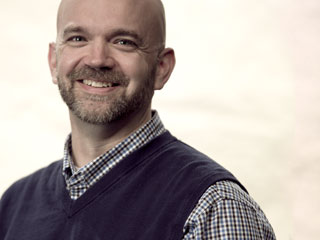 Brian Dembowczyk is the team leader for The Gospel Project for Kids. He served in local church ministry for over 16 years before coming to LifeWay. Brian earned an M.Div. from the Southern Baptist Theological Seminary and a D.Min. from the New Orleans Baptist Theological Seminary. Brian, his wife, Tara, and their three children—Joshua, Hannah, and Caleb—live in Murfreesboro, TN, where Brian enjoys drinking coffee and teaching 4-5 graders at City Church.