March 19, 2016 By Brian Dembowczyk
Jesus' Crucifixion and Resurrection
I heard a blog recently where author Adam Makos told the story of U.S. Navy aviators Lieutenant Tom Hudner and Ensign James Brown and I was mesmerized. During the Korean War, Hudner and Brown became friends and when Brown was shot down on a mountain during the battle of the Chosin Reservoir, Hudner made the amazing choice to crash land his own perfectly good plane in an attempt to rescue his friend. Hudner received the Medal of Honor for his actions that day and his commanding officer went on the record as saying what Hudner did was the most heroic act ever in warfare.
Have you ever wondered why stories of sacrifice like this one are so compelling? What is it that draws us to these stories and why do they captivate us so much?
Perhaps it is because God has hard-wired our hearts to long for stories of sacrifice like this because they draw us to Christ. The stories of sacrifice that we hear about on podcasts, read about in books, and see in movies are impressive in their own right, but ultimately they are mere shadows of a greater sacrifice—the sacrifice of Jesus on the cross. God has designed us to long for rescue and sacrifice because that is exactly what we need. We need to be rescued from sin. And it took the greatest sacrifice the world has ever seen to bring about that rescue.
This week, we will walk our kids through Jesus' Crucifixion and Resurrection (Matthew 26:36–28:10; John 18:1–20:18) and marvel at this sacrifice close up. This is a great opportunity to share the gospel with your kids in age appropriate ways. As you consider what to share with your age level, I find it helpful to think of the layers of an onion. You start at the core with your preschoolers and focus on the broad basics. Then you add layers of details and depth on top of that for your younger kids, and then still more for your older kids. Here are a few layering suggestions for you to consider for each age group built around four big ideas of the gospel:
Jesus was punished in our place.
Jesus died for our sin.
Jesus came back to life.
When we trust Jesus, we are forgiven.
Preschoolers
Walk your preschoolers through the important basics of the crucifixion and resurrection. They don't need to know all of the details of the crucifixion, but we shouldn't be afraid to share the bigger ideas of the crucifixion and resurrection with them. They can handle it! Here is what to consider focusing on:
Jesus was punished in our place. Preschoolers certainly understand punishment so be sure to share that Jesus didn't do anything wrong, but He was punished in our place. This is of course at the center of substitutionary atonement and at the heart of the gospel.
Jesus died for our sin. Am I really recommending that you tell preschoolers that Jesus died? I am. While I understand the concern about talking with preschoolers about death, the resurrection doesn't have much, if any, meaning without the context of Jesus dying. Plus, I believe that most preschoolers are more aware of death than we would like to admit. They see it on television, in movies, and in games. Some have had pets or grandparents die. So I don't think we are going too far by gently telling our preschoolers that Jesus died. Now again, I wouldn't linger there and I wouldn't give details, but I would share that He did die and He did that so that He could be punished for our sin.
Jesus came back to life. When we share that Jesus died, the next big idea is saturated with amazement and joy. Jesus died, but He didn't stay dead—He came back to life! If you give your preschoolers a little room to feel the sadness of the crucifixion, it heightens the sweetness and joy of the resurrection.
When we trust Jesus, we are forgiven. It's important that we introduce our preschoolers to the idea that the crucifixion and resurrection do not guarantee every person's forgiveness. We must trust Jesus. Again, this isn't the time to go too far into this with them, but let's be sure that we don't unintentionally implant the wrong idea of automatic forgiveness in our preschoolers minds and hearts that we will have to undo later.
Younger kids
Most younger kids can begin to handle more of the details of the crucifixion and resurrection and you can also go a little deeper into the meaning and significance of the cross and the empty tomb:
Jesus was punished in our place. Younger kids can be guided to consider why they deserved to be punished and why Jesus did not. In other words, rub shoulders with your kids' sinfulness and Jesus' sinlessness. That really heightens the meaning of Jesus being punished in our place. The more a kid understands his or her sin, the more grateful they can be to Jesus for paying the punishment they deserved.
Jesus died for our sin. Consider lingering a little longer on the death of Jesus with your younger kids. Share the basic details of Jesus being put on the cross and that it took six hours for Him to die. Be sure that your kids understand that Jesus was fully human which means his death was very real. Again, the more your kids understand the sacrifice Jesus made for them, the more gratitude can develop in their hearts.
Jesus came back to life. Go a little deeper with your younger kids and connect how Jesus coming back to life shows us that Jesus defeated death so that we too can live forever when we trust in Him. This is so important that your kids know that there is a solution for death—that because of Jesus we don't have to be afraid of death. Jesus has put death to death!
When we trust Jesus, we are forgiven. Add layers of what trusting in Christ means and talk about what it means to have a personal relationship with Jesus.
Older kids
With older kids, you want to consider ensuring they know all the details of the crucifixion and resurrection and you also want to really strive to personalize it for them:
Jesus was punished in our place. For older kids, consider going into a little (note that word) more detail of how Jesus suffered leading up to His death. Talk about how He was beaten and how a crown of thorns was placed on His head. Share about the nails being used to hold Him to the cross. Now, the idea here is not to be needlessly gory and you will need to be careful with your words here. But the reason to consider this is because it deepens an understanding of Jesus' sacrifice that much more for your older kids.
Jesus died for our sin. Here's the question I would ask older kids: When you hear the story of the crucifixion, who do you relate the most with? The disciples or the soldiers? The answer you are looking for might surprise you—the soldiers. Here's why that is the answer you want to hear—most of us tend to think of ourselves as pretty good people, but we are far from it. If we relate more with the disciples in the story, we are probably not admitting our sinfulness as much as we should. We see ourselves off to the side, and not to blame. Not heroes, but certainly not villains either. But, if we see ourselves as the soldiers—as the ones who put Jesus on the cross—then we are coming face-to-face with our sin. Every time we think about the cross, we should remember and grieve our sin that bought it about.
Jesus came back to life. For older kids offer some additional evidence of the reality of the resurrection. Be sure you explain the weightiness of the numerous witnesses who saw the resurrected Jesus. Consider sharing the theories that have been offered to explain away the empty tomb and refute each of them. Help your kids see that it is reasonable to believe in the resurrection.
When we trust Jesus, we are forgiven. Older kids are at the point where they need to understand how trusting in Jesus provided forgiveness for all of their sin. In other words, they need to understand what happens when they sin after they place their trust in Jesus. Be sure they understand they are completely forgiven. Nothing will ever change that. But at the same time, make sure they realize their sin still has consequences. Teach them their need to confess their sin to God and rest in the unchanging forgiveness in Jesus. Let this further their love and gratitude to God which should prompt them to want to live more obediently for Him.
I hope that these suggestions have given you some things to pray about and think about leading up to this week's session. Know that The Gospel Project for Kids team is praying for you as you point your kids to Jesus!
How do you share the gospel in age-appropriate ways with your age group? Leave a comment below.
Here is more help for leaders preparing for the March 27, 2016 session (Unit 8, Session 2) of The Gospel Project for Kids.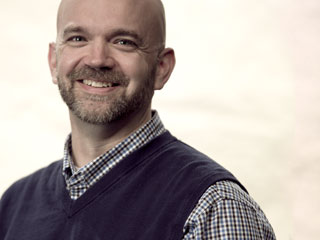 Brian Dembowczyk is the team leader for The Gospel Project for Kids. He served in local church ministry for over 16 years before coming to Lifeway. Brian earned an M.Div. from the Southern Baptist Theological Seminary and a D.Min. from the New Orleans Baptist Theological Seminary. Brian, his wife, Tara, and their three children—Joshua, Hannah, and Caleb—live in Murfreesboro, TN, where Brian enjoys drinking coffee and teaching 1-3 graders at City Church.