August 22, 2015 By Brian Dembowczyk
Jesus Christ Returns
When we moved to Murfreesboro last year, we looked at several homes (our realtor talked us out of looking at 15-20 more on our list) and ended up buying a new home that was completed about a week after we arrived in town. One thing I was really excited about was moving into a brand new home where I didn't really have anything to do.
Yeah, that's exactly how it turned out.
Who knew that even new homes need work? Well, I do now.
Waterproofing our wooden fence. Building a play fort for the kids. Installing a fire pit. Assembling a shed. Installing some wainscoting up our stairs. And that last one without a compound mitre saw.
Now, here's the thing about me. I enjoy home improvement. Each of these projects was enjoyable for the most part. The problem I have is actually starting each day. So, it's Saturday morning and I am sipping my eighth cup of coffee of the morning and doing some writing. Then that increasing awareness that my wooden fence is not waterproofing itself begins. It's hard to pull myself away from coffee, writing, and air conditioning, put on some painting clothes, and head out on a 90 degree day to stain a few fence panels.
But once I do, I am so glad that I did. And I am even more glad once it is done.
It's partly my affinity for checking boxes on my to-do list. But it's mostly how much I enjoy seeing a project finished. I like to look at the wainscoting up the stairs and think, "Yup, that is what I envisioned." I like that sense of accomplishment. I like making things the way they should be.
Hold that thought.
The Bible can be outlined very simply this way:
Perfection (Genesis 1-2)
Satan's "Victory" (Genesis 3)
Under the Curse and Move Toward Redemption (Genesis 4-Revelation 19)
Satan's Defeat (Revelation 20)
Perfection (Revelation 21-22)
Two chapters of perfection serving as bookends on the entire Bible. A single chapter of Satan's "victory" and one on his defeat next to each of those. The bulk of the Bible tracing redemptive history connecting the first period of perfection with the second. When you look at it that way, the Bible is really not complicated.
There is ample difference of opinion when it comes to how and when Jesus Christ Returns (Revelation 19-22), and that is fine. There is plenty of room within evangelical circles for differences here. But one thing that is not up for debate is that Jesus will return and when He does, He will bring about the ultimate victory. The battle is won in the sense that victory is certain; however, we still wait for the day when it is actualized. And what a day that will be! The day when Jesus makes everything right again as it should be. The day when sin is no more. The day when perfection is restored.
And we will have front row seats. One way or another.
During my season in full-time local church ministry, I taught through the Book of Revelation several times and one thing always stood out to me each time—John's conclusion.
As you read through Revelation, you encounter what is quite frankly crazy stuff. Global disasters and cosmic upheaval. Death, war, famine, and disease. Demonic creatures, beasts, and false prophets.
No matter how you interpret the book, one thing is sure—John's vision had to have been absolutely terrifying. So how does he respond? This way:
He who testifies about these things says, "Yes, I am coming quickly." Amen! Come, Lord Jesus! (Revelation 22:20)
Really? Come? That's like having a terrible nightmare only to wake up and want to go back to sleep and hope you have the nightmare again. Come? In order for Jesus to come, what John had just seen would have to first come to pass. And after seeing first-hand how crazy and bad things would be, one would expect John to say, "Well, gee, Jesus. Feel free to take your time!"
But not John.
Because John knew that the greatness of Jesus made all of those terrible things worth it. John understood that to be with Jesus for one minute was worth thousands of years of excruciating pain and misery. John realized that God's perfection is worth the pruning required to get there.
How about us?
Do we love the world more than Christ? Let's be honest. I think at times we certainly do. We can ignore or look past the sin and the open rebellion against God and His glory and instead get transfixed on our fleeting, superficial pleasures of life. And so we struggle to echo John in spirit and truth. Can we really utter the words with him? "Amen! Come, Lord Jesus!"
For me, I wonder if I take the same route as my household projects. The thought of Jesus coming and bringing about perfection is appealing. At least that concept is. But when I start thinking about the reality of it (just like when I begin to think about getting up and actually starting work on my projects), it breaks down. That's when I tend to say, "Well, maybe not so fast."
May Christ break my affinity for the fallen world and replace it with a hunger for the glory of God. And may our kids be saturated with the gospel such that they see past the fleeting appeals of the world and anchor their affections on Christ to the degree that they can truly echo John.
Come, Lord Jesus. Make all things right once again. Restore perfection for Your glory and our good.
This session wraps up the first three-year cycle of The Gospel Project. What were some of your highlights? Share a comment below.
Here is more help for leaders preparing for the August 30, 2015 session (Unit 36, Session 4) of The Gospel Project for Kids.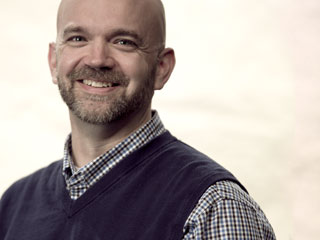 Brian Dembowczyk is the team leader for The Gospel Project for Kids. He served in local church ministry for over 16 years before coming to LifeWay in 2014. Brian earned an M.Div. from the Southern Baptist Theological Seminary and a D.Min. from the New Orleans Baptist Theological Seminary. Brian and his wife, Tara, and their three children – Joshua, Hannah, and Caleb – live in Murfreesboro, TN, where Brian enjoys drinking coffee and teaching 1-3 graders at City Church.