November 7, 2015 By Brian Dembowczyk
Jacob's New Name
Long ago, names meant something. Parents would give their child a name that either pointed to a characteristic they wanted that child to have or they named a child after another person they wanted the child to emulate.
Not so much today.
Today many parents name their children based on how the name sounds or based on what names are hot at that time. Just check out kids' names in Hollywood.
Now, there's nothing wrong with this, but we need to at least understand that the importance of names in the Bible doesn't quite translate to many of us today because of our vastly different culture. This will be quite important as you teach this week's session, Jacob's New Name. (Genesis 32-33)
As you reach Genesis 25 and continue reading, Jacob takes on the primary focus of the narrative and one thing becomes abundantly clear: Jacob was a swindler. He swindled Esau out of his birthright. He swindled Isaac to get the family blessing. He swindled Laban to get the best sheep. The guy just doesn't look like a player on "team God."
But then we reach Genesis 32.
Let me set the stage.
Years before, when Isaac asked a disguised Jacob who he was, he lied and said he was Esau. Isaac blessed Jacob instead of Esau and this, of course, enraged Jacob's twin brother. By the way, have you ever wondered how deeply this wounded Isaac? So Jacob fled from his family and ended up with Laban for several years. Eventually, Jacob would need to flee from Laban as well.
Genesis 32 opens with Jacob preparing to meet Esau for the first time since he stole the family blessing. He anticipates that Esau would still be quite angry, so he is preparing for the worst. Jacob divides up his family in hopes that some might be able to escape if they are attacked, and then he goes off by himself for the night.
And then we come to verse 24 which is so mysterious in its simplicity:
Jacob was left alone, and a man wrestled with him until daybreak.
That's it. No further explanation of who this man was or how this came about. Just a matter-of-fact statement of a lengthy wrestling match.
Now, let's deal with the theological elephant in the room—who was this man? The consensus is that this man was Jesus. Some Bible translations, such as the Holman Christian Standard Bible, capitalize the pronouns referring to the man while some, such as the English Standard Version, do not. Capitalization is at a translator's discretion. More telling, notice that Jacob believed that he had wrestled with God:
Jacob then named the place Peniel, "For I have seen God face to face," he said, "and I have been delivered." (Genesis 32:30)
Notice also what the man said to Jacob:
"Your name will no longer be Jacob," He said. "It will be Israel because you have struggled with God and with men and have prevailed." (Genesis 32:28)
If this was indeed God, then this would be what is known as a theophany, or more precisely, a christophany—a physical appearance of Jesus in the Old Testament. Phanos is Greek for "to show" and theo is Greek for God, so theophany means a showing of God and christophany means a showing of Christ. There are several times in the Old Testament where someone acts or speaks as God (notice the occurrences of the angel of the Lord) which leads us to conclude that these were preincarnate (meaning "before taking on the flesh") appearances of Jesus.
So all of that to say, Jacob wrestled with Jesus that night. Now, the next big question that springs to mind is why?
God was giving Jacob a vivid word picture of his life to that point in the wrestling and He was giving Jacob an opportunity to show that he was changing when He asked for his name.
First, the wrestling. Doesn't this describe Jacob perfectly? The swindler had been wrestling with other people his entire life, and more importantly, he had been wrestling with God. You see, each swindle was based on Jacob's lack of trust in the goodness of God. He didn't believe that God was good to provide, so he took Esau's birthright and Laban's best sheep. He didn't believe that God was good to bless, so he tricked Isaac for his blessing. So wrestling was God's way of laying Jacob's life bare before his own eyes.
"Jacob! This is who you have been! But here's the question… is this who you want to continue to be?"
And that takes us to Jesus asking Jacob for his name in verse 27. It wasn't because Jesus didn't know his name—He is all-knowing. Instead it was to give Jacob a chance to demonstrate a change. How would the old Jacob have answered? He would have lied like he had with Isaac. But now we see he comes clean and gives his real name.
God was changing him. He still has a way to go after this, but he is progressing. And so this is the reason, in part, that God gives him a new name. God often did this in the Bible to signify a major transformation or new promise in someone's life.
But there is another important angle to this name change and others in the Bible—they signify ownership. We don't have the right to name that which we do not own. I know that sounds crass when it comes to naming our children, but hopefully you get the idea.
In changing Jacob's name that night, God was reminding Jacob that God owned him.
"Jacob, I am going to change your name now to mark this ongoing transformation in your life and because I can. You're mine. And I'm not done with you. I'm going to continue to work in your heart and do great things through you. You can wrestle all you want, but know that. You're mine."
And that is the same thing God says to His children today. We are His and He will never let us go. We can wrestle, but the Holy Spirit will continue to change us and transform us through the power of the gospel. That's what The Gospel Project is all about.
One last thing. Our name change. Did you know that God has changed our names as well? Check out Revelation 2:17, part of what Jesus says to the church in Pergamum:
"Anyone who has an ear should listen to what the Spirit says to the churches. I will give the victor some of the hidden manna. I will also give him a white stone, and on the stone a new name is inscribed that no one knows except the one who receives it."
This is a promise not just to the Pergamum Christians, because notice the amplification of what the Spirit says to the churches—plural. One day, God will give us each a white stone. Some believe that this stone signifies the white stone that was handed down in the court of law to signify an acquittal. And on that white stone will be a new name—a personal name—that is just between the recipient and God. God doesn't just own us. He doesn't just transform us. He loves us and He delights in having a personal relationship with us.
Your name now might not matter much. But that name on your white stone sure will.
How do you see your kids wrestling with God? How have you seen them being transformed? Leave a comment below.
Here is more help for leaders preparing for the November 15, 2015 session (Unit 3, Session 2) of The Gospel Project for Kids.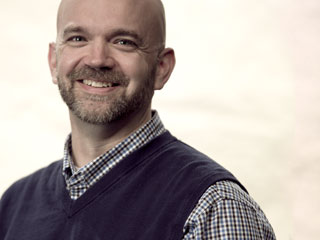 Brian Dembowczyk is the team leader for The Gospel Project for Kids. He served in local church ministry for over 16 years before coming to LifeWay in 2014. Brian earned an M.Div. from the Southern Baptist Theological Seminary and a D.Min. from the New Orleans Baptist Theological Seminary. Brian, his wife, Tara, and their three children—Joshua, Hannah, and Caleb—live in Murfreesboro, TN, where Brian enjoys drinking coffee and teaching 1-3 graders at City Church.