May 16, 2015 By Brian Dembowczyk
Humility in the Mission
Acts 1:4-11 is a familiar passage used in preaching and teaching about global missions, second perhaps only to the Great Commission. The beautiful and clear order of expanding the Kingdom given in verse 8 – Jerusalem, Judea, Samaria, and the ends of the earth – serves as a rallying cry for churches in America to begin missions in their local community (their Jerusalem), then expand to the nation (their Judea), then continue working out to neighboring nations (their Samaria), and then ultimately take the gospel to the ends of the earth (e.g. the 10-40 window).
And all of this has a place. But it's not really what the passage says.
Jesus was being quite literal, not figurative. He was telling His first disciples to start sharing the gospel in Jerusalem, then go throughout Judea, then go to Samaria, and then continue on to the rest of the earth. And that is exactly what we see happen in the rest of the book of Acts.
So am I suggesting we are wrong to use Acts 1:4-11 the way we often do in appeals for global missions? No, I am not. But what I am suggesting is that we need to remember the original context of this passage. Here's why:
America is the ends of the earth Jesus talked about that day and we shouldn't forget that.
Here's what I am getting at. We tend to fall into the trap of being very America-centric in our thinking. Look, I just did it there when I used "we" – assuming everyone who reads this blog will be in America as I am. And that thinking can easily hinder humility. It is easy to fall into the trap of thinking that America is now God's chosen people – that we are the citadel of faith in the world – that we are at the epicenter of God's kingdom mission from which all (or at least most) missions efforts flow.
Now, I will quickly add here that I don't believe most of us intend to think this way. It just sort of happens. It's easy for us to adopt a "cavalry to the rescue!" approach to global missions because in reality, God has blessed us with incredible resources for global missions. But as we talk about time and time again in The Gospel Project, the condition of our hearts matter far more than what we do with our hands. And so when it comes to global missions – and local missions for that matter – we need to resist the pull toward missional pride and pursue missional humility instead. Here are four ways you can do that and encourage your kids to do the same as well:
Humility in the mission is born out of remembering the very essence of the gospel. The gospel can only be grasped through the lens of humility. When we first approach the gospel, we need to realize that we are sinners in desperate need of salvation and life found only in Jesus. But that humble view of the cross doesn't stop there. Just as there is no place for boasting in our salvation, there is no place for pride as we share the gospel with others. If we proclaim the gospel to ourselves as we share it with others, humility will saturate our words and deeds.
Humility in the mission is born out of remembering that we are first recipients of the gospel before we ever share it. Paul writes in Romans that we will not come to receive the gospel apart from someone preaching it to us first. Remember that we are at the end of a long chain of evangelism – Jerusalem, Judea, Samaria, then us. Let's never forget that at one point we were the recipients of God's kindness that He passed to us through someone else. For many of us, that probably occurred when a person shared the gospel with us in person. For others, that occurred when we read a book written by someone else or listened to a sermon preached by someone else. And for still others, that occurred when we read the Bible and even that was only made available to us as the Holy Spirit inspired the writers as they wrote Scripture. When we share the gospel with others with a condition of our minds and hearts that remembers we are just one link in a long chain of faithfulness, we will do so with humility.
Humility in the mission is born out of remembering that we are foreigners living in the world. When we are sharing the gospel in the context of foreign missions, it is easier to identify ourselves as outsiders. Language and cultural barriers make it nearly impossible to forget that. Our response in that setting should be to walk with great humility and not expect our hosts to speak English and "act American." Instead, we should strive to the best of our ability to connect with the person we are sharing with in his or her context. So the great illustration of the time your large screen television broke works wonderfully in America but will totally miss the mark in the mountains of Nicaragua and therefore should not be used. The same principle carries over when we are sharing the gospel locally. While we speak the same language (for the most part) and share a common culture (for the most part), we are still foreigners. We read in 1 Peter and elsewhere that we are not citizens of the world any longer; our citizenship has been transferred to God's Kingdom. As we share the gospel, we need to remember that the person with whom we are speaking will think, speak, feel, and act differently because they are still in a different kingdom: the world. This doesn't mean we excuse their sin, but it does mean that we should remember that we will approach life from a completely different lens and we cannot force them to see it through a biblical lens. When we share the gospel as a foreigner, we will maintain humility.
Humility in the mission is born out of remembering that we walk in the footsteps of Christ Jesus and His humility. I could have started the list with this one and ended it as well. Philippians 2 presents our model for living with humility – Jesus Christ. Jesus' mission was marked by amazing humility – from the very beginning of taking on the flesh to washing His disciples' feet to willingly giving up His life on the cross and everything in between, before, and after. If we are following Jesus, we have no choice but to emulate His humility.
The last two leader Bible studies have been a little heady – and that is because they are written primarily for you so that you can be challenged and encouraged in your faith and that will then spill over to your kids in one way or another. However, don't sell your kids short! Don't be afraid to stretch them some. Perhaps one or more of the ideas that we rubbed shoulders with here could be used in a conversation with your kids. As you talk with your kids about the mission Jesus left us as He returned to the Father, pray through how you can zoom in on your kids' hearts in fulfilling the mission, not just their behavior.
What ideas do you have to instill Christ-like humility in our kids while at the same time affirming their intrinsic value in Christ? Leave a comment below.
Here is more help for leaders preparing for the May 24, 2015 session (Unit 33, Session 5) of The Gospel Project for Kids.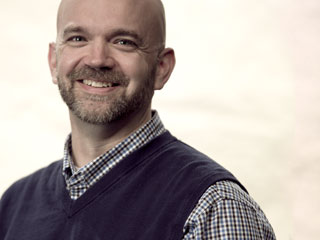 Brian Dembowczyk is the team leader for The Gospel Project for Kids. He served in local church ministry for over 16 years before coming to LifeWay in 2014. Brian earned an M.Div. from the Southern Baptist Theological Seminary and a D.Min. from the New Orleans Baptist Theological Seminary. Brian and his wife, Tara, and their three children – Joshua, Hannah, and Caleb – live in Murfreesboro, TN, where Brian enjoys drinking coffee and teaching 1-3 graders at City Church.