October 8, 2016 By Brian Dembowczyk
Hosea, Prophet to Israel
If you have ever assembled prefabricated furniture, a shed, or a toy, you know how critical good instructions are. And nothing is more helpful in instructions than clear, accurate drawings or pictures. There have been times when I have assembled an item using instructions with such great images that I didn't even need to read what was written. In fact, there are some instructions that only use images—they are that good.
Images are so important because when most of us see something, we can understand it far more than if we hear it or read it. That's why we have expressions like, "a picture is worth a thousand words" and "actions speak louder than words."
Words certainly matter. They are powerful. But images stick with us much longer and perhaps deeper.
We need to keep that in mind as we approach this week's session, Hosea, Prophet to Israel. (Unit 14, Session 1)
If you thumb through the 14 chapters of the Book of Hosea, you will see that it is mostly spoken prophecy. You can see this quite easily if your Bible indents what is spoken. But as you look closer, you will see that there is an ever-so-brief narrative element to this book in chapters 1 and 3. It is just a few short verses—a mere fraction of the content of the book—but it is powerful. And oh so beautiful.
At the opening of the book, God instructed Hosea the prophet to marry a prostitute. (Hosea 1:2) Now while the Bible story for kids explains God's instruction as Hosea marrying a woman who would not be faithful and the preschool story says that the woman would not love Hosea and love other men, it is important that we understand what God was telling Hosea to do for our own time of study and reflection. This is what God told His prophet:
Go and marry a promiscuous wife and have children of promiscuity, for the land is committing blatant acts of promiscuity by abandoning the LORD. (emphasis added)
Pretty clear, isn't it? God did not tell Hosea to marry a woman who would become promiscuous and unfaithful. He told him to marry a woman who was promiscuous and unfaithful from the start.
So Hosea married Gomer and she gave birth to three children and each was given a symbolic name. And then we reach Hosea 3:1-5.
Then the Lord said to me, "Go again; show love to a woman who is loved by another man and is an adulteress, just as the Lord loves the Israelites though they turn to other gods and love raisin cakes." So I bought her for 15 shekels of silver and five bushels of barley. I said to her, "You must live with me many days. Don't be promiscuous or belong to any man, and I will act the same way toward you." For the Israelites must live many days without king or prince, without sacrifice or sacred pillar, and without ephod or household idols. Afterward, the people of Israel will return and seek the Lord their God and David their king. They will come with awe to the Lord and to His goodness in the last days.
Gomer was entirely unfaithful. She had absolutely no redeeming value as a wife. Yet, God told Hosea to redeem her all the same. So Hosea did—even at cost to himself.
And that is the picture that should bring us to tears. Tears shed because of the love, mercy, and grace of our good God. Tears shed because we realize that Gomer is a picture of who we are and Hosea is a picture of God. Gomer did not deserve Hosea's love and neither do we deserve God's love. Yet He heaps it upon us even at cost—great cost—to Himself, proven in Jesus Christ.
I want to wrap up by sharing four observations of the gospel from these brief verses in Hosea.
God initiates the gospel. God had Hosea initiate redeeming Gomer and that is vital because it shows us God's pursuing heart set on those who in all reality don't deserve being pursued. It would be jarring to us had God commanded Hosea to be ready to willingly forgive and accept Gomer if she repented. But that doesn't capture God's love for us. God's love initiated the gospel. God came after us, the wretches that we were apart from Christ.
Love is the currency of the gospel. Notice that God doesn't command Hosea simply to take Gomer back in as his wife. He could have done that in a functional way, but that isn't God's heart toward us. He wanted to restore relationship with us through Jesus. So God wanted Hosea to love Gomer. Love is the currency of the gospel. It is God's love for His glory and our good that drove Him to provide His beloved Son, Jesus.
Jesus is the cost of the gospel. While love can be considered the currency of the gospel, the cost of the gospel is Jesus. Hosea did not just go to Gomer and accept her back—he had to buy her back. He had to redeem her. Reconciling cost him something. As it did God, only His cost was of infinite value in that it cost God Jesus.
Our changed hearts are the response to the gospel. Notice that being redeemed by Hosea cost Gomer nothing. It was a complete act of grace. But that doesn't mean that something wasn't expected of Gomer. She was to stop being promiscuous. Gomer had been promiscuous from the very beginning. Why would she change? Because scandalous grace leaves a mark on people. The idea is that Hosea's superabundant grace and love would pierce Gomer's dark, hard heart and begin a work of transformation. She would turn from her promiscuous ways because of Hosea's love from gratitude, not from duty. And so it is with the gospel. We receive God's forgiveness freely, yet when we do, it marks us. It changes us. From the inside out. And as a result, we end up loving God—again, the currency of the gospel.
While it may be a little bit of a challenge to teach Hosea to kids because of the marital infidelity at the core of the story, the beautiful, moving picture of the gospel makes it all worth it.
How are your affections stirred as you see yourself as Gomer in the Book of Hosea? Leave a comment below.
Here is more help for leaders preparing for the October 16, 2016 session (Unit 14, Session 1) of The Gospel Project for Kids.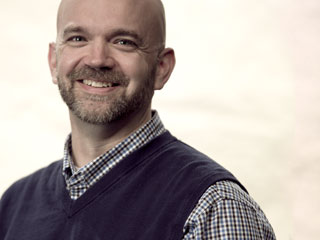 Brian Dembowczyk is the team leader for The Gospel Project for Kids. He served in local church ministry for over 16 years before coming to LifeWay. Brian earned an M.Div. from the Southern Baptist Theological Seminary and a D.Min. from the New Orleans Baptist Theological Seminary. Brian, his wife, Tara, and their three children—Joshua, Hannah, and Caleb—live in Murfreesboro, TN, where Brian enjoys drinking coffee and teaching 4-5 graders at City Church.