October 10, 2015 By Brian Dembowczyk
God's Covenant with Abraham
We rarely use the word covenant these days, and when we do, it is often used interchangeably with contract. This presents quite a problem for us, because covenant is a critically important concept in Scripture, such as in this week's session God's Covenant with Abraham (Genesis 12:1-3; 15:1-21; 17:1-9), with a specific definition that distinguishes it from contract. So let's take a few minutes to try to understand the difference between covenants and contracts. We'll start with contracts.
Typically, a contract is an agreement between two or more parties where each party seeks a benefit the other can provide. In other words, contracts are centered on getting something from someone else. Generally, contracts have very specific terms and conditions. Each party agrees to complete certain actions and failure to do so violates the contract and offers the other party or parties the opportunity to escape from their obligations. OK. That was a mouthful. Let's look at an example or two.
A mortgage: When we bought our house in Murfreesboro, we took out a mortgage to pay for it. If you have ever bought a house with a mortgage, you know how many papers you have to sign as part of the contract! In essence, the bank bought our house for us and allows us to live in it while we repay them on the schedule set forth in the contract. Each month, we are to pay a certain amount of money and as long as we do so, keep the home insured, pay property taxes, and so forth, we are allowed to live in it. We wanted a home. The bank wanted to make money. That is why we both entered into the contract. We both have obligations which makes the contract binding, but if we fail to meet those obligations, the other party can void the contract.
A health club membership: When you join a health club, you generally sign a contract whereby you promise to pay your monthly dues, clean off the equipment after use, and so forth. In turn, the club promises to keep up the facilities and equipment, provide classes, and so forth. You entered the contract so that you can have a place to work out. The health club entered because it wants to make money.
So that is the gist of a contract. So far, so good. What then, is a covenant? Well, let's narrow the scope down a little more just to biblical covenants, and in fact, let's narrow it down even more just to what we could call divine covenants—or covenants initiated by God.
So what then is a divine covenant?
A divine covenant is a binding agreement or promise initiated by God between Him and one or more other parties. Now there are two forms of divine covenants: conditional and unconditional. A conditional covenant is as its name suggests: a covenant with conditions placed on the humans involved. Think of it as an "if, then" promise by God. If the person does A, then God will do B. Now here is what distinguishes this from a contract: as soon as the person does A, God will do B no matter what. There is no "opt out."
An unconditional covenant is also as its name suggests: a covenant with no conditions placed on the promises made. There is no "if, then" aspect. God simply promises to do something.
Because these divine covenants are initiated by God, they are backed by His character. That is why they are absolutely reliable. Furthermore, they are initiated by God for His glory and our good. Unlike contracts which are motivated by a self-directed desire by each party involved, divine covenants have an outward nature—God is making a promise that benefits the person or persons involved.
So let's look at a two divine covenants, one unconditional and one conditional, to understand covenant better.
Noahic Covenant (Genesis 8-9): This is an unconditional covenant initiated by God and directed toward Noah, and ultimately all humanity. In this covenant, God simply promises to never flood the entire world again (a clear benefit for humanity). There are no conditions placed on Noah and/or humanity. There is no way out of this for God. He makes a binding promise and that is that.
Mosaic Covenant (Exodus 19-24): This is a conditional covenant initiated by God and directed toward the Israelites. In this covenant, the people had to promise to obey the Law, and God shared a series of blessings based on their obedience and curses based on their disobedience. Notice that unlike the Noahic Covenant, God called for the people to accept the terms of the Mosaic Covenant.
So, let's finally talk about God's covenant with Abraham, or the Abrahamic Covenant. (Genesis 12:1-3) This covenant was initiated by God and some believe it was unconditional, while others believe it was conditional, based on Abram leaving his land. Either way, Abram left, so as soon as he did, the covenant become unconditional. God's promises in this covenant can be summarized by three words:
Land: God promised Abraham that He would give him a new home, which we know as Palestine, or the promised land.
Seed: God promised Abraham that He would give him a son and large family.
Blessing: God promised Abraham that He would bless Abraham and all the peoples of the world through Abraham.
As we continue to study through Genesis, we will see that God fulfilled His covenant promises when He brought Abraham into Palestine, gave him Isaac, and blessed him mightily. But that was not the full extent of what God had in mind. He had much, much more in mind—He had the gospel in mind.
As we continue to journey through the Old Testament, we will discover that God amplifies this three-fold promise with three additional divine covenants:
The Palestinian Covenant (Deuteronomy 30): This is where God clarified the extent of the promised land to Moses and Israel.
The Davidic Covenant (2 Samuel 7): This is where God clarified that the seed God had in mind in Genesis 12 was not Isaac, but Jesus—the same Seed that God mentioned in Genesis 3:15.
The New Covenant (Jeremiah 31): This is where God clarified that His greatest blessing is giving a new heart as part of salvation.
As you can see, the Abrahamic Covenant was a major turning point in redemptive history. In this one divine covenant, God promised that He was forming a people (seed), which would be part of His kingdom (land), by salvation (blessing). And Jesus is at the core of this three-fold promise. That is why His first recorded words of ministry were "Repent for the Kingdom of God is at hand." In other words, trust in Me (blessing), because I am your King (seed) who has arrived in His kingdom (land). Jesus was telling Israel that He was the fulfillment of all of the divine covenants—even the Mosaic and Noahic. The covenants were not about Abraham, Moses, David, or even Israel. They were about Jesus.
In many ways, understanding the Abrahamic Covenant unlocks the proper understanding of the bulk of the Bible. If you understand what God was promising in Genesis 12:1-3, you really can begin to understand what He does throughout the rest of the Old Testament and even the New Testament. You can understand the genealogies and the importance of the people moving in and out of Palestine better. So take your time and be sure that your kids realize how wonderful this covenant is.
How have you helped your kids understand the impact of the Abrahamic Covenant? Share your tips in the comments. 
Here is more help for leaders preparing for the October 18, 2015 session (Unit 2, Session 1) of The Gospel Project for Kids.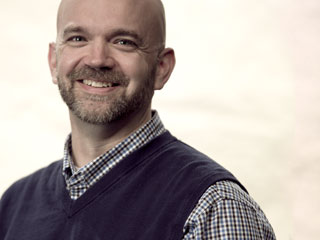 Brian Dembowczyk is the team leader for The Gospel Project for Kids. He served in local church ministry for over 16 years before coming to LifeWay in 2014. Brian earned an M.Div. from the Southern Baptist Theological Seminary and a D.Min. from the New Orleans Baptist Theological Seminary. Brian, his wife, Tara, and their three children—Joshua, Hannah, and Caleb—live in Murfreesboro, TN, where Brian enjoys drinking coffee and teaching 1-3 graders at City Church.