October 17, 2015 By Brian Dembowczyk
God Tested Abraham
Our daughter Hannah was born with Fibular Hemimelia, a big intimidating term meaning that her legs did not develop fully. Hannah's right leg did not develop much past her knee and some of the bones in her left leg and foot are either shorter than they should be or are missing.
Soon after Hannah's first birthday, she had to have a "minor" inpatient surgery to amputate a small part of her right limb. I placed the word minor in quotation marks because it was may have been minor from Hannah's doctors' perspective, but it was far from minor from Hannah's parents' perspective.


Watching the nurse take Hannah from our arms and carry her into the operating room was one of the hardest moments of my life. Waiting for the operation to be completed and for Hannah to recover enough for us to see her was excruciating.
Waiting.
Just waiting.
Generally waiting is frustrating at worst simply because we are impatient people. Think about waiting in traffic, or for the waiter to bring your meal, or for an elevator. In those situations we are just frustrated and if we are honest, we need the Spirit to work on our impatience.
But then there is the waiting like Tara and I experienced seven years ago. Our waiting was saturated with concern and heartache. Our waiting was not on what we knew, but what was unknown. You know the traffic will let up… eventually. You know the meal will come… eventually. You know the elevator will come… eventually. But, while Hannah's surgery was minor, every minute that passed by felt like an hour because we were living in uncertainty. Would Hannah be OK? Is she afraid right now? Is she needing us? So many questions. So much that was unknown. And that is why our waiting was agonizing.


You have experienced waiting like this as well. Waiting to see if your job would be downsized. Waiting for your teenager to come home long after curfew as you hear sirens in the distance. Waiting for the doctor's report. Waiting for a child to turn from sin and toward trust in Jesus.
Waiting.
Abraham was a man who understood waiting, too. That is one take-away from God Tested Abraham (Genesis 22:1-19) that really impacts me deeply.
When we consider this story of God calling on Abraham to sacrifice his son Isaac, our minds and hearts most often take us to verse 10 and we struggle to get our arms around it.
Then Abraham reached out and took the knife to slaughter his son.
I can't begin to even imagine what that was like for Abraham. As a father, I try to put myself in his place and I honestly doubt I would have had the faith and obedience to do it. But in my opinion, this is the wrong starting point to try to understand what Abraham experienced that day. We need to go back to what God told Abraham in verse 2.
"Take your son," He said, "your only son Isaac, whom you love, go to the land of Moriah, and offer him there as a burnt offering on one of the mountains I will tell you about."
Let me paraphrase: "Abraham. I know that you longed for a son for years. And I know that I promised you a son, and Isaac is the fulfillment of that promise. And I even know how much you love your son. With all of that said and understood, here's what I want you to do. I want you to take Isaac and sacrifice Him. Yes, you. I want you to do that. Now go to Moriah and I'll tell you exactly where to do this later."
And then God put down the divine 2×4 that He had just used on Abraham. At least, I am sure that is how Abraham felt. Can you imagine the questions in Abraham's mind and heart? I imagine he felt like a drowning man grasping frantically for even a morsel of sense in what God had just commanded him.
Then in verses 3 and 4 we read:
So Abraham got up early in the morning, saddled his donkey, and took with him two of his young men and his son Isaac. He split wood for a burnt offering and set out to go to the place God had told him about. On the third day Abraham looked up and saw the place in the distance.
I imagine Abraham got up early the next morning because he didn't sleep that night. Notice the first four words of that last sentence. They are important. It took Abraham and Isaac three days to get to the mountain.
Three days.
Three days of waiting. Three days trying to figure out what was going on. Three days of trying to muster the faith to obey God. Three days of looking at his son, knowing what God had told him to do.
Three days of excruciating waiting.
Practically, I think this was a gift God gave to Abraham, because Abraham probably needed those three days to arrive at Hebrews 11:17-19. In those verses, we read that Abraham believed that God would raise his son of promise from the dead. I wonder if Abraham turned the situation over and over again in his mind and concluded that was the only reasonable outcome of what God had commanded him.
If that is the case, we can surely see God's kindness and draw from this story the principle that God will likewise give us time for our faith to develop and for our obedience to bloom.
But that isn't God's main point in this story. He has something much, much more beautiful in mind!
God wants us to know His heart for His Son, Jesus, and for His people in this story.
Abraham is a picture of God the Father and Isaac is a picture of Jesus, His Son.
Abraham made a choice in obedience to sacrifice his son. God made a choice in love to sacrifice His Son.
Abraham waited three days to sacrifice his son and learn what God would do. God waited three days after His Son was sacrificed to show the world what He would do.
The wood for the burnt offering was laid on Isaac for him to carry. The wood of the cross was laid on Jesus for Him to carry.
God provided the lamb for the burnt offering. God provided the Lamb to take away the sins of the world.
And that is why I am so deeply impacted by Abraham's waiting. I appreciate what he did as a man and a father, but I am floored by what I can learn about God through him. Sure God knew He would raise Jesus from the dead, but that does not negate the sorrow He felt as He watched Jesus on the cross. Many believe that the cup that Jesus wanted to pass was not the cross itself, but the separation from the Father. If that is the case, then surely, God the Father felt the same way as He separated the Son from Himself.
Our Father has waited, too. But He waited with full awareness in what He would do. He waited with answers, not questions. He waited in victory.
And we can, too. Not because we can emulate Abraham, but because of the gospel. We can wait with hope, with joy, with expectation because of the gospel. Sure, the waiting may hurt still. Sure, the waiting may be saturated with questions of what God will do. But we know that one day the waiting will end and we will experience victory because of Christ Jesus.
Is this a challenging lesson to share with our kids? Sure it is. But isn't it worth it? Let's not back away from teaching the fullness of this story in age appropriate ways because to back away from it is to back away from sharing the hope of the gospel with our kids. Our kids are waiting in ways as well and they need to know the hope they have in Jesus even in the midst of that waiting.
In what age appropriate ways have you shared this story with kids? Share a comment below.
Here is more help for leaders preparing for the October 25, 2015 session (Unit 2, Session 2) of The Gospel Project for Kids.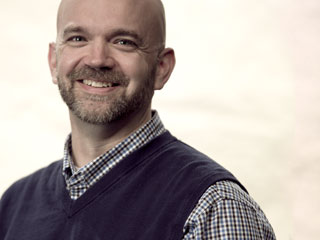 Brian Dembowczyk is the team leader for The Gospel Project for Kids. He served in local church ministry for over 16 years before coming to LifeWay in 2014. Brian earned an M.Div. from the Southern Baptist Theological Seminary and a D.Min. from the New Orleans Baptist Theological Seminary. Brian, his wife, Tara, and their three children—Joshua, Hannah, and Caleb—live in Murfreesboro, TN, where Brian enjoys drinking coffee and teaching 1-3 graders at City Church.