June 4, 2016 By Brian Dembowczyk
God Rejected Saul as King
"Just do something! Anything!"
Ever heard that before? Usually it is said during an emergency and no one is sure what to do.
It's bad advice. Terrible, really.
The underlying presupposition is that anything is better than nothing. And that's simply not true. Sometimes nothing is the best thing you can do.
I remember my dad always fidgeting with the rabbit ears on our television set when I was a kid. If you remember those days, you remember that there were times when a channel was never quite clear—especially the UHF ones. Occasionally, the channel was good enough to watch, but my dad wouldn't be content with it, so he would fiddle with the antennae, which would often make it worse.
Should have left it alone.
OK, I have to confess that a few years ago we had a digital antenna and I would do the same exact thing. Guilty.
Our need to act—to do something, anything—is born out of a desire to control our situation. We don't like to feel helpless. We want to be able to impact our situations and control outcomes. That's why it's so hard to do nothing and be passive. We have to do something—anything—to control what is going on even to some small degree.
Carry that idea with you into your preparation of this week's story, God Rejected Saul as King. (Unit 10, Session 2) Remember that God had warned the people about the foolishness of wanting a human king to lead them, but they persisted, so God in His kindness gave them a human king to teach them a difficult lesson.
King Saul had the look of a king, but it didn't take long for him to show he didn't have the heart of a king. Shortly after his confirmation, Saul found himself staring down the Philistine army at Gilgal. The problem was that Samuel, God's prophet, had promised to meet Saul there but he hadn't arrived yet. And Saul's troops were getting nervous. This is what we read in 1 Samuel 13:7-12.
7 Some Hebrews even crossed the Jordan to the land of Gad and Gilead. Saul, however, was still at Gilgal, and all his troops were gripped with fear. 8 He waited seven days for the appointed time that Samuel had set, but Samuel didn't come to Gilgal, and the troops were deserting him. 9 So Saul said, "Bring me the burnt offering and the fellowship offerings." Then he offered the burnt offering. 10 Just as he finished offering the burnt offering, Samuel arrived. So Saul went out to greet him, 11 and Samuel asked, "What have you done?"Saul answered, "When I saw that the troops were deserting me and you didn't come within the appointed days and the Philistines were gathering at Michmash, 12 I thought: The Philistines will now descend on me at Gilgal, and I haven't sought the Lord 's favor. So I forced myself to offer the burnt offering."
As we can see, Saul got a serious case of just-do-somethingitus. Had he only waited a mere matter of minutes. But his worries, fear, and need to control the situation got the best of him so he did something—anything—and it cost him greatly. This act led to God rejecting Saul as king.
This story is important because it advances the big story narrative, moving us one step closer to King David, and then to Jesus, the Messiah. But it's more than that. Perhaps if we summarize what happened here, we can get some clarity of the bigger idea God is communicating to us.
King Saul is facing down a considerable enemy in the Philistines
King Saul's troops were afraid and began to leave him
So King Saul took matters into his own hands and tried to please God in his way
See it? How about now:
King Jesus is facing down a considerable enemy in sin
King Jesus' disciples were afraid and began to leave Him
But King Jesus placed His life into His Father's hands and pleased God His Father's way
Trust. That's what it all came down to. Saul couldn't get to the place where he needed to be—where he trusted God no matter the situation. Instead, Saul put his trust in himself even knowing that what he was doing was displeasing to God. What kind of sense is that? He thought that disobeying God was better than doing nothing? Crazy, right?
In contrast, we see Jesus, the greater Saul, who faced an even more dire situation but maintained His unwavering trust in God and pleased Him through His obedience.
Now, this may be an encouragement to us to strive to be like Jesus, not Saul, as we pursue trust in God. And that's an OK take-away. There is nothing at all wrong with us learning in this way from others. But I would suggest that is secondary.
Here's what I believe is primary here.
In Christ, we have received His perfect obedience! Yes, that perfect and amazing obedience that He demonstrated even in the midst of the cross. One of the amazing things about the gospel is that Jesus took all of our sin and He gave us His perfect righteousness. So when I look at Saul, part of me should respond that I don't want to live that way. But here's what is so important. My reason isn't to please God—I already please Him because I please Him with Jesus' righteousness! Instead, my motivation should be because of what He has given me in Christ and who He is—our perfect, all-powerful, all-loving, glorious God. Remembering the gospel makes me want to please God more to look like who I truly am in Christ.
So let's not look at Saul and worry about how God sees us because we disobey like Saul did, too. That's not what is going on here for those of us who are in Christ. Instead, let's look to Saul and celebrate God's kindness and goodness to us in declaring us perfect in His Son, Jesus—the One who obeyed perfectly in our place. And then let that drive how we live that day, and the next, and all that come after.
How have you struggles to wait on God and acted without Him? How did things turn out? 
Here is more help for leaders preparing for the June 12, 2016 session (Unit 10, Session 2) of The Gospel Project for Kids.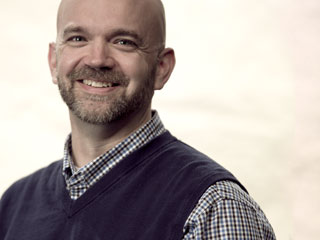 Brian Dembowczyk is the team leader for The Gospel Project for Kids. He served in local church ministry for over 16 years before coming to LifeWay. Brian earned an M.Div. from the Southern Baptist Theological Seminary and a D.Min. from the New Orleans Baptist Theological Seminary. Brian, his wife, Tara, and their three children—Joshua, Hannah, and Caleb—live in Murfreesboro, TN, where Brian enjoys drinking coffee and teaching 1-3 graders at City Church.