February 6, 2016 By Brian Dembowczyk
God Gave Rules for Sacrifice
Do you ever wish life worked a little differently in some ways? For example, wouldn't it be great if we could hire someone to take our place at times?
I would definitely hire someone to drive the commute to and from work each day! I could be home making an omelet and drinking coffee while someone else drives the hour trek to Nashville and then BAM! I am instantly at work when he or she arrives. Man, I'd love that!
And then there is exercising. The days of trying to get in a few workouts a week mainly to prevent putting on weight would be gone! I'd hire someone to get after it in the gym for a few hours a day and I would be ripped!
Then there is my wooden fence that is taking forever to stain, dentist appointments, standing in line at the motor vehicle department, and my family's desire to eat at Subway (blech!). Oh, and I could seriously increase the amount of books I read.
That sure would be amazing, wouldn't it?
But, alas, this is all just a pipe dream. We know life doesn't work that way, right? We can't get the benefit of what someone else does. My body won't get in shape because someone else works out. I can't get to Nashville from Murfreesboro because someone else drives. It would be great if I could, but that's just not how life works.
Well, not in general. There is an exception to the rule, and boy is it a glorious one!
This week's session, God Gave Rules for Sacrifice, gives us the opportunity to walk through the Book of Leviticus with our kids. Now, when we think of Leviticus, we think of a book saturated with very specific details of how to perform various sacrifices for various reasons.  I'll admit, it can be a challenging book to read during a "read thru the Bible" plan. And I can also understand if the idea of teaching kids from Leviticus is a little challenging for you. So let me share a little advice.
Don't lose sight of the forest for the trees.
Here's what I mean by that. Don't get so bogged down in the various details of the sacrificial system that you forget what it is all about—or put better—Who it is all about. The main take-away is that Jesus is our substitute, and that is something we can get excited about in Leviticus!
I can't have someone workout for me to get into shape. I can't have someone drive for me to get to work. I can't have someone read for me to get the knowledge.
But—and oh is this a glorious "but"—Jesus lived a perfect life of obedience and laid down His life for me and I do get His credited righteousness and life! Jesus is the exception to the rule. That's what Leviticus is about.
Go with me to Hebrews 10:1-25 for the rest of our time together. I want to walk through this text and make a few comments about it because this provides such a perfect capstone on a study of Leviticus.
1 Since the law has only a shadow of the good things to come, and not the actual form of those realities, it can never perfect the worshipers by the same sacrifices they continually offer year after year. 
That first phrase is so important and it resonates with the vision of The Gospel Project for Kids. The law, including the sacrificial system, was a shadow that pointed to Jesus—"good things to come." The law mattered, but the law was not the substance of God's core reality of the gospel. Jesus is that core. As such, the law was imperfect. It failed to provide cleansing of sin which is proven by the need to perform sacrifices year after year.
2 Otherwise, wouldn't they have stopped being offered, since the worshipers, once purified, would no longer have any consciousness of sins? 3 But in the sacrifices there is a reminder of sins every year. 
The proof of the law's inadequacy was the need for people to make sin offerings repeatedly. Had the sacrificial system perfected people, they would have been able to make sacrifice once and then be done. As such, the continual sacrifices provided a stark reminder of our deep sin problem that plagues us.
4 For it is impossible for the blood of bulls and goats to take away sins.

5 Therefore, as He was coming into the world, He said:
You did not want sacrifice and offering,
but You prepared a body for Me.
6 You did not delight
in whole burnt offerings and sin offerings.
7 Then I said, "See—
it is written about Me
in the volume of the scroll—
I have come to do Your will, God!"
Verse 4 is so important because it tells us point-blank that animal sacrifices cannot save. Man's sin requires man's death, not an animal's death. This is why Jesus took on the flesh, so that He could be the perfect human sacrifice to pay the sin penalty that we deserve. 
So if animal sacrifices could not save, how were people saved in the Old Testament? Well, salvation has always been by faith. Before God established the law, people were saved by faith in God's revealed plan to provide the Deliver first mentioned in Genesis 3. (See Abram's conversion in Genesis 15.) Under the law, salvation was still by faith—faith in to Whom the animal sacrifices pointed. And now, on this side of the cross, salvation is still by faith. It's always been by faith and always will be by faith.
8 After He says above, You did not want or delight in sacrifices and offerings, whole burnt offerings and sin offerings (which are offered according to the law), 9 He then says, See, I have come to do Your will. He takes away the first to establish the second. 10 By this will of God, we have been sanctified through the offering of the body of Jesus Christ once and for all.
Now that Jesus has made the perfect sacrifice—the sacrifice to which all of the ones in Leviticus pointed—the sacrificial system has come to an end. It would be wrong for us to perform an animal sacrifice today because the shadow is no longer needed when we have the substance. I believe this is one reason God used Rome to destroy the temple in 70. The Jewish nation has not been able to make sacrifice for almost 2,000 years. And there's a reason for that. God wants them to grapple with how they can atone for sin apart from Yom Kippur (the Day of Atonement). We know the answer—Jesus. 
11 Every priest stands day after day ministering and offering the same sacrifices time after time, which can never take away sins. 12 But this man, after offering one sacrifice for sins forever, sat down at the right hand of God. 13 He is now waiting until His enemies are made His footstool. 14 For by one offering He has perfected forever those who are sanctified. 15 The Holy Spirit also testifies to us about this. For after He says:

16 This is the covenant I will make with them
after those days, says the Lord:
I will put My laws on their hearts
and write them on their minds,

17 He adds:

I will never again remember
their sins and their lawless acts.

18 Now where there is forgiveness of these, there is no longer an offering for sin.
Jesus sitting down at the right hand of God is an important detail. Sitting connotes completed action. Jesus has nothing more to do. He fulfilled His mission by offering the perfect sacrifice one time.
19 Therefore, brothers, since we have boldness to enter the sanctuary through the blood of Jesus, 20 by a new and living way He has opened for us through the curtain (that is, His flesh), 
Under the law, the high priest would enter the Holy of Holies and come into God's presence one day a year. That's it. The rest of the year, he could not enter God's presence on earth. For everyone else, they were never able. The curtain blocking off the Holy of Holies provides a startling picture of God's holiness and the set-apartedness of God from His people.
But not any more. Because of Jesus' perfect sacrifice, all who trust in Him can enter God's presence always. And not with fear and apprehension (as surely was the case for the high priest), but with boldness because we know we have been fully accepted by God because we have been given Jesus' righteousness. That's the beauty of the veil tearing as Christ gave up His life on the cross.
21 and since we have a great high priest over the house of God, 22 let us draw near with a true heart in full assurance of faith, our hearts sprinkled clean from an evil conscience and our bodies washed in pure water. 23 Let us hold on to the confession of our hope without wavering, for He who promised is faithful. 24 And let us be concerned about one another in order to promote love and good works, 25 not staying away from our worship meetings, as some habitually do, but encouraging each other, and all the more as you see the day drawing near.
The substitutionary sacrifice (also know as the substitutionary atonement) of Jesus ought to stir our affections greatly. We are invited to draw near to holy God with a heart full of confidence, and I would add gratitude. Because of the perfect one-time nature of Jesus' sacrifice, we can have full confidence of our position in Christ and His promised return when He will finally glorify us in fullness. 
And that has another ripple in our lives. Not only have we been impacted internally, but we also are driven to gather with others who share our hope. We are to gather in gospel community on a regular basis, not out of obligation, but out of genuine desire or concern for one another. We gather to spur on each other to love and live out the gospel in daily life. And each time we gather, we do so with weightiness because the day of Jesus' return is that much closer.
That is Leviticus in a nut shell. Imperfect sacrifices shadowing the perfect sacrifice of Jesus. Have a great time pointing your kids to Jesus this week!
How have you helped your kids understand the fullness of Jesus being their substitute? Let us know in the comments below.
Here is more help for leaders preparing for the February 14, 2016 session (Unit 6, Session 3) of The Gospel Project for Kids.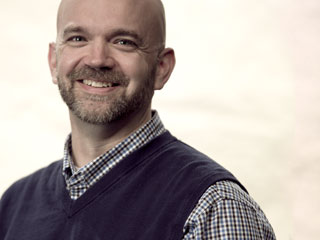 Brian Dembowczyk is the team leader for The Gospel Project for Kids. He served in local church ministry for over 16 years before coming to LifeWay. Brian earned an M.Div. from the Southern Baptist Theological Seminary and a D.Min. from the New Orleans Baptist Theological Seminary. Brian, his wife, Tara, and their three children—Joshua, Hannah, and Caleb—live in Murfreesboro, TN, where Brian enjoys drinking coffee and teaching 1-3 graders at City Church.