August 29, 2015 By Brian Dembowczyk
God Created the World
My wife and kids gave me a wonderful gift of a framed set of three photos for Father's Day this year.
On the left is a photo of my 10-year-old son, Joshua, holding a chalkboard sharing why he loves me. His face is typical for a 10-year-old who is shedding any semblance of childishness with each passing day. His reason for loving me—"there are too many reasons"—captures his personality. Joshua is deeply caring and also a perfectionist. Trying to articulate something as complex as his love pushes back against both of those personality traits. Joshua doesn't want to hurt my feelings for indicating something that would not have been my first choice. He also doesn't want to get it wrong. So he took the safe way out. As far as I am concerned, it is the perfect response for him because it truly reflects who he is.
My 7-year-old daughter, Hannah, is in the middle. She is all smiles with a wonderful braid falling off of her left cheek. Her toothy smile is genuine. At 7-years-old, Hannah is still fully immersed in her childhood. She has yet to feel any pull toward wanting to be older than she really is. Her reason for loving me—I am nice and funny—reflects her developing level of being able to articulate her emotions. It is her perfect response. In her own way, Hannah is trying to tell me that she loves me for loving her (the nice part) and for playing with her (the funny part). I read that as she loves me because I am her dad.
Then there is our three-year-old, Caleb, on the right. Caleb is our silly, wild, little boy. He is a ball of energy, always on the move. When my wife Tara told him to smile, he stuck a finger in each corner of his mouth and pulled them apart. That's my Caleb. Caleb's reason for loving me also reflects an inability to really articulate his feelings. He loves me, but has no idea of how to explain why. That is beyond his three-year-old mind and heart. And that's ok. It should be.
This picture immediately became one of my most cherished possessions because it perfectly captures each of my kid's personalities. Each time I glance over at it, I have to smile. It's amazing how I can see so much of each of my kids in one still photo of each.
This week we launch a new three-year journey through the Bible and begin with God Created the World (Genesis 1:1-25). I wonder if we take this vital fact for granted. Oh, sure we know that this is true in the sense that we have mental awareness of it. But do we know it to be true in our hearts in the sense that we are in awe because of it? Or does the beauty, splendor, majesty, and diversity fade into the background of our awareness as we go about our "normal, everyday" lives?
This matters. It really does.
Romans is Paul's theological magnum opus. Paul had longed to visit the strategically important church in Rome for some time, but God's providence had kept him from visiting for some time. Anticipating a visit, Paul sent a letter—an epistle—to the church ahead of his arrival. His goal was to ensure that the church was built on the right doctrine—the gospel. So in this book, Paul, under the inspiration of the Holy Spirit, walked the church through the gospel starting with the problem of sin. His first point is clear and emphatic—everyone is born in sin and in need of salvation found only in Jesus. To that end, this is what Paul wrote about God in Romans 1:20 as he began to tell the gospel story:
20  For His invisible attributes, that is, His eternal power and divine nature, have been clearly seen since the creation of the world, being understood through what He has made. As a result, people are without excuse.
The created universe tells a story. The size of the universe hints at the enormity of God. The beauty of a field of flowers hints at God's beauty. The majesty of mountain range hints at God's majesty and splendor. The power of a waterfall hints at God's omnipotence. Just as the picture in my office hints at so much about my kids, God's creation reveals so much more about Him than might initially meet the eye.
When we lose site of this and fail to see God's fingerprints all around us—we miss out on a chance to rub shoulders in some way with the character of God. But when we connect these dots—when we ponder creation's beauty, power, and so forth—we are drawn toward its Creator, Almighty God.
The universe is a parable telling of the wonders of its Creator.
But as important as that is, there is more—much more. In his epistle to the church at Colossae, Paul wrote this about Jesus and creation (Colossians 1:15-18):
15  He is the image of the invisible God, the firstborn over all creation. 16  For everything was created by Him, in heaven and on earth, the visible and the invisible, whether thrones or dominions or rulers or authorities—all things have been created through Him and for Him. 17  He is before all things, and by Him all things hold together. 
Here are four quick truths pulled out of these verses coupling Jesus and creation together:
Jesus is firstborn over creation. (v. 15) When the Bible speaks of Jesus as being "firstborn," it does mean in the sense that we normally associate with it—the first to come into existence. The Son of God is eternal. Firstborn here means first in rank. It is derived from the special privileges afforded to a firstborn son in a family. Jesus is head over all creation is another way to phrase this truth.
Everything was created by Jesus. (v. 16) We often think of God the Father as creating because of how Genesis 1 is phrased. However, we know that the Son created. There is a pairing with John 1 here. John refers to Jesus as the Word and in Genesis 1, God created by His word. So it is proper to think of creation coming by the leading of the Father, the actions of the Son, and the empowerment of the Spirit who was hovering over creation just as He descended and hovered over Jesus during His baptism.
Everything was created for Jesus. (v. 16) Jesus, not man, is the purpose of creation. That sentence requires a little bit of attention and meditation. Everything is about Jesus. Everything is for Jesus and His glory.
Everything is held together by Jesus. (v. 17) Not only is creation by and for Jesus, it is also held together by Him. In other words, Jesus is the connecting thread or the glue that holds it all together.
We can see that while it is certainly true that creation points us toward the Father, that is not all that it does and if we stopped there, we would miss out on broader truth. Genesis 1 is not just about the Father, it is also about Jesus. And this is at the heart of the journey you are beginning using The Gospel Project for Kids. Each week you are going to rub shoulders with these multiple layers of Scripture. Each week you will be challenged and encouraged to go deeper and pursue a fuller gospel-centered picture of what the Bible story is about.
It's quite a journey. Thanks for taking it with us. We are praying for you as you take the overflow of what you learn about the gospel and point your kids to Jesus—perhaps in ways you never imagined before. It's going to get challenging at times, but it's worth it. Enjoy the ride!
One more thing. You didn't think I was going to end this post without showing you the picture, did you?


What picture of God through creation stirs your affections for Him the most? Leave a comment about that below.
Here is more help for leaders preparing for the September 6, 2015 session (Unit 1, Session 1) of The Gospel Project for Kids.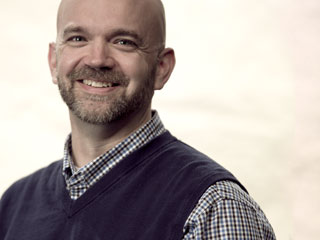 Brian Dembowczyk is the team leader for The Gospel Project for Kids. He served in local church ministry for over 16 years before coming to LifeWay in 2014. Brian earned an M.Div. from the Southern Baptist Theological Seminary and a D.Min. from the New Orleans Baptist Theological Seminary. Brian, his wife, Tara, and their three children—Joshua, Hannah, and Caleb—live in Murfreesboro, TN, where Brian enjoys drinking coffee and teaching 1-3 graders at City Church.