September 5, 2015 By Brian Dembowczyk
God Created People
In the 2000 movie Castaway, Tom Hanks played Chuck Noland, a FedEx systems engineer who survives a plane crash to be stranded alone on a South Pacific island for four years. Early on during his ordeal, Noland collects a handful of FedEx boxes that wash up onto the island and opens them to discover several items useful for surviving—the blades on a pair of ice skates, clothing, and netting to use for fishing.  And then Noland opens a box with a Wilson volleyball in it—not very useful for surviving on an island. At least not at first blush. So Noland sets the ball off to the side without giving it much thought.
Then one day while Noland is trying to start a fire, he cuts his hand and, out of frustration, palms the ball and throws it as far as he can. After he calms down, Noland looks more closely at the ball that now has a blood-stained hand print on it. He takes a cloth to wipe away a few spots resulting in what looks like a red face on the ball. And that was the birth of what would become Noland's only friend on the island—Wilson.
When the movie jumps four years ahead, Noland is seen talking and arguing with Wilson and even responding to it as if it was talking back. In a powerful scene later in the movie, Noland weeps bitterly when Wilson floats away from his make-shift raft and he is unable to retrieve his "friend."
Wilson serves as a reminder to us how desperately we need companionship. In reality, as vital as food, water, and shelter were for Noland's physical survival, Wilson was just as important for his mental well-being. Without Wilson, Noland may have survived, but he really wouldn't have lived.
We know this to be the case, because it is true of us as well. Even introverts (like me) really crave meaningful relationships. There are very few, if any, true hermits. And there is a reason for that—because God created us for community.
Last week, we focused on God creating the universe, but we stopped our study short of God's creation of mankind. We wanted to keep God Created People (Genesis 1:26-2:25) as a separate session because it deserves special attention. As you prepare and teach this session, I want to encourage you to keep three truths in mind:
God did not create people because He was lonely and in need of community. We have to be careful not to position God as lonely (Chuck Noland) and in need of creating people (Wilson) with which to satisfy His desire for community. God needs nothing. He is fully satisfied in Himself. But there is a bigger, potentially more important reason. God is triune. He is three on one. God experiences eternal community within the God-head of Father, Son, and Spirit. Yes, this is head-ache inducing doctrine, but it is an essential truth for us to fight to grasp more fully. The triune nature of God is essential because within it we find perfect love and perfect community. God did not need to create people to experience love; He has always loved within the Trinity. God did not create people so He could love; He created people so that we could be invited into the perfect love that has always been shared between Father, Son, and Spirit.
God created us to crave community with Him. God created mankind alone in His image (Genesis 2:26). Theologians aren't sure what exactly that means, but a part of it, at least, is being invited into relationship with God. Mankind alone has been given the ability to enter into the triune relationship God enjoys. That is not to say that we become like God of course, but that is to say that we can relate with God and participate in His perfect love (see John 17:20-26). Philosopher and mathematician Blaise Pascal stated that every person has a God-shaped vacuum in his heart and while people try to fill it with a variety of items, only God will satisfy it. Pascal was correct and sadly we see so many people trying to satisfy this hard-wired longing of the soul in so many unsatisfying ways—wealth, material goods, people, fame, etc. While God does not need us, we were designed to need Him.
God created us to crave community with one another for His glory. Some make the mistake of getting to truth #2 above and stopping there. "God is all we need," they say, "so it is wrong to need others." That's not quite the case. While it is certainly true that God alone satisfies our greatest need and that He should be our greatest joy, love, and treasure, it is not correct to say that we need Him alone. Don't take my word for it, take His. Genesis 1 is peppered with the refrain "and God saw that it was good." But then you get to Genesis 2:18, an amplification of the creation of mankind in Genesis 1:26 and following. Notice what God said. "It is not good that the man should be alone." God's plan was not for man to commune and worship Him in isolation. He designed mankind to interconnect as we connect with God as individuals and as a gospel community in a beautiful tapestry of love. We are designed for gospel community, and we cannot forget that. This is, in part, why being an active participant in a local church is so important. We need this community. It isn't enough to be alone with God. That's important, but that is not the totality of who we were created to be. We were created to be part of a community of God worshipers.
How do you help develop gospel community in your classroom, kids ministry, and church? Leave a comment below.
Here is more help for leaders preparing for the September 13, 2015 session (Unit 1, Session 2) of The Gospel Project for Kids.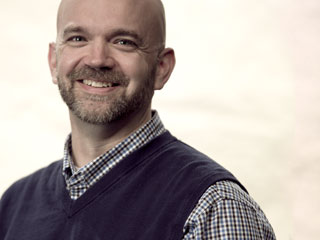 Brian Dembowczyk is the team leader for The Gospel Project for Kids. He served in local church ministry for over 16 years before coming to LifeWay in 2014. Brian earned an M.Div. from the Southern Baptist Theological Seminary and a D.Min. from the New Orleans Baptist Theological Seminary. Brian, his wife, Tara, and their three children—Joshua, Hannah, and Caleb—live in Murfreesboro, TN, where Brian enjoys drinking coffee and teaching 1-3 graders at City Church.