November 1, 2016 By Brian Dembowczyk
God Called Jeremiah
Before coming to LifeWay a couple of years ago, my family lived in the Tampa, Florida, suburb of Brandon. Brandon was a great community and we loved our house on the end of a cul-de-sac. There was just one problem. Well, two actually. OK, three.
The first problem was that the prior owner had landscaped the front yard as part of the staging process for selling the house. And it was great for a while. But what was planted eventually got out of control. Not only did it look rather wild, bees found it to be a great home and I would often get stung while mowing the lawn and trying to trim the shrubs.
The second problem was a rather large patch of the front lawn where the grass just would not grow. I tried several tricks, made sure I watered it well, and fertilized it, but all to no avail. I seemed to be stuck with a 5′ by 10′ dirt patch in my yard.
The third problem was that our yard had no shade tree, and in Florida that makes it challenging for kids to play outside for extended periods of time.
One day, I had enough of my landscape issues. I developed a plan. I would yank out all of the landscaping and clear out the scraggly grass from the patch in the front yard. Then I would put in some more manageable plants and a sycamore tree, and sod the patch in the front. I ran the plan past my wife and got the green light.
I began working on clearing the overgrown vegetation the next Saturday, but about an hour or two into the project, I realized it was a much bigger project that I had anticipated. So I hired that part of the project out and a crew cleared all the plants away in one day.
I then had a clean slate with which to work. I put in the new plants, the tree, and even added a small pond. I purchased some sod and filled in the patch in the lawn.
And my front yard looked amazing. Finally, I wasn't embarrassed about my yard. Finally, I had a full lawn. Finally, my kids would have a tree to provide some shade in time.
And then… we moved to Tennessee.
When it came to my front yard, I had to deal with what was there before I could put in what I wanted to be there. I had to clear out before I could plant. I had to destroy before I could create.
Which is exactly what God told His people in God Called Jeremiah. (Unit 15, Session 1)
God called Jeremiah for his prophetic mission before he was even born. (Jeremiah 1:5) That is important for us to know and remember because it simultaneously affirms God's sovereignty and life in the womb. God is in control, even over unborn babies. In that, we can find great comfort.
But we cannot miss what Jeremiah's mission would look like. It is understandably easy to focus on that first point, camp out there for a while, and not really rub shoulders with exactly what God was calling Jeremiah to do. We see what this mission would look like in Jeremiah 1:9-10.
Then the Lord reached out His hand, touched my mouth, and told me: I have now filled your mouth with My words. See, I have appointed you today over nations and kingdoms to uproot and tear down, to destroy and demolish, to build and plant.
God gave Jeremiah His words—words of uprooting, tearing down, destroying, and demolishing as well as building and planting. Words of judgment and words of grace. We need to notice two things about these words.
First, notice the quantity. Two pairs of words of judgment—four in total. Only one pair of words of grace—two in total. Often we can learn quite a bit simply by how much God talks about something. For example, Exodus 28 outlines blessings for Israel's obedience and curses for their disobedience. God spends 14 verses talking about blessing. He spends 54 talking about curses. It's pretty clear that God knew that Israel would disobey. Getting back to Jeremiah 1:10, God may have given the prophet more description about the judgment of his ministry because that is what it would center on.
Second, notice the order. Tearing down comes before building up. That's important. God was working in the hearts of His people to purge them and cleanse them so that He could place in them what He wanted. Of course He wasn't talking about plants, but sin.
God's people were deep in idolatry and rebellion. God's message through Jeremiah was that He was working in them. He was tearing down and destroying—viciously even. And we have to be real and acknowledge that that would be a painful, difficult time for Israel. God was hurting His people. But that hurt was the only way that He could give them what they really needed—forgiveness. Once God was done destroying, He would build up on that clean slate.
Let's carry this over to the gospel and how it affects us.
God has to tear down and destroy as the first step of the gospel. Before we can begin to understand God's love and grace, we have to first understand our sin. And that means that we have to confront the ugly nature of our rebellion against God. In God's kindness, He will guide us to see and understand the depth of our sinfulness. He tears down pride. He destroys self-sufficiency. He demolishes independence. That has to happen first. And it can be painful.
But then, God builds and plants. He reveals the beauty of who Jesus is and how we can be forgiven in Him. And when we trust in Christ, He plants within us His righteousness. Where sin and rebellion once overran our hearts, the beautiful gospel blooms.
Jeremiah's prophetic message was surely difficult for God's people to hear. But as challenging as it was, it was actually beautiful because it paved the way for the people to hear about God's love and forgiveness. May we see God's kindness and love when He reveals our sin to us to drive us to the gospel.
How does God continue to reveal sin in your life so that He can remind you of His grace? Leave a comment below.
Here is more help for leaders preparing for the November 6, 2016 session (Unit 15, Session 1) of The Gospel Project for Kids.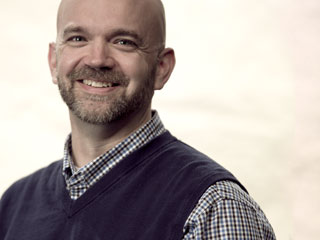 Brian Dembowczyk is the team leader for The Gospel Project for Kids. He served in local church ministry for over 16 years before coming to LifeWay. Brian earned an M.Div. from the Southern Baptist Theological Seminary and a D.Min. from the New Orleans Baptist Theological Seminary. Brian, his wife, Tara, and their three children—Joshua, Hannah, and Caleb—live in Murfreesboro, TN, where Brian enjoys drinking coffee and teaching 4-5 graders at City Church.