April 30, 2016 By Brian Dembowczyk
Gideon
I'm not a fan of heights. OK, to be more precise, I don't like heights. OK, fine. For full disclosure, I am afraid of heights.
When we lived in Florida, I would start to break out into cold sweats after Thanksgiving because I knew that soon after the turkey was gone I would have to climb on my roof to put up our Christmas lights. Our house was only one story, but that 10 foot perch was way too high for me. The worst part was going from the roof back onto the ladder to climb down. That was brutal.
Thankfully, hanging Christmas lights on my house in Tennessee requires nothing more than a step stool. I can live with that.
When it comes to being afraid of heights, I'm not alone. According to some sources, 10% of Americans share my fear of heights—acrophobia. The most common fear is public speaking—glossophobia—74%. Other common fears are death, spiders, darkness, people, flying, confined spaces, open spaces, and thunder and lightning. But when it comes down to it, there is pretty much a fear of everything. Just do an Internet search for phobias—unless you have a fear of doing that. Sorry. Couldn't resist.
Now, I would guess that most people are like me—we have a few fears but they are just inconveniences in our lives. My fear of heights doesn't really impact me in day-to-day life. However, there are certainly people who have serious fears that impact daily life, and that includes fears related to following God.
A fear of sharing your faith in Christ.
A fear of committing fully to faith in Christ.
A fear of trusting God.
A fear of giving generously and sacrificially.
A fear of serving God.
So what do we do about these fears? How can we overcome them?
The answer is courage.
Now courage is not the absence of fear, but instead it is the ability to act despite our fear. Take Gideon (Judges 6—8) for example.
When we meet Gideon, he is threshing wheat in hiding. Then when he is given his assignment to serve as judge to deliver God's people from Midian, Gideon asks for a sign as evidence. Hardly fitting of a hero, right? Hardly deserving of the title given to him by the Angel of the Lord—"mighty warrior."
Later Gideon tears down an altar to Baal—at night of course. Yet again, Gideon's conduct doesn't seem quite like that of a hero.
And that's the point. Gideon isn't the hero. God is.
God took Gideon, a man full of fear, and used him to deliver His people from the Midianites. We aren't supposed to look at this story and walk away thinking we need to be more like Gideon. We're supposed to look at this story and walk away marveling at how amazing God is—how God can take even a Gideon and use him for His purposes and His glory.
Gideon isn't the hero. God is.
Gideon never found courage in himself. He found courage in God who was with him and acted through him. That is the reason God whittled his army down. He wanted to make it crystal clear who won that battle. It wasn't Gideon. It wasn't his handful of men. It was God.
And that is exactly how we find courage as we seek to live lives pleasing to God. We don't find courage in what we can do; we find courage in what God has done and who He is. Our courage rests in the gospel.
We share our faith not because we have to. We share our faith because we get to and because we know that we do so in light of Jesus having already won the victory. Our courage rests in Christ.
We trust God because we know that God has shown Himself to be trustworthy again and again and again, most notably in the gospel. Our courage rests in Christ.
We give sacrificially and serve generously not to please God, but because we find pleasure in doing so for the One who loves us so much. Our courage rests in Christ.
So as you approach Gideon, don't make him the hero he wasn't and the hero God didn't intend for him to be. Present Jesus—the greater Gideon who delivered God's people through tears of anguish in the garden—as the true hero. Knowing who Jesus is, what He has done, and His love for us is where we find courage. We find courage in the gospel.
How have you helped your kids find gospel-centered courage over their fears? Leave a comment below.
Here is more help for leaders preparing for the May 8, 2016 session (Unit 9, Session 3) of The Gospel Project for Kids.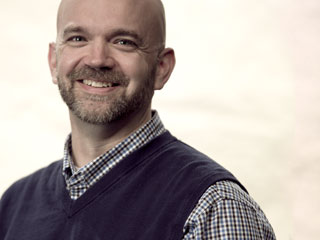 Brian Dembowczyk is the team leader for The Gospel Project for Kids. He served in local church ministry for over 16 years before coming to LifeWay. Brian earned an M.Div. from the Southern Baptist Theological Seminary and a D.Min. from the New Orleans Baptist Theological Seminary. Brian, his wife, Tara, and their three children—Joshua, Hannah, and Caleb—live in Murfreesboro, TN, where Brian enjoys drinking coffee and teaching 1-3 graders at City Church.