May 21, 2016 By Brian Dembowczyk
Eli and Boy Samuel
One of the things I really enjoy about traveling is the opportunity to eat at new restaurants. I love to try to find local places where I can get things I can't get anywhere else and dishes for which the city is known. If it were up to me, I wouldn't eat at any chains when we travel—or at least as few as possible.
But the problem is that it isn't all up to me. Actually, it hardly ever is. My wife and kids don't have quite the adventurous attitude I have for food and they don't love food as much as I do. Which I find to be sad, but that is a different story.
So, generally when we travel I end up eating at the same chains that my family tends to enjoy. I die inside some, but I do it because I love them. And their joy is greater than mine.
In the bigger picture, my "sacrifice" isn't that big of a deal. Certainly not deserving of any medals or anything like that. Certainly nothing like Hannah's sacrifice in Eli and Boy Samuel. (1 Samuel 1—3)
A man named Elkanah had two wives, Hannah and Peninnah. Hannah couldn't have children, but Peninnah could, and that was something Peninnah taunted her rival about. Now, we have to clarify that God never sanctioned polygamy. God's plan has always been for one man and one woman to be married. But the Bible faithfully records what happened in history, which we cannot mistake for God's approval. And every time we see polygamy practiced in the Bible, we see problems arise because of it. Here it is rivalry between Peninnah and Hannah for the love and attention of their husband.
Not having any children, especially any sons, deeply distressed Hannah. In that culture, having sons to carry on a family name was so important and so I am sure that Hannah felt like she was a failure in this regard. So in her brokenness, Hannah would weep bitterly at times.
"Hannah, why are you crying?" her husband Elkanah asked. "Why won't you eat? Why are you troubled? Am I not better to you than 10 sons?" (1 Samuel 1:8)
Now, I am not the sharpest knife in the drawer when it comes to being a husband, but even I know better than that! Well, at least he cared enough to try, right?
And here is the most amazing part of this story to me. Hannah promised God that if He was kind enough to give her a son, she would give that son right back to Him. Think about that. Hannah was so distressed about not having a son that she wept bitterly over it. And yet, she was willing to promise God that she would give a son right back to Him.
God was kind to Hannah and gave her a son she named Samuel. And Hannah was true to her word and took the young boy to the temple to serve God as soon as she had weaned him.
Samuel would grow up in the temple, where Hannah would visit him, and he would become a prophet who God used to tell His people about Him. Samuel also transitioned Israel from being led by the judges to being led by kings, starting with Saul and then David. 
Now, it is right of us to honor Hannah's example of prayer and sacrifice. My wife and I named our daughter Hannah for that reason. But we know that Hannah isn't the start of this story. As always Jesus is. Samuel's birth was long-anticipated and he grew up to share the words of God with God's people. In a similar way, Jesus' birth was long-anticipated and He is the Word of God.
And as we see this story through the lens of the gospel story unfolding throughout the pages of Scripture, we can also more fully appreciate Hannah's role in the story. Hannah helps us see the heart of God. Just as she was willing for her only son to leave her home so that he could serve God's people, God was willing for His only Son to leave His place of glory so that He could serve God's people as well.
The sacrifice of a mother helps us to understand the sacrifice of the Father.
How can we help our kids live sacrificially to point others to the gospel? Leave a comment below.
Here is more help for leaders preparing for the May 29, 2016 session (Unit 9, Session 6) of The Gospel Project for Kids.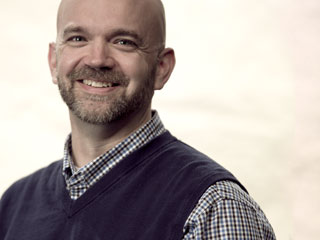 Brian Dembowczyk is the team leader for The Gospel Project for Kids. He served in local church ministry for over 16 years before coming to LifeWay. Brian earned an M.Div. from the Southern Baptist Theological Seminary and a D.Min. from the New Orleans Baptist Theological Seminary. Brian, his wife, Tara, and their three children—Joshua, Hannah, and Caleb—live in Murfreesboro, TN, where Brian enjoys drinking coffee and teaching 1-3 graders at City Church.