April 23, 2016 By Brian Dembowczyk
Deborah and Barak
The Stones River runs through Murfreesboro, and was the site of costly battle during the Civil War, but today, it is home to a beautiful, tranquil greenway. Recently, my family was at the river, splashing around and skipping rocks. My daughter, Hannah, was a little apprehensive about walking on the more slippery parts of the riverbed so she was walking quite gingerly with some occasional whimpers mixed in for good measure.
A boy, perhaps a year or two older than Hannah, saw Hannah walking in the water and also noticed her prosthesis. He glanced down at her leg for a few seconds and thankfully  didn't stare or make a big deal out of what he saw. (I so appreciate when kids and adults do this. It's understandable to notice Hannah's prosthesis and look at it for a few seconds. Most people don't see a running blade every day. It's the stares, obvious whispering to others, and even pointing that is troubling—from kids and adults.) At this point, he turned to me and asked, "Does she need any help?"
I thanked him for his offer and willingness to help, but told him she was fine. He nodded OK and then resumed splashing in the river with his friend. I really appreciated that boy's mixture of maturity and kindness in that moment. But Hannah was truly fine in that moment and my wife and I were using it as an opportunity to help Hannah be a little more adventurous than she tends to be, and give her the opportunity to prove to herself that she could do it.
There are times when we need some help.
Then there are times we don't.
It's a hard line to discover though. Sometimes we think we don't need any help when we really do. And then there are times when we think we need help, but we really don't. We don't want to be overly needy on others, but neither do we want to be overly independent. Both extremes are not good for us and both obscure the gospel.
This line is part of this week's session, Deborah and Barak. (Judges 4—5) When Deborah reminded Barak that God had instructed him to deploy his troops on Mount Tabor where God would lure the enemy forces and defeat them for His people, Barak's response was quite curious. He refused to go unless Deborah went too. God's promise wasn't good enough. Barak seemed to be more willing to place his trust in Deborah than God. 
Deborah consents, but warns Barak that he wouldn't receive honor for the promised victory apparently because of the condition he placed on his obedience to God.
God does give the victory to His people, but as Deborah said, He used Jael to defeat Sisera, not Barak.
So where do we go with this story?
Well, on one hand, we need to point to Barak's misplaced faith. Barak failed to trust and obey God alone, and instead needed another person before he would follow God's instruction. Barak should have trusted God, even if God told him to go out to face the enemy army alone—at least alone in terms of having no other people with him. That's the point Barak missed. He didn't need Deborah to go because God was with him. It's like having a body builder available to help you pick up a 10-pound weight, but refusing to try unless you had an ant to help as well!
It's critical that we, and our kids, learn to place our complete trust in God. This is essential to live a life of pleasing obedience to God, but it is more than that. The gospel requires that we place our complete and undivided trust in Jesus. There are no Deborahs or Jaels we can take with us to the cross. It is us and Jesus alone. This might seem rather obvious at first, but don't we see this quite often? Don't we see kids who possess their parents' faith instead of their own? Don't we see kids who rely completely on their parents and/or us to teach them the gospel instead of learning to pursue God on their own?
But on the other hand, we need to point to how God used people to bring about His victory. Here's the thing: God doesn't need people to advance the gospel today, but He chooses to use us time and time again. That's the point of Romans 10:14-15. God could use angelic messengers or even writing in the sky to share the gospel, but He instead chooses us. So we don't need people when it comes to trusting in the gospel, but we certainly do to hear the gospel. And when we trust in Jesus, we need to accept and embrace our mission in continuing to take the gospel around the world and around our neighborhoods.
We don't need people, but we do. There's a line there that we have to understand and appreciate.
One more layer to consider. Even when we do need other people, we should always be reminded of the gospel. Other people will let us down and fail us. We will fail others too, because we are all sinful. But there is One person who never fails us. He never lets us down and He helps us perfectly. Of course, I am talking about Jesus. This is the major take-away of the Book of Judges—the human judges imperfectly delivered the people and pointed toward the perfect Judge who would perfectly deliver His people.
How can we communicate the line of our need of people and our need of Jesus? Share your ideas or experience in a comment below.
Here is more help for leaders preparing for the May 1, 2016 session (Unit 9, Session 2) of The Gospel Project for Kids.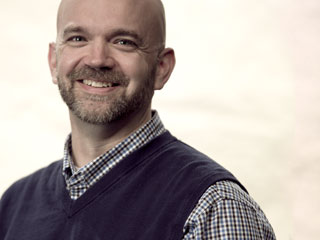 Brian Dembowczyk is the team leader for The Gospel Project for Kids. He served in local church ministry for over 16 years before coming to LifeWay. Brian earned an M.Div. from the Southern Baptist Theological Seminary and a D.Min. from the New Orleans Baptist Theological Seminary. Brian, his wife, Tara, and their three children—Joshua, Hannah, and Caleb—live in Murfreesboro, TN, where Brian enjoys drinking coffee and teaching 1-3 graders at City Church.