June 11, 2016 By Brian Dembowczyk
David Was Anointed and Fought Goliath
The first sermon I ever preached was on David and Goliath. It was Youth Sunday at Temple Baptist Church, in Woodlawn, Maryland, in 1989 or 1990. We only had a few students in our group, so me getting the nod to preach doesn't say that much about me. I was probably the one who said "no way" least emphatically.
As one would expect, the members of the congregation all had very kind things to say to me about the sermon as they filed out that morning. But in reality, it wasn't a good sermon. Not at all.
Now, I'm not feigning humility when I write that. I am totally sincere.
And I am not being too hard on my raw delivery and clumsy outline.
Here's why it wasn't a good sermon — it was moralistic.
I don't remember exactly what I shared that morning, but I know it wasn't the gospel. I know it was more in the camp of the sermons that you often hear on this passage.
Be brave like David! You can face your giants just like he did because God is with you!
I'm going to come back to that common take-away later, but first, let's dive into what David Was Anointed and Fought Goliath (Unit 10, Session 3) is really about.
This is a great Bible story, filled with fascinating and engaging details. It's one of those stories that is pretty fun to teach. But let's take a step back and look at the broader movements of the story, because that is really where we find its beauty.
The story opens with Israel in a stalemate with their arch nemesis, the Philistines. The two militaries were on opposing hills with a valley between them and neither seemed too eager to assault the other. Both armies would have been in a strong defensive position, so the one army that attacked would be at a distinct disadvantage. So everyone was stuck where they were. Away from home. Away from their families. Just sitting and waiting with no end of the stalemate in sight.
So the Philistine champion Goliath stepped out onto the battlefield to break the stalemate. His solution was simple. The Israelites would send their champion out to face him and whoever won would win the battle for his people.
The problem was that Goliath was huge and Israel did not have a warrior his equal.
So day after day, Goliath would walk into the middle of the field and the Israelites would flee. Yup. They would literally run for their lives.
Day after day the Israelites were reminded of the impossible situation they were in. They were encamped in view of an unbeatable army with an unbeatable champion staring them down.
Day after day.
And then David showed up. And we know what happened.
David, most likely a teenager or perhaps even a pre-teen, faced Goliath without even wearing armor. The juxtaposition of the two is intentional and vital.
The huge unbeatable enemy standing in full armor with military weapons against the young boy with just a sling.
Every eye viewing that scene that day had the same opinion: the boy had no chance.
But that boy with no chance won. And it wasn't even a contest. He absolutely destroyed the enemy in one blow and a swipe of a sword for good measure.
Goliath never had a chance. He had met his match, he just didn't know it.
Unbeatable enemy defeated in one blow by unlikely hero.
And that right there is the focus of this story. That's the main takeaway.
Why? Because that's the gospel.
The story of David and Goliath is a picture of the gospel. Goliath is a picture of sin and death and David is a picture of Jesus.
Sin and death are the unbeatable enemy that day after day stands before us and taunts us. Day after day they remind us of how hopeless our situation is.
We needed a champion to stand against them and defeat them, but we couldn't find a champion among our fellow soldiers.
And then in stepped Jesus. An unlikely hero to say they least.
Born in a manger. Raised in rural, uneducated Galilee. Not from a wealthy or powerful family. Meek.
No one would have suspected that Jesus would have been the one who would defeat sin and death.
But He did. With one fatal blow on the cross, and then exiting the tomb on the third day for good measure.
That is what this story is about. That is what I failed to preach as a teenager all those years ago. And that is what our kids need to hear this week.
Let's go back to the moralistic lesson that is often the primary focus of this passage. So is it wrong to suggest we should learn bravery from David? Yes and no.
Yes, if that is the primary focus of the passage. No, if it is a point of application after drilling down into the gospel first.
Application is vital as we study and teach the Bible. But we always have to make sure we drive toward application on the single lane road of the gospel.
The reason we can be brave is because Jesus has already defeated the greater enemy of sin and death. That gospel truth is how we can be brave to face lesser enemies in our lives.
Moralism says find courage to defeat an enemy to please God.
The gospel says you can be courageous because Jesus has defeated the greatest enemy already for you.
As this same David would write later, God is our Savior, so who is there to fear?
The Lord is my light and my salvation—whom should I fear? The Lord is the stronghold of my life—of whom should I be afraid? Psalm 27:1
How does the gospel drive toward application in your life? Leave a comment below.
Here is more help for leaders preparing for the June 19, 2016 session (Unit 10, Session 3) of The Gospel Project for Kids.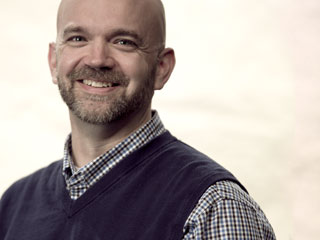 Brian Dembowczyk is the team leader for The Gospel Project for Kids. He served in local church ministry for over 16 years before coming to LifeWay. Brian earned an M.Div. from the Southern Baptist Theological Seminary and a D.Min. from the New Orleans Baptist Theological Seminary. Brian, his wife, Tara, and their three children—Joshua, Hannah, and Caleb—live in Murfreesboro, TN, where Brian enjoys drinking coffee and teaching 1-3 graders at City Church.