July 2, 2016 By Brian Dembowczyk
David Sinned and Was Restored
After 15 years of marriage, my wife has figured much of me out. Not all of me, but most of me. Take for example when I run a potential home improvement project past her. Now, I know my wife pretty well too, so I know that I need to share the end goal first and then talk a little about how long the project will take and how much it will cost. She doesn't want or need all the details, but she does want to know the gist of it. So I will tell her that I think we should put crown moulding in our living room because it will make the room look more finished, and it will take me a weekend and $100 or so.
And this is where she always asks the same thing: "How long will it really take and how much will it really cost?"
Now, it isn't that she doesn't believe me or trust me. It's just that she has experienced enough of my projects to know something always comes up. I start a project and discover something I hadn't anticipated which ends up taking more time and needing more money, so she has learned to expect that and ask for the true timeframe and cost.
In my home improvement projects, one thing just has a way of leading to another. Sort of like life.
Keep that in mind as you study David Sinned and Was Restored (Unit 10, Session 6) this week. When we read this Bible story, we can see that one thing led to another for David with disastrous results. Let's break down the story in 2 Samuel 11 to see how it happened.
1. David Chose to Be in the Wrong Place
1 In the spring when kings march out to war, David sent Joab with his officers and all Israel. They destroyed the Ammonites and besieged Rabbah, but David remained in Jerusalem.
Notice where David should have been—out to war with his army. We know this isn't a random, unimportant detail just there to add color to the story because it is mentioned twice. Spring was when kings went out to war, but David sent Joab and stayed in Jerusalem instead. We don't know why David chose to stay in Jerusalem, but it is noteworthy that had David been at war where he should have been, none of what follows would have happened.
There's a warning here for us. We need to always be aware of how precarious our situation is too. Sin is always one choice—even a seemingly harmless choice—away. One mouse click. One sentence in a conversation. Or in David's case, one glance in the wrong direction away.
David's failure to go to war as he should have also hints at a deeper issue at play. David chose to forsake his duty to Israel, and more importantly, to God. David was the king. He was leader of God's people. Yet, he became passive in this moment. Something was not right in his mind and/or heart for him to choose to neglect his responsibilities. And this made David vulnerable to sin.
This reminds us that we need to be self-aware so we can recognize our low points, moments of weakness, and times of increased susceptibility to sin. While we always need to be on guard, these are times when we need to be even more vigilant. Times of stress and boredom are risky times for many of us. Know your "danger zones" and increase your guard in these times.
2. David Lingered in His Temptation
2 One evening David got up from his bed and strolled around on the roof of the palace. From the roof he saw a woman bathing—a very beautiful woman.
Now, there was nothing wrong with David wanting to take a stroll that night. And there wasn't even anything wrong when David first noticed Bathsheba bathing, if it was on accident. But here's where David made his next mistake. And it was a huge one. Instead of turning away from what he saw and what tempted him, it seemed that he allowed himself to linger in his temptation. He gave into temptation instead of pursuing purity. We can already see how one thing led to the next. He chose to stay in Jerusalem which led to him seeing Bathsheba, and we will see where that continues to lead in a moment.
We need to understand that temptation is not a sin, but giving into temptation is when sin is born. (James 1:14-15) The moment when we are tempted is when the battle is won and lost. We can be tempted, but turn from it and avoid sin, or we can be tempted and turn toward it and pursue sin. That's our choice, and that was David's choice on the rooftop that evening.
As we'll see with David, once we choose to embrace temptation and pursue sin, it is awfully hard to turn around again and travel back up the slippery slope to safety. Once David took that second look, he was starting his tragic run toward more sin and all that we'll see happened. Had he only turned from temptation in that moment.
Avoiding situations where we might be tempted and preparing our minds and hearts to turn immediately from temptation is essential. Here's what we need to realize—we are in a war with our sin nature. It's not a game. It's not something to take lightly. It's a war. And as such, we need to always be vigilant and do whatever is necessary to protect our minds and hearts from sin. David didn't do this and look what happened.
3. David Entertained Sin in His Mind and Heart
3 So David sent someone to inquire about her, and he reported, "This is Bathsheba, daughter of Eliam and wife of Uriah the Hittite."
Now we can see David really escalating his movement toward sin. He sent someone to find out who the woman he saw was. Now, there is really no good reason for this. The only reason was that David was entertaining acting on his desires at this point. Sin is taking root more deeply in David's heart.
If we are right and we see David giving in to temptation and considering how he could act on it, he had already committed a sin at this point. This is what Jesus was talking about in the Sermon on the Mount in the Book of Matthew. What happens in the heart matters. The heart drives our conduct. But we have to be really careful here not to throw up our hands in surrender with an attitude of, "Well, I've already sinned so I may as well go through with it." It's never too late for us to repent and turn from sin. And the sooner we do so, the better off we will be. Suppose David had broken the chain of sin he was experiencing right here. Think of the consequences of which he, and others, would have been spared.
4. David Acted on His Sinful Desires
4 David sent messengers to get her, and when she came to him, he slept with her. Now she had just been purifying herself from her uncleanness. Afterward, she returned home. 5 The woman conceived and sent word to inform David: "I am pregnant."
If we asked people about David's sin in this passage, many would probably point to this moment—where he physically acted on his sinful desires and committed adultery. But as we have seen, David sinned before this and there are layers of questionable and wrong choices that led to this moment. David had several opportunities where he could have turned and avoided this act of sin. He could have gone to war. He could have turned from his temptation. He could have refused to find out who the woman was. But he didn't. One thing kept leading to another. We often talk about "falling into sin" or "stumbling." That's not what happened here. David cannot claim that he "fell" into sin. He ran into it. He jumped into it. And this is what we tend to do as well. Sin doesn't just happen to us as if we are passive and innocent. More times than not, we willingly pursue sin just like David did here.
One other thing to keep in mind here. Our sin always impacts others. Sometimes the impact is immediately noticeable and other times it is not as easy to see, but our sin always impacts others to some degree. We do not sin in a vacuum. Here we see that David's sinfulness now pulled Bathsheba in as well. We'll see in a moment, he is going to pull in Uriah and Joab as well. Sadly, the impact of David's sin didn't end there either.
We have to remember that there is no such thing as a "private" sin or a sin in isolation. Sin always harms people around us to some degree. Always.
5. David Tried to Cover and Hide His Sin
6 David sent orders to Joab: "Send me Uriah the Hittite." So Joab sent Uriah to David. 7 When Uriah came to him, David asked how Joab and the troops were doing and how the war was going. 8 Then he said to Uriah, "Go down to your house and wash your feet." So Uriah left the palace, and a gift from the king followed him. 9 But Uriah slept at the door of the palace with all his master's servants; he did not go down to his house.
Bathsheba's pregnancy still doesn't snap David out of his sin. Instead, of using this as an opportunity to confess and come clean, David continued to ramp up his sin. He devised a plan to have Bathsheba's husband Uriah come home from the war and spend time with his wife. The natural conclusion by everyone would be that the baby was Uriah's. So now David added lying and deception to his sins of lust and adultery. One thing continued to lead to another.
Perhaps we can add pride to David's growing list of sins. Perhaps the reason he didn't confess at this point was that he was too proud. He didn't want his people to know what their king had done. And this is yet another lesson we can learn here. When we do sin, we need to pursue humble confession to God and others. This is one of the purposes of gospel community—to give us a place to freely confess our sin to one another and be supported by others who love us. We need accountability. We need encouragement. We need others around us who love the gospel and point us toward it.
6. David Compounded His Sin
14 The next morning David wrote a letter to Joab and sent it with Uriah. 15 In the letter he wrote: Put Uriah at the front of the fiercest fighting, then withdraw from him so that he is struck down and dies. 16 When Joab was besieging the city, he put Uriah in the place where he knew the best enemy soldiers were. 17 Then the men of the city came out and attacked Joab, and some of the men from David's soldiers fell in battle; Uriah the Hittite also died.
David's plan failed, so he added murder to the list. Remember how this all began? David wasn't where he was supposed to be and then glanced and saw something not good for his soul. "There is no such thing as a small sin" should leap off these pages of Scripture at us!
Now, that is plenty to take in. Quite a few lessons for us in how to combat sin in our lives. But let's not look past the gospel here. How does our sin affect us when we are in Christ? It's an important question. Here are three brief points to remember.
First, if we are in Christ, we are completely forgiven of our sin and we have Christ's righteousness. All of our sin is forgiven. As heinous as this sin was, David was forgiven by God! And our sin, as heinous as it is too, is forgiven when we are in Christ. It's important that we remember this and allow God's grace to pour over us everyday. Our sin is forgiven and we stand before God perfect with Christ's righteousness. As such, we are always fully accepted by God. We are always fully loved by God.
Second, God has not promised to spare us of all the consequences of sin. Just because God promised to spare us from the ultimate consequence of sin (separation from God), doesn't mean God promised to spare us from earthly consequences of sin. In addition, God will discipline His children whom He loves, so we need to recognize that our sin will have consequences more times than not.
Third, we need to confess our sin. Even though we are forgiven of all our sin, we still need to confess our sin. Confession can be thought of as agreeing with God. We agree that our sin is wrong. We agree that our sin grieves God. We agree that our sin harms others and fails to bring God glory. We confess in agreement with God and we confess as an act of turning from our sin back to God.
Let's help our kids with some practical lessons for how they can turn from sin before it occurs, but let's also make sure they see their sin through a gospel lens. Let's make sure they understand God's love and forgiveness because that's what they need as motivation to turn from sin in the first place.
How have you gone to war with sin in your life? Leave a comment below.
Here is more help for leaders preparing for the July 10, 2016 session (Unit 10, Session 6) of The Gospel Project for Kids.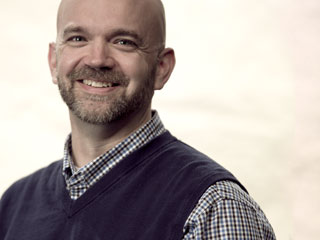 Brian Dembowczyk is the team leader for The Gospel Project for Kids. He served in local church ministry for over 16 years before coming to LifeWay. Brian earned an M.Div. from the Southern Baptist Theological Seminary and a D.Min. from the New Orleans Baptist Theological Seminary. Brian, his wife, Tara, and their three children—Joshua, Hannah, and Caleb—live in Murfreesboro, TN, where Brian enjoys drinking coffee and teaching 1-3 graders at City Church.