June 18, 2016 By Brian Dembowczyk
David and Jonathan Became Friends
If you were asked how many friends you have, how would you answer?
For some of us, that might prompt an answer of several hundred based on the number of our Facebook friends. For others of us, that might prompt an answer of a few dozen based on the number of people we know and interact with on a regular basis. And then for others, that might prompt an answer of a handful based on the number of truly good friends we have.
It all comes down to how we define friend.
People we know, people we see and like, or people for which we care deeply.
Not all friends are created equal.
This week's session, David and Jonathan Became Friends (Unit 10, Session 4), takes us to the core of what meaningful friendship looks like. David and Jonathan were not Facebook friends. They weren't even two men who interacted on a regular basis. They were two men who loved one another and cared deeply for each other. David and Jonathan had a deep, meaningful friendship.
Not only does the caliber of David and Jonathan's friendship stand out, but the way it developed does too.
David became a star overnight after defeating Goliath, and at first King Saul latched onto the young hero. But as David's star continued its rise, Saul became proportionally jealous. But there was one other thing that kept going up along with David's fame and Saul's fury—Jonathan's friendship with David.
Now, keep in mind that Jonathan was Saul's son and the next in line for the throne. It's easy to understand how Jonathan and David could have become friends originally—when Saul still favored David. But it's harder to understand their friendship as David's fame grew, especially in light of Samuel's anointing of David as future king.
Jonathan had every reason to turn from David. His father's wrath was directed toward David. David was a threat to his future as king. It was dangerous to be friends with David.
And yet, Jonathan's friendship with David continued to grow.
This story teaches us much about meaningful friendship, but as always, it more importantly points us to the gospel.
The son who set aside his standing with his father to intercede on behalf of the one under his father's wrath teaches us about the Son who set aside His standing with His Father to intercede on behalf of the ones under His Father's wrath.
Jonathan points us to Jesus.
There are differences as always for sure. The most glaring difference is Saul's wrath was placed on David for sinful reasons while God's wrath was placed on people for right reasons. But at its core, this story helps us understand Jesus' friendship with us better. And I love how God was kind to provide it for us because Jesus as our friend adds so much beauty to the gospel.
Jesus is our friend.
Ponder that for a little while.
Yes, Jesus is our Savior. Yes, Jesus is our Lord. But He is also our friend. And that reminds us of the love He has for us. It reminds us of the personal relationship He has with us. It personalizes the gospel to a higher degree.
Jesus is our friend.
That is a truth we really want to embed in the heart of each of our kids. Some of your kids may feel as if they don't have any friends. Others may wish they had better friends.
And while we can go a long way to address these feelings by strengthening the community and friendship in our groups, what our kids really need is to know that Jesus is their friend and He is the greatest friend they ever could have. Jonathan was a great friend to David. A fantastic friend really. But even his friendship pales in comparison to Jesus' perfect friendship with us.
Jesus is the friend who will never fail. He is the friend who will always be there. The friend who loves and cares in purity. The perfect friend.
How have you experienced Jesus as your friend? Leave a comment below.
Here is more help for leaders preparing for the June 26, 2016 session (Unit 10, Session 4) of The Gospel Project for Kids.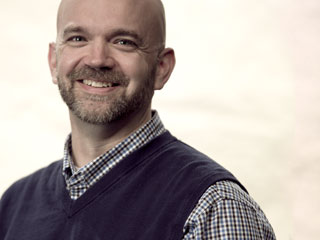 Brian Dembowczyk is the team leader for The Gospel Project for Kids. He served in local church ministry for over 16 years before coming to LifeWay. Brian earned an M.Div. from the Southern Baptist Theological Seminary and a D.Min. from the New Orleans Baptist Theological Seminary. Brian, his wife, Tara, and their three children—Joshua, Hannah, and Caleb—live in Murfreesboro, TN, where Brian enjoys drinking coffee and teaching 1-3 graders at City Church.